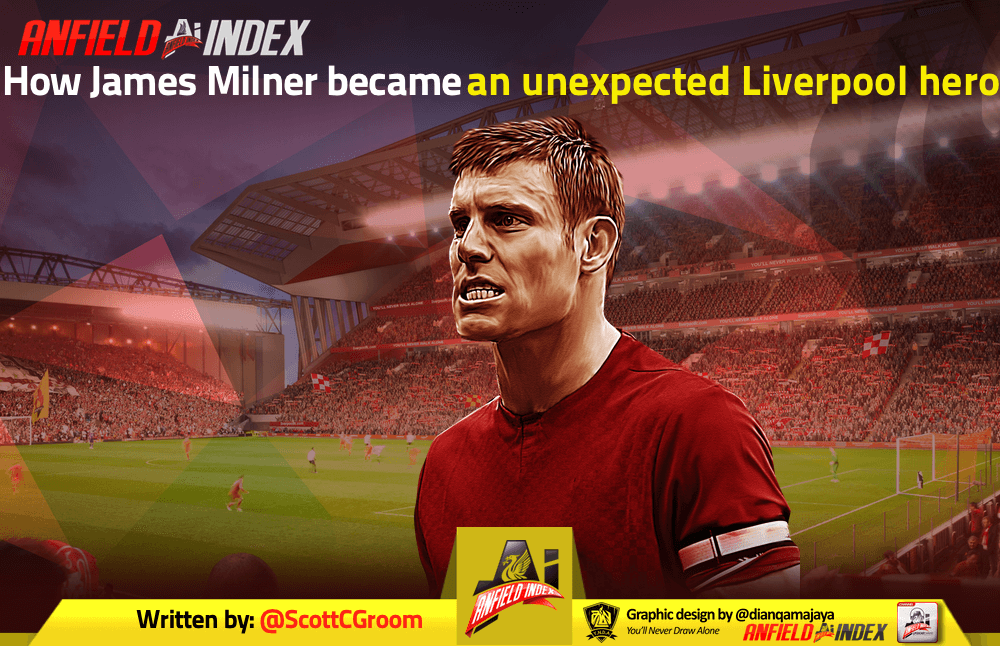 How James Milner became an unexpected Liverpool hero
This week marked the five year anniversary of James Milner's arrival at Liverpool, making the switch from Manchester City on a free transfer.
After weeks of speculation as to where the Yorkshireman would end up, it was former boss Brendan Rodgers who managed to persuade Milner to choose Anfield over any other potential destination.
While securing Millie's services was seen as a brilliant piece of business, especially on a free deal, there was no way of knowing just how much of a good parting gift this would turn out to be from Rodgers.

Shortly after Milner's arrival, Rodgers was sacked and Jürgen Klopp was brought in at the helm and since then, Milner has taken his game to the next level despite his ageing years.
First impressions – just what we need
In the early period of Milner's arrival, he was named as vice captain, underlying what many saw as his importance in arriving at Liverpool when he did.
After the departure of Steven Gerrard, Liverpool's squad lacked experience and guile, especially in midfield, so Milner was seen as a brilliant man to fill part of that void.
And that became apparent early on. Milner is a commanding figure in both physical and mental capabilities, and he quickly established himself as a reliable member of the midfield.
His work ethic, fitness and professionalism no doubt were hugely appealing to Klopp, who instantly seemed to fall in love with Milner and became a real trusted lieutenant of his and has stayed that way ever since.
His versatility was also a huge plus, with his ability to play anywhere across the midfield and even fill in in defence when needed, which was something that was to be crucial despite nobody ever thinking it would be.
Becoming established – and doing a job no matter what
And that season that he did deputise at left back proved just why Milner is a fan favourite and why Klopp has said that as long as he's at Liverpool, there'll always be a place for Milner.
He made no secret that playing at left back was not his cup of tea, but he did it and did it well regardless of this.
Liverpool couldn't have asked for more from him given the uncertainty that surrounded Alberto Moreno every time he stepped over the white line and into the field of action.
Mr Reliable quickly became Mr Indispensable.
No matter what was asked of him, he did it and he did it well. A working class hero, and one the The Kop has taken dearly to their hearts.
Even when he wasn't enjoying his finest hour at left back, you sure as hell couldn't criticise him for lack of effort.
But moving on from this, he proved himself even more useful as part of the so-called 'Brexit midfield' with Henderson and Wijnaldum. The midfield that was pivotal in leading Liverpool to a Champions League final in Kiev.
The man's talents know no bounds.
Squad player – but still playing his part
After that, Milner has still been a pivotal member of this squad, but perhaps takes a little more of a back seat now than in his earlier years.
Although you'd never know it die to his seemingly ageless legs, he is now 34 and won't last forever at this level, as much as I'd like him to.
But even now, when perhaps he's called on more from the bench than before, he is so so dependable.
Again, he formed a crucial part of the side that won number six in Madrid, and has been influential in Liverpool's drive to the Premier League title which is now tantalisingly close.
But despite being in what you would think is the twilight of his career, Milner still plays such a huge role at Liverpool.
There aren't many 34-year-olds in world football that you can say that about.
At the time of his arrival, it was clearly seen as an astute piece of business, but I don't think anyone could have foreseen the impact Milner has had in his five years at Anfield.
Many thought we might only get a couple more seasons from him, but the way he's going, we could end up writing a piece on him still putting in the miles on his fortieth birthday in Liverpool red.
And all of this for a player that cost nothing.
It isn't hard to see why this man for me is a modern icon at Liverpool. A big claim, but I stand by it.