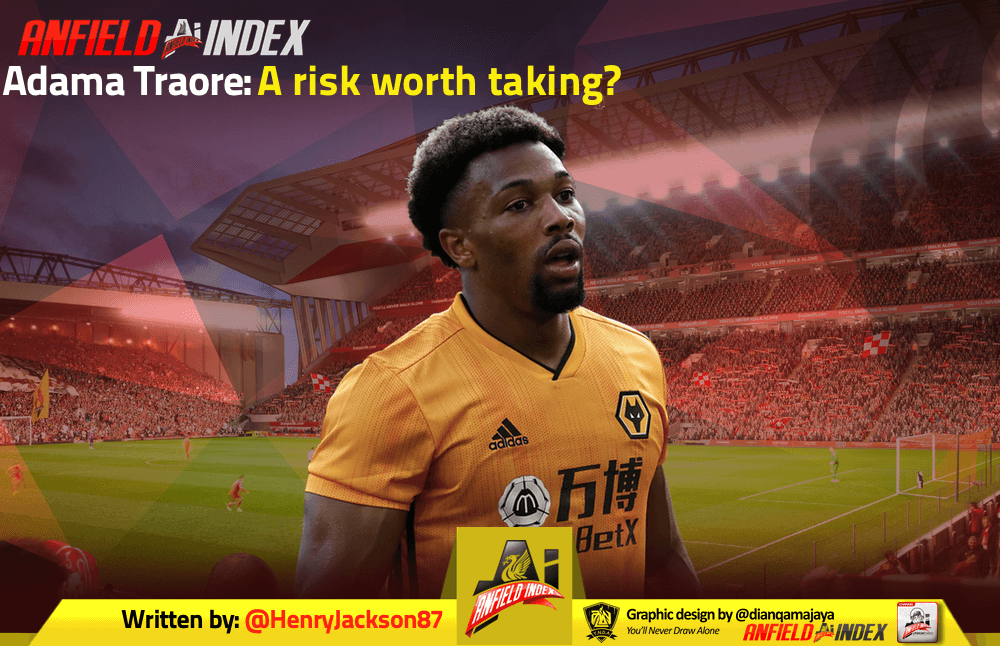 Adama Traore: A risk worth taking?
Liverpool have had almost everything their own way during a relentless surge towards Premier League glory, with 82 points out of a possible 87 proof of that.
While not every victory has necessarily been a stroll in the park, the Reds sealed wins against all 19 of their league opponents in 2019/20, as they threaten to smash various records once this campaign finally reaches its conclusion.
One match that stands out as one of the stickiest, however, was the trip to Wolves back in January.
Nuno Espirito Santo has worked wonders at Molineux, and when Liverpool faced them there was an argument to say that they were the third-best side in the country.
Jurgen Klopp's men were given a predictably stern examination on that cold winter evening and Roberto Firmino's late winner sealed what was an undeserved three points.
A feisty Molineux crowd helped make life tough for the champions-in-waiting, and if there was one player who epitomised Wolves' ability to be awkward and unpredictable, but also hugely effective, it was Adama Traore.
The Premier League may never have seen a faster player in its 28 years of existence and he was close to his unplayable best when Liverpool came to town.
Andy Robertson, now regarded by many as the world's premier left-back, was given a torrid night at the office by Traore, with his kick-and-run style impossible to play against.
It was the former Barcelona man's inch-perfect cross that allowed Raul Jimenez to head home a well-earned equaliser in the second half, and his performance was further proof that his all-round game is much improved.
So why the sudden focus on Traore?
Well, away from the Timo Werner saga, which has led to a meltdown of typically hysterical proportions from some Liverpool supporters – we didn't sign him, it's a bit annoying, move on – the 24-year-old has been linked with a summer move to Anfield.
It isn't the first time this transfer rumour has emerged, with similar reports appearing earlier in the year, but would it be a move worth risking?
Up until this season, Traore has often been mocked for seemingly being a sprinter trying his luck at football, with his unstoppable speed invariably let down by woeful end product.
Last season, just one solitary goal and assist apiece came Traore's way in 29 league appearances, which highlights how unreliable he was in the final third. With Klopp's star-studded front-three of Mohamed Salah, Sadio Mane and Firmino famed for the relentless numbers they achieve, he couldn't have felt further from them.
The 2019/20 campaign has seen a very different player come to the fore for Wolves, though – one who now looks like he could be on the verge of fulfilling his potential.
Traore has four goals and seven assists, once again in 29 league matches, not to mention a further couple of strikes in the Europa League. He scored twice in a famous win away to Man City – a result that benefited Liverpool greatly at the time – and those storming runs are now being backed up with more consistent end product.
Does Traore remain a raw work in progress? Absolutely. But at just 24 still, the thought of him in a Reds shirt is one that done have an exciting feel about it. With Xherdan Shaqiri set to depart this summer, a new backup wide man is required, as Harvey Elliott continues to mature.
In Klopp, Liverpool have possibly the world's finest manager leading the troops, and the German has shown his genius at getting the very best out of players over these past five seasons. The likes of Robertson, Gini Wijnaldum and Alex Oxlade-Chamberlain weren't universally rated when they moved to Anfield, but the German has turned them into top players for the best club side on the planet. It's easy to forget that Salah and Mane were deemed risky buys, too.
The same naysayers would likely speak up if Traore signed for Liverpool, bemoaning him as a waste of money who isn't up to the challenge, but Klopp has continually shown what he is capable of achieving with divisive figures.
That being said, the Reds should only consider a move if the transfer fee isn't as extortionate as previously claimed, with £60 million mooted in some quarters. That would be a ludicrous sum to pay for someone who would come in as a deputy forward, and go against the savvy, cautious style of Michael Edwards and FSG.
Should the amount be considerably less, however – let's say half the price – taking a punt on someone with such exciting raw attributes could be worthwhile, adding some much-needed depth to attacking areas in the process.
Where in the past the idea of Traore playing for Liverpool seemed out of the question, he has shown enough in the last 12 months to suggest he could be an exciting addition who should improve in the coming years.
It may be that the rumours are nonsense and a transfer never ends up coming to fruition, but if it does, it may well be another signing that ends up being a masterstroke.
Traore isn't close to Werner's level, but I wouldn't bet against Klopp turning him into something formidable in his own right.