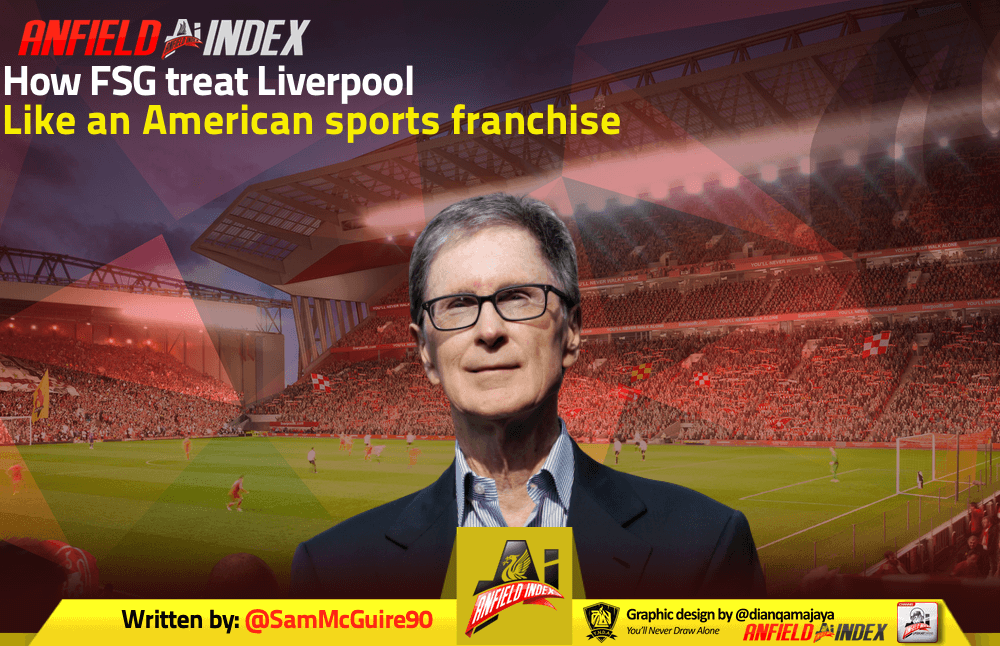 How FSG treat Liverpool like an American sports franchise
A few years back now, I entertained the idea that football could soon follow American sports by essentially getting rid of transfer fees. With more and more players looking to move on free transfers, the next logical step was either inserting reasonable release clauses into every single contract or accepting that a player will be with the club for, say, a guaranteed five years before moving on. 
The latter seemed the more obvious path. Release clauses often cause more harm than good. What looks fair at the time could be cheap 12 months down the line. Adding one to a deal is risky and it's why so many clubs refuse to do it. 
So, the only other realistic option would be to shape the market around signing players on a free. Let them weigh up multiple contract offers before making their next decision. Salary caps would have to be introduced to make this sustainable but it isn't necessarily out of the question. 

It'd stop players being a disruptive influence in an attempt to force a move. Think Philippe Coutinho, for example. One bad apple can derail a season and all it takes is a failed transfer bid for players to spit their dummies out. 
For those unaware of how it works in America, especially in NBA, players will sign a deal for a set amount of time and at the end of it, they're free to entertain other offers. Instead of clubs having to pay a huge transfer fee, clubs just have to pay the player. Teams can also make trades. 
You can have a £100million budget for a player, as an example, and this means you can offer them £20million per year over a five-year deal. In football right now, a £100million budget is basically split 50/50 between a transfer fee and a salary.  
In many ways, it makes perfect business sense. And this is probably why Liverpool operate in a similar manner already. Obviously, the Reds spend money on transfer fees. But arrivals are usually offset by departures and actual net spend isn't that high. Instead, the Premier League leaders focus on making their contract offers as attractive as possible. It explains why they currently have one of the highest wage bills in Europe.
People, myself included, often get frustrated by FSG's reluctance to spend big on players. But that reluctance is only on transfer fees. Yes, we signed Alisson and Virgil Van Dijk but that was after selling Coutinho and a few other squad players. Even before the coronavirus pandemic, talk from the journalists covering the club was that the Reds wouldn't spend that sort of money this summer. They'd only do so if a genuine game-changer was on the market. Reports emerged to suggest Jadon Sancho and Kai Havertz were overpriced in the club's opinion. 
But behind closed doors, Liverpool have no qualms with parting with money to reward players for their good performances. It's why players seem to be getting fresh contracts every other year. Instead of spending that money on new players, the Reds are ensuring the players who already call Anfield home are looked after. This approach is why the champions-elect can boast the best goalkeeper, the best centre-back, two of the best full-backs and three of the best forwards in the world. 
This is by no means a pro-FSG post, this is just appreciating the business they've been doing away from the spotlight without making a song or dance about it. It helps that they're the best team in the world, they have a trophy to prove that, but this approach is one of the main reasons they've been so successful over recent years. Clever recruitment and salary packages to really incentivise players.