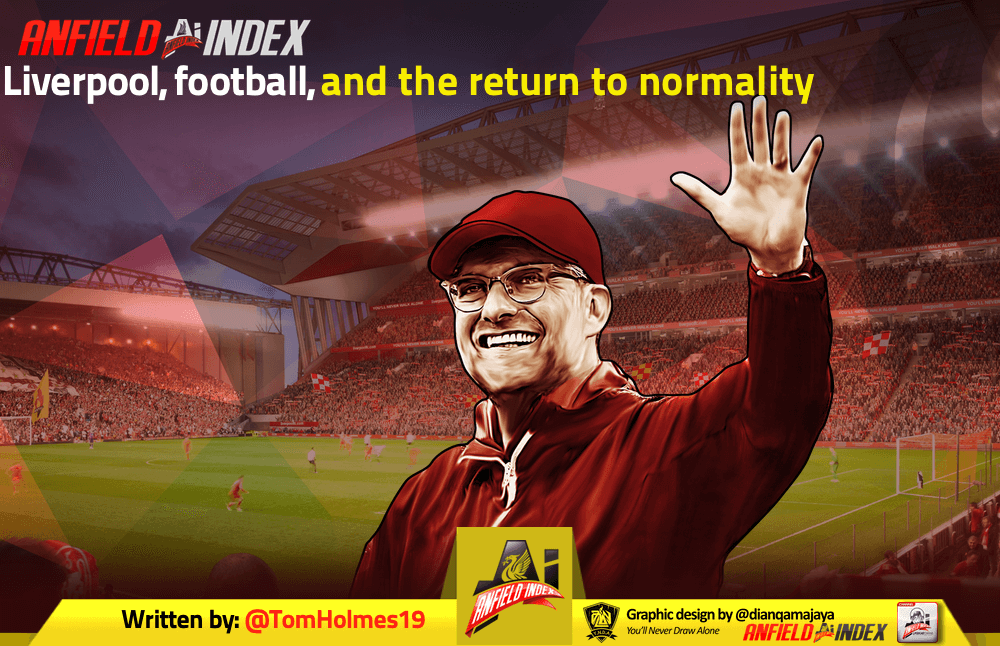 Liverpool, football, and the return to normality

Depending on when you're reading this, it's about a week, or maybe less, until the season continues, and Liverpool travel to Goodison Park in a game scheduled originally for Monday 16th March. That game will now be played, three months later, on Sunday 21st June.
I recently noted on Twitter, as Liverpool's move for Timo Werner collapsed and sent shockwaves through the fanbase, that having Liverpool fans going ballistic on Twitter about a lack of signings was the most normal I had felt in months, amid what has been one of the worst crises in living memory. Certainly, as someone born after 1990, there hasn't been anything in my lifetime in this country (England) to rival the impact Covid-19 has had.
And so, the season is set to restart, in itself a very strange feeling. It's been three months now since I last saw Liverpool play football, and to be honest, with everything going on, I can't say that I had missed it. That's not a reflection on the team, or even the sport, just the feeling that there was enough going on in my life. Truthfully, whilst I was trying very hard just to enjoy watching a team seemingly destined to win the title since early January, it's also true to say that since early January, I've been so damned busy that I was starting to struggle to find time to watch the games, let alone enjoy them.
And yet, as you can probably tell by the fact that I'm back writing again, my life has slowed down somewhat, and having Liverpool back in it, even if it is at this point just a canter to the finish line with Champions League and FA Cup trophies out the window and the Premier League all but secure.
If this has felt like something of a personal story rather than an article so far, that's pretty much the point. Everyone will have their own circumstances, will have been affected by this disease in different ways over the last few months, and will have different Liverpool-related stories across the front end of 2020. Maybe you've been itching to get going again since March. Maybe you're still not convinced you're ready for football to return. Or maybe, like me, you're somewhere in the middle, reaching a point where having lasted three months without the Reds, you're starting to feel that itch again, that ache for football to give you something you've been missing.
The reality of the situation is that Liverpool are back. Liverpool will almost certainly be lifting the Premier League title within a month or so, and there's still plenty of football left to be played.
What that looks like, what that feels like, remains to be seen. And I for one am extremely excited just to be able to embrace it, experience it again.
Life is not normal right now. It's safe to say life may never look normal again. For a lot of people, what is normal is fundamentally shifted.
Liverpool returning will not mean normalcy is restored. Football is one small part of life, and it cannot replace other, larger parts. But, it can help. It can make us feel joy, excitement, anger, pain and so much more.
Liverpool's return is one more small step on the road back to whatever our new normal looks like. Football will look different, but, crucially football will be back.
And that's one small thing that can bring us together again.
Up the Reds