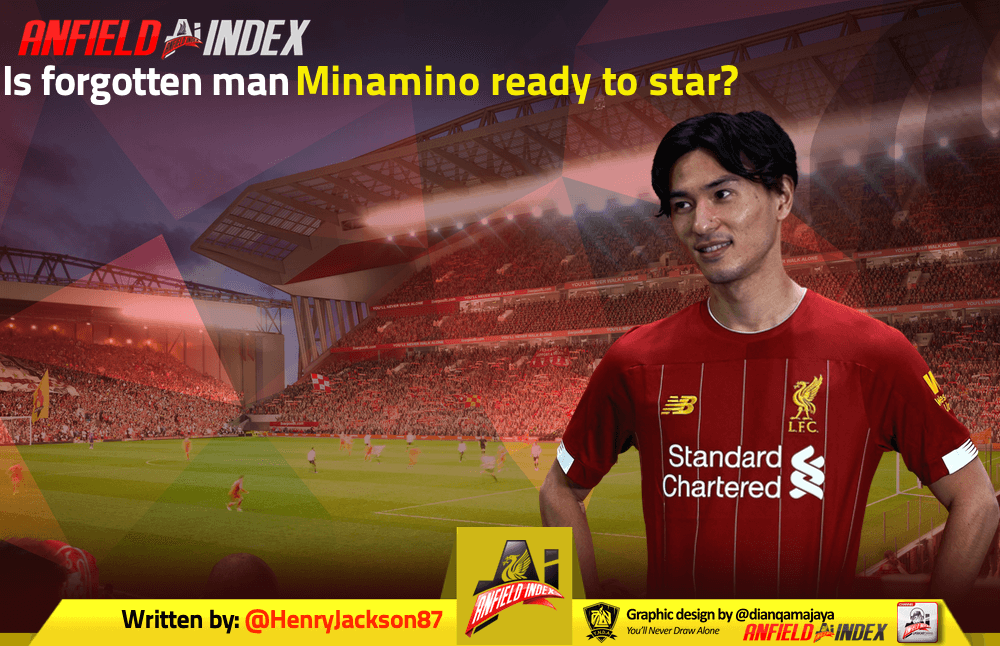 Is forgotten man Minamino ready to star?

What's been the best performance by an opposition player at Anfield this season? It's obvious, isn't it?
Takumi Minamino's masterclass for Salzburg in the Champions League was a joy to watch at times, even if he was doing his best to rob Liverpool of group stage points.
The Japanese caught the eye throughout on a balmy European night, scoring a superb volley and often running the show with subtle touches and endless running. The Reds ended up winning 4-3 in a thriller, but his display was not forgotten long after the final whistle.
There were inevitable calls for Jurgen Klopp to snap up the technically-slick, press-resistant Minamino, and in what came as something as a surprise in December, that's precisely what happened.
Liverpool acquired the 25-year-old's signature for just £7.25 million – a sum that has the potential to become one of the great Reds bargains in the coming years.
It doesn't take long for a player's stock to drop in the eyes of football supporters, though, and a lukewarm start to life at Anfield has taken some of the gloss off Minamino's reputation.
This is ridiculous, of course, with the silky forward just the latest in a long list of players taking time to adjust to Klopp's complex style of play. But that's modern football for you.
Minamino officially became a Liverpool player in January, at a time when the fixtures were relentless and there was still genuine work to do in their title quest. It was always going to be difficult to hit the ground the running, as minutes came at a premium.
The Reds' starting lineup rolled off the tongue, give or take the odd tweak, and it was hard to justify throwing a new signing into the mix, when points were priceless and other individuals were in better form.
Minamino's seven appearances to date have brought little to the table, barring an eye-catching moment here and there, but he now finds himself in a very different situation.
The worldwide pandemic has halted Premier League football and Liverpool's title charge for three long months, and while it has been a painful wait for its return, it may benefit Minamino more than anyone.
All of a sudden, he finds himself at what should be the same level of fitness as his teammates, not to mention having time on the training ground to further adjust to Klopp's system and grow more accustomed to his colleagues.
He has essentially had the pre-season that he wasn't afforded by joining midway through the season, so there is no reason why he can't be a key performer from this point on. He is settled.
Granted, Liverpool's strongest team still doesn't have the Japan star included in it – where do you possibly fit him in? – but he should now be a hugely effective substitute who has got the feel of English football.
The rotation that this busy period will demand also means starts should come Minamino's way sporadically, and he looks a more natural option than the likes of Xherdan Shaqiri and Divock Origi, who too often resemble square pegs in round holes.
One of Minamino's greatest attributes is his versatility, and it is going to be fascinating to see how he fares across several different roles, whether it be in attacking midfield, as a roaming forward or as a false nine.
Because he was cheap, and because his start at Liverpool has been a long way from spectacular, Minamino has strangely become a forgotten man already. If you have 30 seconds to name 20 current Reds players, I bet you'd miss him out.
He is a fabulous player, though, as proven by his Champions League brilliance at Anfield back in October, and this could be the point at which he truly announces himself.
Talk of Timo Werner not joining has dominated the headlines, but while Minamino is a very different player to the German, he should be the man who brings that much-needed depth and class to the Reds' attack.