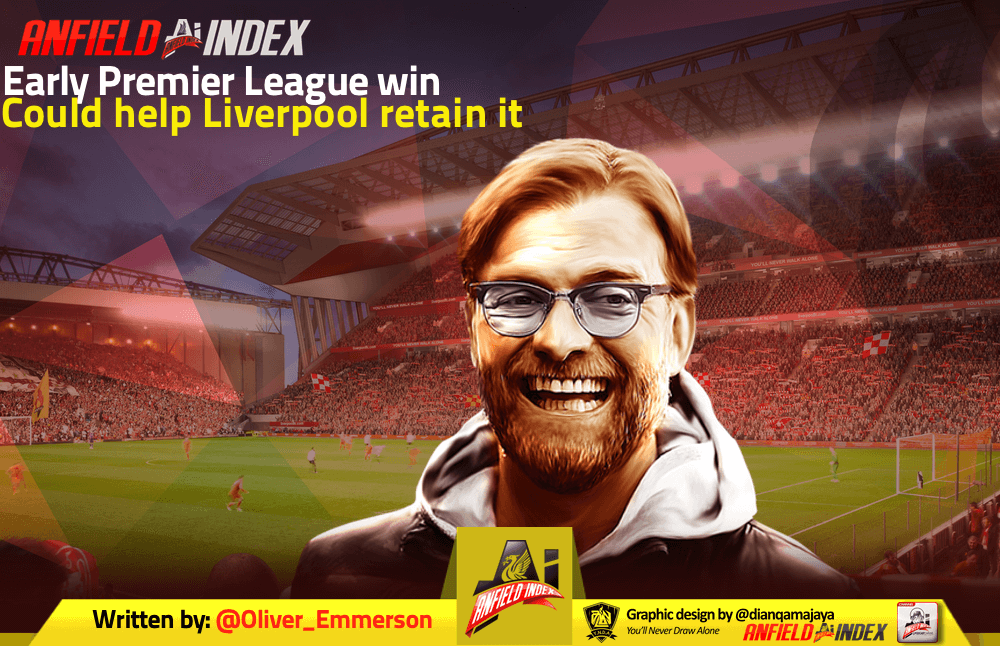 Early Premier League win could help Liverpool retain it
With Premier League teams across the country leaping back on the horse to finish the 2019/20 season this week, there is much to play for.
Liverpool require just six points to seal a first league title in 30 years, with teams such as Manchester United, Chelsea and Sheffield United scrapping for Champions League spots a few places below them. Further down the table, the likes of Aston Villa and Bournemouth will hope that the long-awaited 'Project Restart' will yield an upturn inform and safety from relegation.
Reds heading for early title win
For many of Liverpool's direct competitors, here and now is the main focus. There are league points to be had, trophies to be won and form to be found. This in itself may present an opportunity for the Reds to get a head start on next season, before the chasing pack even begin to think how they're going to pull back the gargantuan lead Jurgen Klopp's men have built up over the last 12 months.

Whilst getting over the line in the league remains the priority, it is also a formality. Whilst it is unlikely that Arsenal defeat Manchester City to tee up a Liverpool title sealer at Goodison Park, we are weeks away from talking about Liverpool FC, 'Champions of England, Champions of Europe, Champions of the World'.
But what next?
One title is good, two titles are better
After a following up their Champions League success with a league title win, Klopp's side have the opportunity over the next few years to establish themselves as one of the finest teams in the history of the English game. They'll bid to do this by retaining the Premier League title, something that Project Restart could give themselves a head-start in doing.
For starters, fitness is obviously a huge thing to look at. A huge part of Klopp's ethos, the enforced break has given the likes of Roberto Firmino more rest time than they've enjoyed in years. It's certainly needed given that we're likely to embark on the 2020/21 Premier League season just weeks after concluding the present one.
Liverpool's early title win will give Klopp the chance to allow Salah, Firmino, Mane et al to keep their feet up for some remaining games whilst other teams are forcing their star players to play three games a week for up to a month. This could give the Reds a huge advantage of freshness when next season gets underway, allowing them to build up the sort of impressive lead going into 2021 that they managed at the back end of last year.
There is of course the matter regarding who comes in for the aforementioned stars when they're handed a rest. Harvey Elliott, Neco Williams and Curtis Jones are the most prominent youngsters that can expect increased game-time towards the back end of the season.
With Liverpool once again not expected to spend big money in the summer, it gives these youngsters an excellent opportunity to progress and put themselves firmly within the first team picture ahead of next season, where they may well be needed.
Despite these advantages to wrapping up the title early, Klopp will know that retaining the league will be an even more difficult challenge than winning it in the first place. As evidenced by some disappointing results before the lockdown, Liverpool are beatable when the right tactics are implemented.
Relatively unimportant games once the league is wrapped up offer Klopp and Pep Lijnders to experiment a little with their tactics in a bid to add some more arches to their tactical bow next season.
Whilst a potential record breaking title win should be enjoyed, embraced and savoured, the benefits of getting it done and dusted early may fly under the radar.