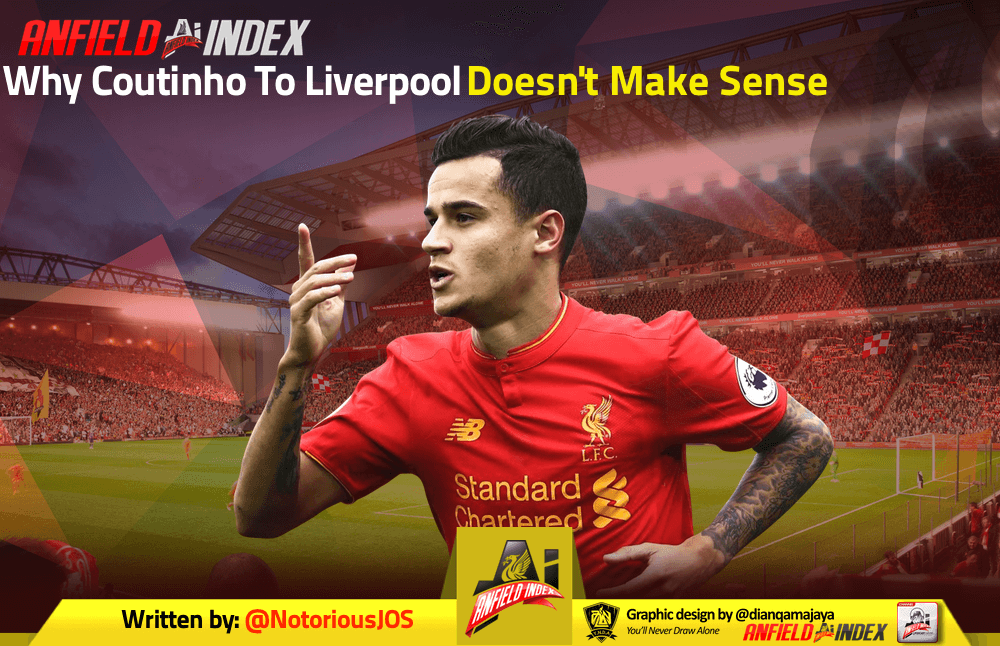 Why Coutinho To Liverpool Doesn't Make Sense
Let's start with a little housekeeping.
Football fandom can sometimes imbue in supporters a sense of "I didn't fancy her anyway", a jilted ex-lover sentiment when it comes to talking about footballers who have left their club, especially in acrimonious circumstances.
But lets called a spade a spade, Phillipe Coutinho — despite the last two and a half years of his career, where the Brazilian has stagnated at both Barcelona and Bayern Munich, being chequered — is a brilliant player. The bad taste that the manner of his departure left in the mouth of many of the clubs — feigning a back injury and handing in a transfer request, designed to cause massive disruption, on the eve of the 2017/2018 season opener versus Watford — fans does not dilute the diminutive attackers' considerable ability.
Football is a fickle world, and Coutinho's past transgressions would instantly be forgotten by many if he — in trademark fashion — dropped his shoulder and plunged a curling right-footed effort into the opponent's goal from the left-hand side.
However, despite rumours remerging linking the 28-year-old to Anfield, a move for the Brazilian international doesn't make sense for him nor the Reds.
The talk of Coutinho returning to Liverpool — whose financial muscle has been lessened significantly by the global pandemic — supposes that the Reds would take their former number 10 on a loan with subsidised wages. Although these reports have emerged from far from reliable sources, if you took the rumour at face value it still would not make sense from either parties perspective.
Following his £105 million switch to the Nou Camp, Coutinho — although not entirely through his own fault, owing to Ernesto Valverde's adherence to a system which didn't suit the mercurial Brazilian internationals strength's — has failed to recapture his Anfield form. A temporary switch to Bayern Munich — who reneged on the opportunity to permanently sign the Vasco Da Gama academy alumni — didn't have a revitalizing effect on the former Inter attacking midfielder's career and he now finds himself at a crossroads.
Crippled by a huge wage bill, Barcelona — per reports — are desperate to offload Coutinho, and will even reportedly be open to paying a portion of the Brazilian's wages at his next club. If that club were to be Liverpool, the Brazilian — even with a chunky segment of his salary being paid by the Catalans — would be one of the Reds highest earners owing to the fact that his January 2018 switch to the Camp Nou saw his weekly tame-home doubled.
It is highly unlikely that Liverpool, especially in an era of lessened income, would agree to give a squad player — a role Coutinho, whose exit facilitated the signings of Virgil van Dijk and Alisson and the team growing into a far more balanced, successful unit, would likely fulfil — the sort of money that would have him on parity with the clubs highest earners, Mohamed Salah, Sadio Mane and Alisson.
Also, with a nod to the club's owners, FSG, transfer policy, the reigning European Champions would never look to sign a 28-year-old with little resale value, especially when he's unlikely to walk straight into the first team. The transfer team at Liverpool are noted for their adherence to a structure — a policy of player identification and signings, which focuses heavily on signing players of 24 and under,  that has seen the team improve dramatically in recent years — and it would be unprecedented for Michael Edwards, Dave Fallows, et al, to break a system that has yielded such success.
From Coutinho's point of view, a temporary switch to Anfield would represent more upheaval in his personal life. With a young family, it could prove extremely taxing for the Brazilian to move to three different countries in as many years and all without the carrot of earning a permanent move to Liverpool; for all intents and purposes, he would be kicking the can that is his future career down the road and making more hardship for himself the following summer — when he will turn 29 — when he will be looking to move on again once more.
Missing out on Timo Werner was obviously a big blow for Liverpool, with the German an ideal tactical fit for Jurgen Klopp's physically intense, gegenpressing style of play. But Coutinho — despite playing the best football of his career to date under Klopp — is a wholly different type of player to the RB Leipzig flier so, to paraphrase ex-Reds manager Rafael Benitez, why would the club look to buy a lamp when they wanted a sofa?