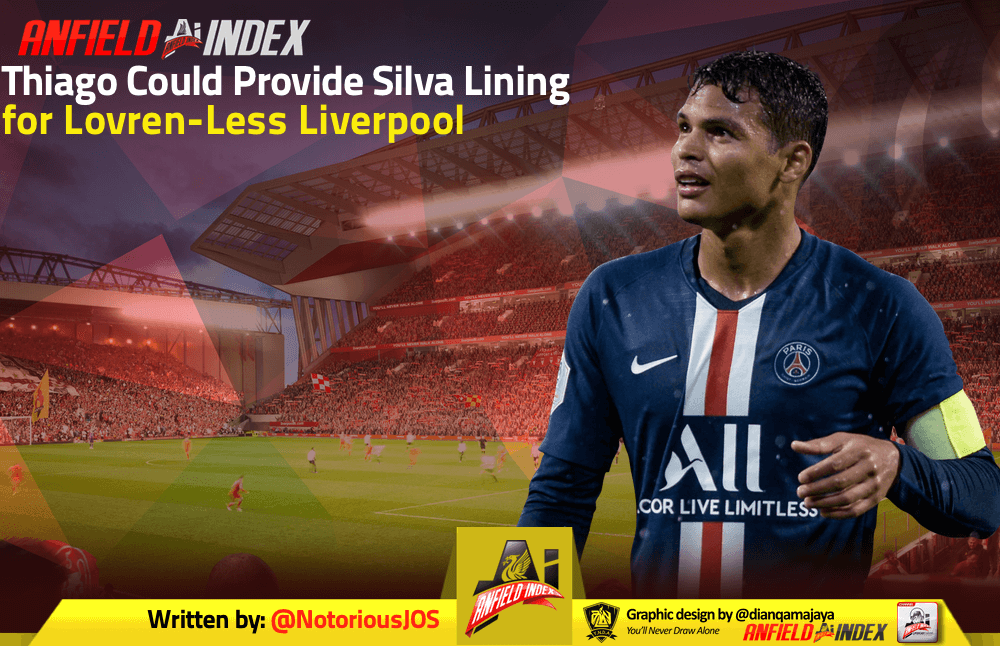 Thiago Could Provide Silva Lining for Lovren-Less Liverpool
The ongoing global pandemic has already had a big impact on football finances.
With games returning behind closed doors, clubs have been deprived of matchday revenues, in terms of hospitality, ticket sales, and other streams of income, such as club shop sales. Additionally, and more impactfully, television rebates — even given the fact they have been pushed out for another year — will hamstring many teams' abilities to flex their financial muscles in the transfer market.
Liverpool have already felt the brunt of the lessened ability to push the monetary boat out by losing out on Timo Werner to Chelsea. The Blues — whose oligarch owner, Roman Abramovich, treats the club as more of a plaything than a business — snatched up the speedy RB Leipzig forward in a deal reportedly worth north of an eye-watering £100M, when wages and agents fees are taken into consideration.

The Reds, despite Werner going on record about his admiration for both Klopp and the European Champions' squad, could not — or it may prove would not — stump up that kind of money and it shows the contrast in the way both clubs, Liverpool and Chelsea, are run. The Anfield team are run on a self-sustaining basis — spending the money they make via commercial deals, TV income and player sales —  a method which has brought spectacular recent success; the West Londoners, meanwhile — especially with financial fair play, FFP, being suspended this summer — are more than happy to throw massive fees at players, despite the footballing world being on its knees in a financial sense.
It isn't all doom and gloom for Liverpool, however, despite having to cut their transfer cloth according to a weakened economic capability. Whether it is young prospects — the likes of Harvey Elliott and Ki-Jana Hoever, who were signed for paltry fees — or elder statesmen, available on free transfers, the Reds' renowned recruitment team — headed by Michael Edwards and Dave Fallows — are sure to be crunching the numbers in order to identify potential signings.
One player who could interest Jurgen Klopp is Paris Saint Germain's Brazilain legend Thiago Silva. The wily centre-half recently confirmed that his eight-year stint at Parc des Princes will come to an end this summer when his contract expires and — despite conjecture that he may look to return to his homeland — that he will look to stay in Europe with his next club.
`Liverpool prioritise signing players 24 or under so that they hold a resale value that gives the club wiggle room in the event the player doesn't hit the expected heights at Anfield and they opt to move them on to pastures new. There have been exceptions, however, in the shape of James Milner and Kolo Toure — who were both in their late 20's/early 30's when they arrived at Anfield on Bosman deals from Manchester City in 2015 and 2013 respectively — and Ragnar Klavan, who signed from Augsburg for a minimal fee in 2016.
Silva, 35, could fit into this category, especially as Dejan Lovren, another left-sided centre half, continues to be linked with a move away from the impending English champions. The Croat was reportedly close to decamping to Roma last summer, but a deal fell by the wayside late in the day. That hasn't stopped the speculation mounting in recent weeks that the Giallorossi will revive their interest in the former Southampton defender.
After six years at Anfield, the time feels right for the accident-prone Lovren to move on and Silva — who has been linked with a move to his former PSG coach Carlo Ancelotti's Everton and Arsenal — would be a footballing upgrade on the Croatian international and his free agency would sweeten the deal.
Even in his advanced age, the former AC Milan stopper is still a highly capable defender. Silva started Brazil's Copa America final victory over Peru last summer and has been a stalwart figure in PSG's dominance of French football over the past eight years.
Like Liverpool this season, PSG — in seven of the last eight seasons — are wholly dominant in their league and this necessitates a level of concentration from their defenders — after all, with a lower volume of defensive actions to take, lesser players often get exposed for their inability to stay tuned in for a whole game — and this is an area where the 89 times capped Brazilian excels.
As a captain for both clubs and at international level, Silva would fit into the culture of accountability, hard work and professionalism that the Reds have cultivated incrementally every season since Klopp rocked up in the managerial hot-seat in October 2015.
Tactically, too, Silva — whose seven Ligue 1 titles is a joint league record — would fit comfortably into the Reds' strategic, on-field plan. Playing under Thomas Tuchel — Klopp's German compatriot and a coach whose footballing ideals come from a similar school of thought — the Brazilian is well accustomed to playing in a high defensive lined, dominant team, who play intensive pressing football.
In a likely to be constricted transfer market, Liverpool could find themselves a bargain in the shape of Silva, who may choose the opportunity to swell his trophy case even further over the opportunity of guaranteed starting football.