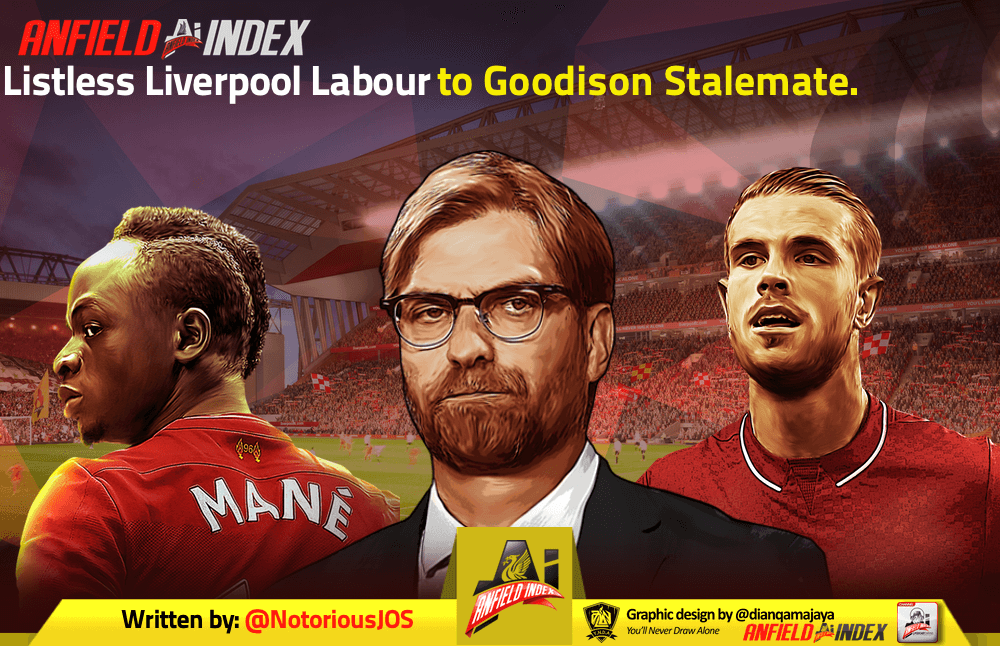 Listless Liverpool Labour to Goodison Stalemate.
Liverpool missed the chance to move closer to a 19th league title as they laboured to a scoreless draw with Everton in the Merseyside Derby at Goodison Park.
The Reds owned the possession but — shorn of the services of injury precaution rested Mohamed Salah and Andrew Robertson — struggled to prize open the stubborn, deep sitting defence of the home team. The lack of fluency that a three-month break would engender on a team was evident and the visitors barely created any opportunities of note in a drab affair.
The Anfield side will now have to hope Burnley beat Manchester City on Monday night if they are to have the chance to end their 30-year title drought by beating Crystal Palace on Wednesday.

It was the Blues who started brighter. Richarlison, who courted controversy with his comments about Virgil van Dijk last week, ran in behind after Fabinho's lax header left Joel Matip exposed. The Brazilians shot dragged wide, however, after Matip narrowed his angle.
Everton's Brazilian forward soon felt the brunt of James Milner's boot, with the temporary left-back picked up a booking that unceremoniously ended a rare spell of Toffees possession with the reds enjoying a monopoly of the ball.
With the Blues sitting deep and compact, the visitors were finding it difficult to prize them open. The best chance they manufactured in the opening half-hour came when Matip — who was unmarked and ought to have done better — headed a Trent Alexander Arnold free-kick wide.
Another decent opening came five minutes later, but Firmino selfishly opted to shoot instead of pass. Takumi Minamino won the ball from Andre Gomes and launched a counter. Jordan Henderson worked the ball to Firmino at the edge of the box and the Brazilian — ignoring Naby Keita's run to his left-hand side — harmlessly fluffed his shot wide.
An Alexander Arnold free-kick worked Jordan Pickford in the Everton goal, but Liverpool — who used to first of their five subs when Joe Gomez replaced Milner, who appeared to have a hamstring strain — failed to capitalise on all their possession and the teams went into the break level.
The Reds made their second alteration at half time with Alex Oxlade-Chamberlain replacing Minamino with Jurgen Klopp looking to add penetration to possession.
Naby Keita — one of the table toppers best players in the opening period — had the first attempt at goal of the second half. The Guinean neatly worked a give and go with Firmino, but the numbers 8 acrobatic effort skewed wide.
With nearing 20 minutes of almost unbroken ball circulation, Liverpool — who were only threatened once by a Richarlison shot — made a double change in search of a goal. Into the fray came Divock Origi and Georginio Wijnaldum in place of Keita and Firmino.
A rare foray forward almost saw Everton take the lead with 10 minutes remaining. Wijnaldum was dozily caught on the ball by Gomes. The Portuguese released Richarlison and the Brazilian crossed for Tom Davies to hit the post and then drag the rebound wide. Another chance arrived soon after for the former Watford man after he twice spun Dejan Lovren before running out of road and being closed down.
Liverpool kept pushing and probing, but — with the exception of a Fabinho free-kick which Pickford pushed over the bar — couldn't manufacture a goal and had to settle for a third consecutive scoreless derby draw at Goodison Park.
Liverpool team: Alisson; Alexander Arnold, Matip, Van Dijk, Milner; Fabinho, Henderson, Keita; Minamino, Firmino, Mane.
Replacements: Oxlade Chamberlain for Minamino; Gomez for Milner; Wijnaldum for Keita; Origi for Firmino; Lovren for Matip.
Referee: Mike Dean