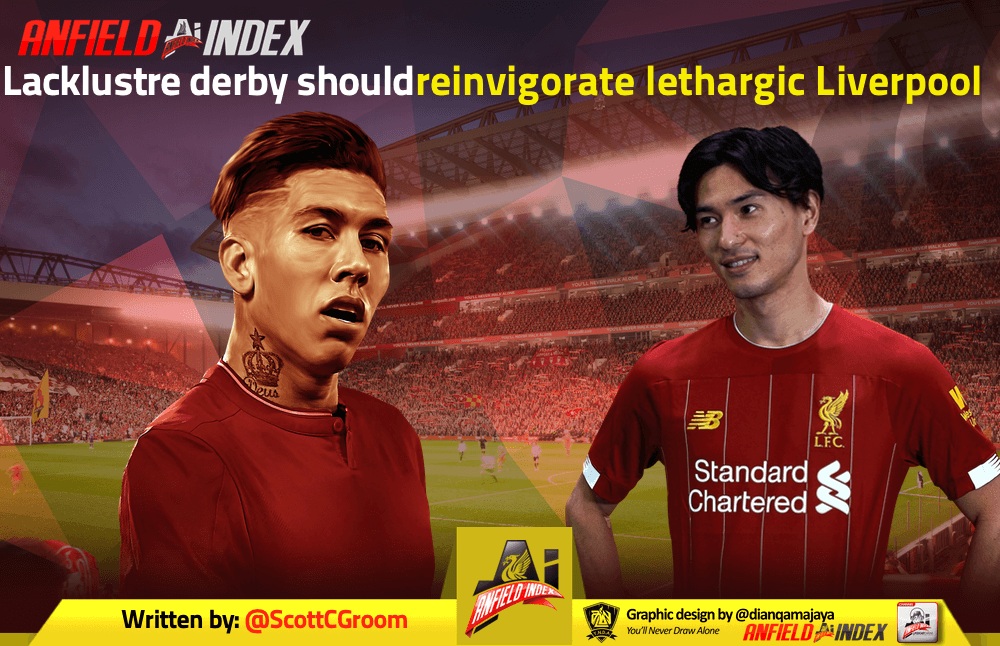 Lacklustre derby should reinvigorate lethargic Liverpool
After waiting eagerly for 106 days for Liverpool to get back into action, the Merseyside derby was in all honesty quite a languid affair.
The hype far outweighed the action, as Liverpool toiled but rarely troubled Everton, who had the better chances at Goodison Park, but the spoils were shared as Merseyside welcomed back Premier League football.
There were positives to take on the short trip back to Anfield; Naby Keita looked incredibly sharp and was easily Liverpool's stand-out man. Sadio Mané looked as threatening as ever. Another clean sheet to add to the list. And now only five points from eight games needed to finally bring number 19 home.
But there was a sour taste in the mouth come the final whistle as Everton delayed Liverpool's title celebrations. That wasn't even the injuries sustained by Milner and Matip, which we can only hope aren't too serious at this stage, but the manner in which Everton managed to come between Liverpool and three points.
I've written before on subjects close to this topic, but today provided a stark reminder that although Klopp's side are one of the world's elite, we still need to remember this every now and then.
We can't be so slow and patient all the time.
Heavy metal football was what Klopp promised us shortly after arriving in 2015, and it's what we've had in abundance since then.
But rightly so, this has become more poised and turned into a swelling symphony of power that overwhelms opposition sides with greater elegance but with the same relentless brutality.
Mainly under Brendan Rodgers, but also in Klopp's first few years at Anfield, teams who set out to do exactly what Everton did today. Play low and compact and frustrate Liverpool.
There was no real space out wide for the Reds to exploit. The defence to Everton's credit was regimented and heavily supported when Liverpool did get forward.
It made for frustrating viewing.
But perhaps more frustrating was Liverpool's seeming lack of ability to really turn the screw, pick up the pace and make Ancelotti's blues sweat and creak under pressure.
It was a harking back to the old days when the lesser sides would camp out in their own halves because they knew we wouldn't be able to break them down.
Now, I'm not saying this is a long-standing issue, because it's not and it's something that, for the most part, but it does rear its ugly head every once in a while.
This is where we need to remember Klopp's heavy metal mantra. A balance of this and the new, more pragmatic Liverpool would be more effective in situations such as today.
For all their probing and prodding, there was little threat. Obviously with it being the first game back since lockdown was imposed, things weren't going to be humming like the finely tuned machine that we saw in March.
But it should prove as a stark reminder to the Reds as the season gets back underway, that they shouldn't play it too safely all the time.
It may seem harsh considering that this team has lost just once in the league all season and they're just five points away from their first title in 30 years.
But this is an infuriating trait that creeps back into Liverpool's game every so often that needs stamping out as soon as it happens.
Besides, who wants the wait for this title to be dragged out any longer than it has to be?
Get it done. Get it won.