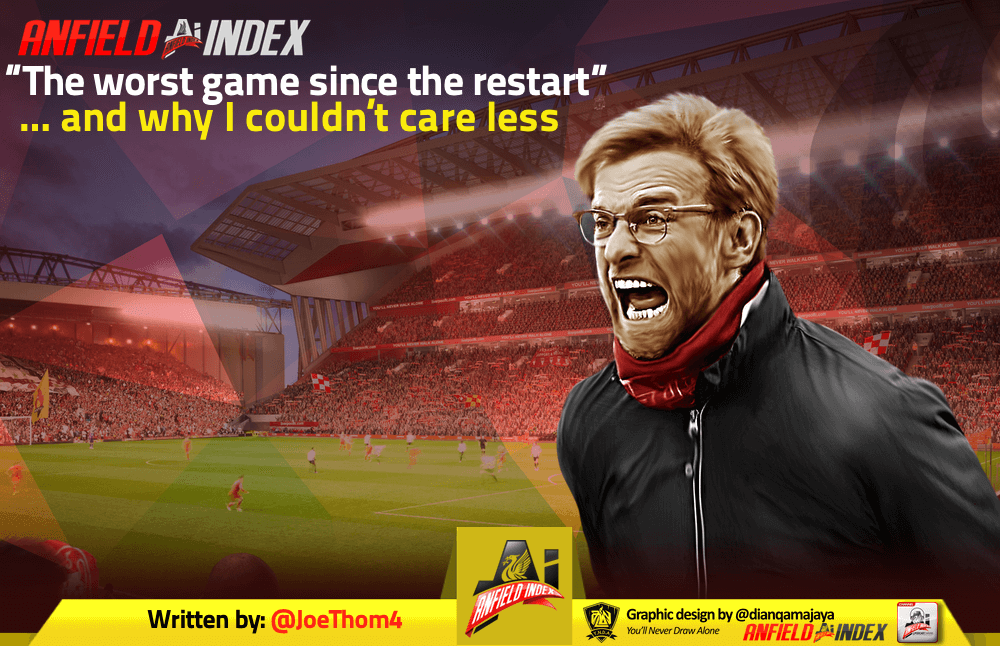 "The worst game since the restart"… and why I couldn't care less

Frustration, anguish, fits of anger and a bore draw, Liverpool may have returned to action in a less than stellar fashion… but I'm glad that it's back.
The much anticipated return of the Merseyside derby may have ultimately delivered an anemic whistle instead of the earth shattering bang we had hoped for but it was a timely reminder of just how deep-rooted the emotional attachment to the Redmen truly is.
Sat eagerly on our haunches for a three gruelling months, ready to launch passionately into Liverpool's return and what we hoped would be an explosive Merseyside encounter, we were instead greeted by an intense but ultimately blunt slugfest that still proved to be all that was required to re-ignite our emotional love affair with the game – as well as the excitement of closing in on a hotly anticipated 19th league title.
A half-time claim that "this has been the worst game since the restart" in a friendship WhatsApp group served only to bring home just how deeply the emotional involvement effects the perception of a game.
For all that it had been a 45 minutes deprived of any tangible action, I had found myself enthralled by every second of a game that ultimately failed to bloom into the footballing spectacular that we'd all hoped it would be.
If it were a play, you would be scornfully asking for your money back.
But it wasn't a play, more the briefest of acts, fraught with tension and designed solely to extend the suspense ahead of the unavoidable and climactic finale that is seemingly inevitably set to be delivered to us.
It may have been an attritional affair, the Toffees staunchly rebuffing an imposing but often ineffectual Liverpool team, but it was a glorious opportunity to relive the exhilarating ride of football and the palpitating fear of what would have been a heart-wrenching defeat at Goodison.
The almost clichéd Lovren rushes of blood to the head, the agonising moments of defensive indecision and the dread of the ball ricocheting off a post when everything had seemingly been comfortable, the Merseyside derby, for all its impotence on its return, shows just how little the scoreline really matters when so much emotion rides on just not bloody losing.
It may not have been a classic but the boys are back. And I, for one, couldn't be happier.