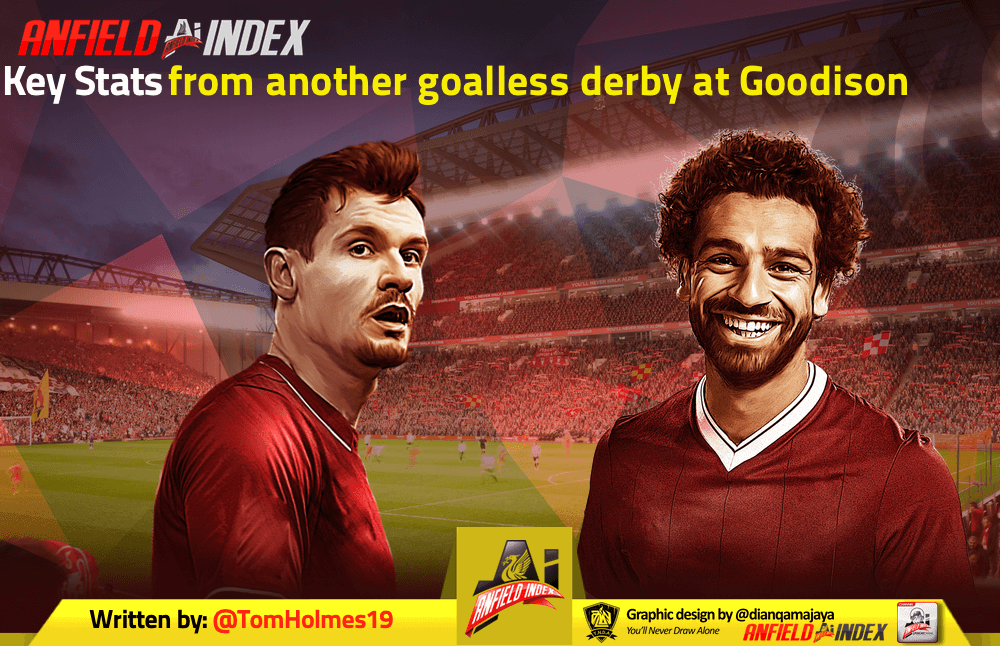 Key Stats from another goalless derby at Goodison
Liverpool were back in Premier League action for the first time in over three months and it was an absolutely rubbish game of football. A 0-0 draw at Goodison Park feels like a story we've heard before, and sadly Liverpool's wait for the title will now extend beyond their home game against Crystal Palace on Wednesday as they dropped points for just the third time all season.
The Lovren Effect
Dejan Lovren replaced the injured Joël Matip with fifteen minutes to go in the match. At that stage in the game, Everton had had four shots, three inside the box, and one on target, totalling 0.24 xG. From the moment Lovren came on, in the final fifteen minutes, Everton had five shots, all inside the box, tallying up 0.38 xG, and forcing two good saves out of Alisson Becker, as well as hitting the post.
The stats simply back up the eye test, which was that Liverpool were all over the place defensively when Lovren came on. In terms of individual numbers, Matip won all seven of his duels in the match, winning 6/6 headers and his only tackle. Lovren, on the other hand, was only 3/5 in the air and was dribbled past in his only tackle attempt. He also gave possession away only once less than Matip, despite being on the pitch for about a sixth of the time. A really messy performance from Lovren, who was bailed out by his goalkeeper.
No Salah, No Party
Liverpool have dropped points on three occasions this season, and two of those have been without the Egyptian King Mo Salah in their team. Liverpool's win record with Salah is 96%, and without him it's 50%. The games at Old Trafford and Goodison Park demonstrated that Salah is still absolutely crucial to the way this Liverpool side play.
This was only the second time all season Liverpool failed to score in a league game, and their 0.66 xG is the second worst xG of the season behind 0.21 in their 3-0 defeat against Watford. Liverpool managed just ten shots, just five inside the box and crucially, zero big chances. Salah's replacement, Takumi Minamino looked bright but ultimately ineffective, failing to register a single dribble, not creating a single chance, and neither of his shots hitting the target, before he was subbed at half-time for Alex Oxlade-Chamberlain, who managed no shots and no chances created, although he did win a free-kick in a decent position with a nice little run late on.
Whilst this poor attacking performance clearly cannot be put down to a lack of Salah alone, as Sadio Mané and Roberto Firmino had one shot worth 0.05 xG between them, and created three chances between them worth just 0.26 xG, Salah was a huge miss for the Reds, and it showed.
Derby Day Woes Continue For Everton
Whilst it wasn't the best day for Liverpool, it also wasn't the result Everton would have been hoping for either, as Liverpool ensured they didn't lose to their bitter rivals at Goodison Park for the tenth game in a row in all competitions. This was, however, Liverpool's third goalless draw in a row at Goodison Park under Jurgen Klopp. Their only way at the stadium under Klopp came in his first game there, Mané scoring in the 94th minute six days before Christmas in 2016.
Liverpool are now unbeaten in 22 matches against Everton in all competitions – their joint-longest run against any opponent in their history (also 22 against Aston Villa 1981-1992, via @StatsZone).

— Andrew Beasley (@BassTunedToRed) June 21, 2020
Liverpool have a pretty solid record overall against Everton since Klopp took over, with seven wins and four draws, but two of those wins have been in the FA Cup, and two of them in the league have required 90+ minute winners.
Sadly for the Ev though, unlike last season where a 0-0 draw at Goodison Park derailed Liverpool's title bid, it looks unlikely that that will be the case again this year, as Liverpool need just five points from eight games to lift the Premier League.