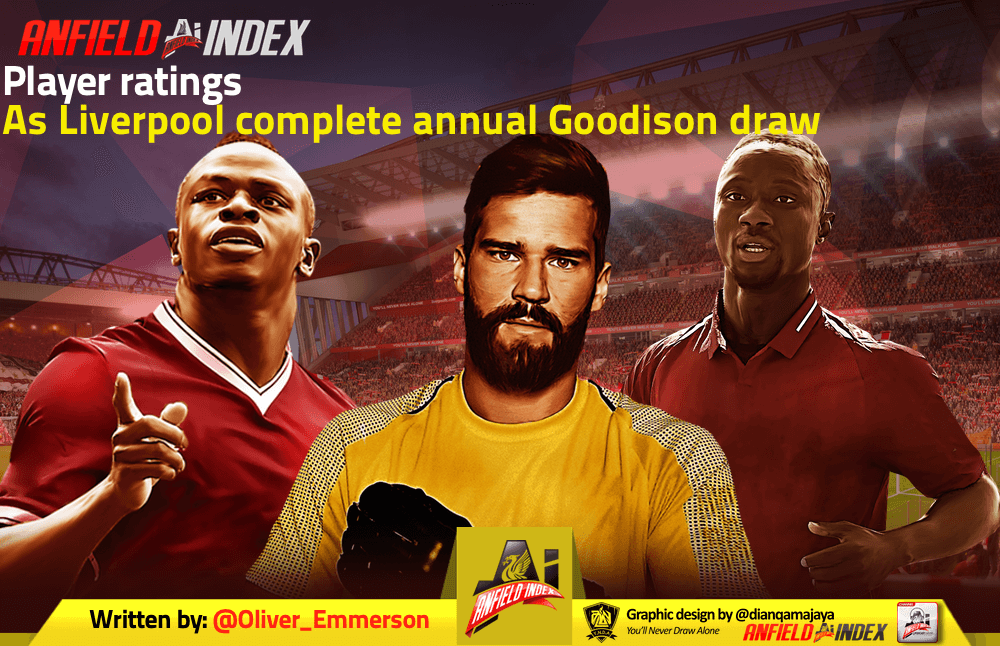 Player ratings as Liverpool complete annual Goodison draw
The Premier League is well and truly back. Excitement at seeing Keita in the team, Milner picking up a needless yellow and Liverpool drawing 0-0 at Goodison Park. Almost like we never stopped, right?
Admittedly not the best game ever for the neutral, Everton should have won truth be told. Still, we have an actual game of football to analyse, so let's get going with the ratings.
Alisson dazzles
Alisson Becker (8): If this game is played similarly three months ago, whilst Alisson is out injured, Everton probably win. No slight on Adrian, it's just that the Brazilian we have in our net is comfortably a top three 'keeper in the world. Superb fingertip stop to keep Calvert-Lewin's flick out, made even more impressive by the fact he'd largely had nothing to do prior.
Trent Alexander-Arnold (6): Spoiler alert. Lots of 6's coming. Was a very 6/10 game. Trent was okay enough and did well defensively, until Lovren came on at least. Everton restricted him going forward very well.
Joel Matip (6): Lovely to see he hasn't forgotten his knack of running into the midfield with possession before ultimately being clueless as to what to do with it. Hope his toe is alright.
Virgil van Dijk (7): Lovely to see our handsome leader back. Hard to tell if he's not match fit as he plays the game at his own pace anyway, quite a feat for a centre-back. Partly gets a seven as he looks impeccable despite not getting a lockdown trim as some from other clubs have.
James Milner (5): Booked stupidly, shame to see him injured.
Keita shows promise
Fabinho (6): Nothing particularly wrong with his performance, nothing that stuck out either. Nice to see him put his name forward for a set piece, hit it well enough.
Jordan Henderson (6): Similar to Fabinho, really. Enjoyed that little shuffle he did to dummy a free-kick, getting his shuffle ready for the trophy lift I see.
Naby Keita (6): Definitely our sharpest midfielder but didn't do enough to justify a higher rating, he might have done if he was left on for longer but it's encouraging to see Klopp give him the start. Hopefully the end of this season can be a springboard for his best campaign in a Liverpool shirt in 2020/21.
Takumi not too bad
Takumi Minamino (6): Another promising sign for him that he was picked ahead of Origi. Pressed well and won possession handily a couple of times, nearly got into a great position after receiving the ball from Mane. Shame to see him go off at half-time.
Roberto Firmino (5): Saw a tweet saying that he looks like an extra from Narcos with the hair. Looked like he was thinking of shooting upcoming scenes rather than playing. Dragged a shot wide where he could've slotted in the man to his left.
Sadio Mane (6): Decent creativity, the aforementioned pass to Minamino his finest piece of play whilst he held the ball up well at times. Not the goal threat he'd have hoped for though.
Substitutes, all 5 of them…
Joe Gomez (6): Didn't expect him to get forward so much from left-back, reminiscent of 15/16. Oh Joe, how far we've all come together.
Alex Oxlade-Chamberlain (6): That dribble was great, wasn't it? Not much aside from that.
Dejan Lovren (5): Ergh. Nothing particularly terrible but wow, the difference in performance levels of the defensive unit when he came on spoke volumes.
Georginio Wijnaldum (N/A): Honestly no idea, cracking smile though.
Divock Origi (N/A): Didn't bag his customary late winner which was a little disappointing.