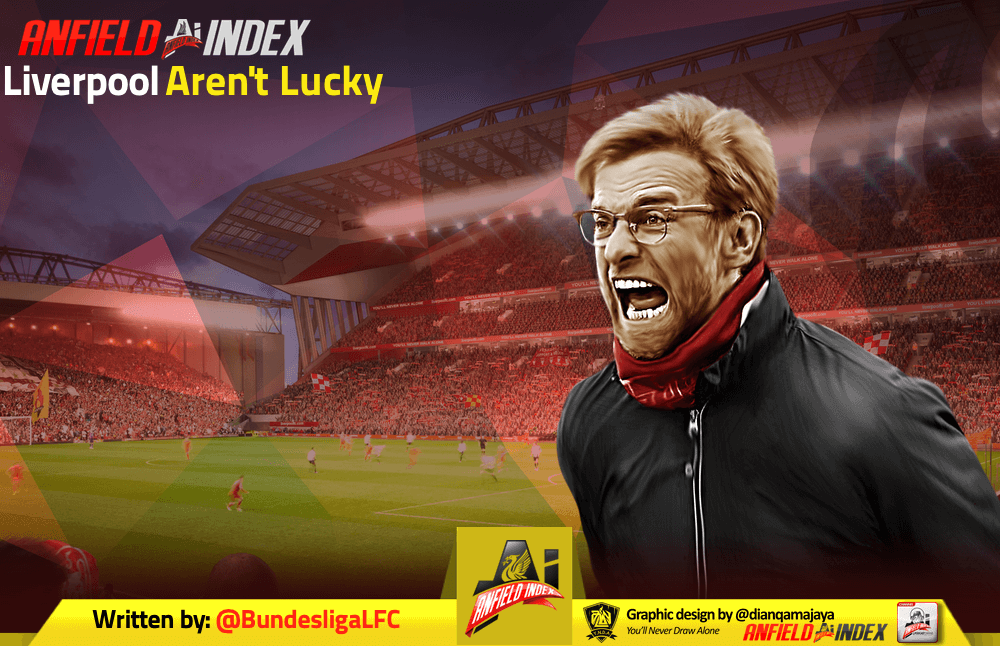 Liverpool Aren't Lucky
There's a strange narrative appearing online. Not only are Liverpool lucky to be in the position they find themselves in, but they're also boring. 
Firstly, we'll address the latter. Fans aren't used to seeing the level of control shown by the Reds this season. Even the Centurions didn't have as many points as Liverpool do at this stage of the campaign. Jurgen Klopp's men haven't been thrashing teams like Man City did during the 2017/18 season but it feels as though people are rewriting history a little bit. 
City did hit Stoke for seven and they also racked up a few big scorelines. But they also eked out ten victories by the odd goal. There was a run in late November and early December of four consecutive 2-1 wins. But because Pep Guardiola's side supplemented those with a number of one-sided victories, people chose to overlook those close matches and I can't recall them ever being accused of being boring. 

City finished the season averaging 2.7 goals per game. Liverpool are currently averaging 2.2 goals per game. For a bit more context, the Reds have hit three or more goals in a third of their matches this season. Klopp's team aren't boring, they're just smothering the opposition so many of the games are one-sided affairs played at the tempo of Liverpool's choosing. People want a spectacle but the ruthlessness of this team means it isn't possible. That in itself is an achievement. As if the fact they've won 90% of their matches in the league this season. 
The outcome might be a little boring for a neutral but to call the Reds boring is disrespectful. They're one of the greatest Premier League sides ever. After all, praise is regularly heaped on the Arsenal side of 2003/04. The Invincibles drew almost a third of their matches and won by the odd goal on 14 occasions. They finished the season having averaged 1.92 goals per game. They're never described as boring though. So why is it Liverpool are? 
Now we'll look at the claims Klopp's side is lucky. According to Understat, the Premier League Champions are almost 22 points better off. Looking at the expected points table, the Reds are almost five points behind City and just five above Chelsea. This is worked out by looking at expected goals scored and expected goals conceded in a match and awarding points that way. 
The expected metrics are usually used as a guide to see which teams are over-performing and which teams will soon revert back to the mean. It isn't 100% accurate but it is often a good indicator. For example, back during the 2017/18 campaign, it was clear Manchester United were too reliant on David de Gea and that it would be difficult for his exploits in goal to be sustainable. If you look at what's happened since it's clear the expected model was correct. 
In the eyes of many, Liverpool's over-performance this season is unsustainable. They're ignoring the fact the Reds were 14 points better off where they should've been last season. They're choosing to overlook the evidence that the analysts at Melwood have clearly come up with a more granular way to analyse those deeper numbers. Even post-shot expected goals, a metric that looks at where the effort lands on target as opposed to just looking at where a shot was taken, paints Liverpool in a much better light. 
Non-penalty post-shot expected goals has Liverpool on 55 and City on 57. Defensively, that metric has the Reds on 18 goals conceded with City on 26. Klopp's side have found a way to devalue efforts against them. When looking at these specific numbers, Liverpool have a 1.2 difference in for and against per 90, City's is 1.01. 
To reiterate, this takes into account non-penalty goals and focuses on the shot placement of players. Liverpool go from being lucky to actually dominating games more than City are. The lead at the top is just rewards for their performances.