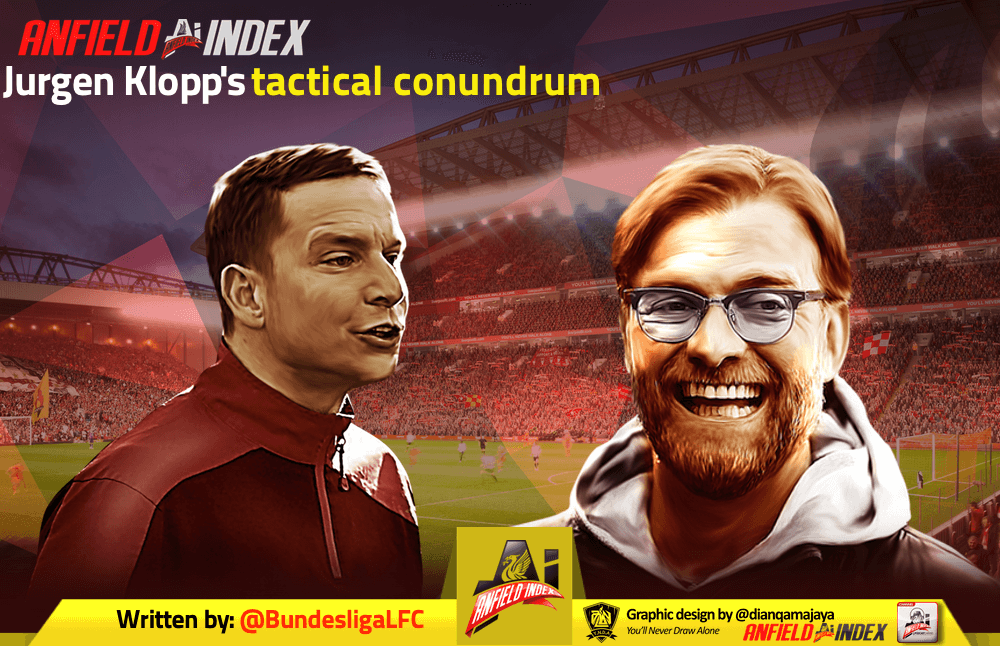 Jurgen Klopp's Tactical Conundrum
Liverpool players are often accused of being too reliant on the system they're being deployed in. It's used as a criticism and as a way to downplay the achievements of Mohamed Salah, Roberto Firmino and Sadio Mane. 
"In other teams, they'd be nowhere near as effective."  
And while this might be true, it's actually adding weight to the managerial ability of Jurgen Klopp. The former BVB boss is often written off as a passion merchant and what he does tactically is swept under the rug. He isn't just a motivator, as some people like to claim, but a brilliant tactician. Along with the recruitment team and coaching staff, he's transformed good players into world-class ones. He's taken £30million-rated players and turned them into £150million-rated individuals. 

When everyone is fit and firing, it's the perfect storm for the Reds. However, when certain players are missing through injury, the limitations to such a system become apparent. Obviously, Liverpool have won matches without their preferred XI. But it's pretty clear for all to see when changes have been made to the starting XI. The tempo is different, there's not as much fluidity and Klopp's side don't look at confident. 
While it's too hard to really read into the first competitive match following the resumption of football, the Reds did look out of sorts against Everton. It didn't have anything to do with match fitness either, at least not in my opinion. However, it had everything to do with not being able to start Andrew Robertson or Mohamed Salah. 
As Owen Brown said on Twitter, Liverpool replace key players with ones who aren't identical in terms of profile or style. They then change their system and this means the team isn't as effective. 
Both Alex Oxlade-Chamberlain and Takumi Minamino are good players in their own right but neither are direct replacements for Salah. For example, Oxlade-Chamberlain almost operates as a winger when used as the right-sided forward. Minamino, on the other hand, plays more of a Firmino role, dropping deep and drifting into the number ten position. The pair are different to the Egyptian with the No.11 almost acting as a No.9 for the Reds.
Salah, Trent Alexander-Arnold and Jordan Henderson struck up an understanding on that side of the pitch. Not only was it functional, but it was also effective. Changing one of those players has a massive impact on the other two and the way they play. You could tell in the derby and it was why Alexander-Arnold wasn't as dangerous as he usually is. 
It was a similar story on the left flank. With no Robertson, Liverpool lacked real width on that side of the pitch. There was no threat on the outside and Everton could manage the game on that side with relative ease. Without a left-footer on that side, it was all a bit predictable. Furthermore, the Reds really missed the burst of speed, energy and directness the Scotland captain brings to the team. 
Not only was Salah missing but Mane's game was directly impacted by the absence of Robertson. This game highlighted the need for individuals who fit the playing profiles of the players they're coming to cover for. It isn't just about quantity but quality. To combat this requirement, Liverpool ideally need a system and a style they can turn to if certain players aren't available.