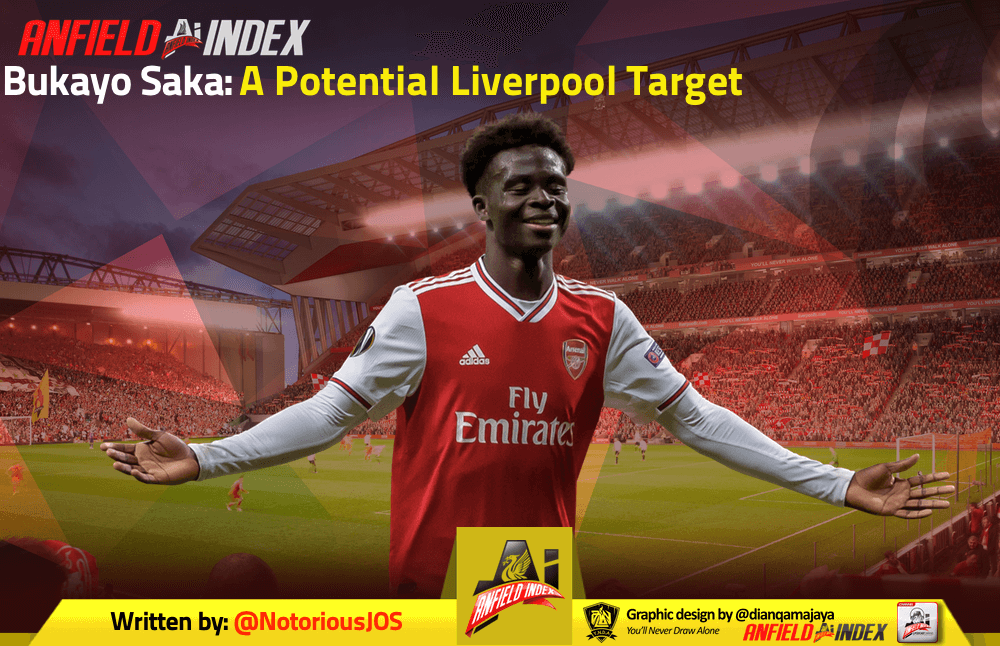 Bukayo Saka: A Potential Liverpool Target
As much as you could learn next to nothing from Liverpool's return to football from their pandemic hiatus in the drab 0-0 Merseyside derby draw at Goodison Park — a game played with the tempo of a pre-season friendly — it did reaffirm something that many of their fans knew: The Reds need a natural, back up option to Andy Robertson.
The Scot — alongside Mohamed Salah — sat out the game due to an unspecified knock and into his place came James Milner. As is always the case with the versatile former Leeds United midfielder, Milner did an admirable job in the left-sided defensive role — as did his replacement, Joe Gomez, when the 34 year went off complaining of a hamstring strain — but couldn't, as a right-footed player, replicate the width, dynamism and attacking incision of the left-footed Robertson.
With youngster Yasser Larouci — a converted winger — learning to be a defender on the fly, Liverpool will need to dip into the transfer market to provide both respite and competition for Robertson. The ideal player to keep the former Hull City defender on his toes — as well as offering the versatility to play in several other positions — is Arsenal's winger and or full-back, Bukayo Saka.
The pacy 18-year-old made his Gunners debut in 2018 and has continued to impress, both domestically and in Europe this season.
Primarily a winger, Saka — whose breakout performance was a brace of goals and an assist in the opening 2019/20 group stage Europa League for the Gunners against Eintracht Frankfurt — has had to adapt and learn to play further back the pitch and has shone there.
After injuries to Sead Kolasinac and Kieren Tierney, Arsenal turned to the England youth international to fill in as a left-back and Saka — to his huge credit — continued to thrive, showing an ability to cross accurately, dribble incisively and — surprisingly, given his inexperience and the dumpster fire nature of most of the Emirates Stadium teams defending —  an appetite and aptitude for defensive work.
In total, the Londoner has provided 10 assists in all competitions this season — showing how valuable a source of creativity he is for the Gunners —  but, at the time of writing, is stalling over signing a new contract that would extend his deal that expires in 2021.
With Arsenal highly unlikely to qualify for European football next season, Mikel Arteta may look to sell some of his most saleable assets in order to fund a squad rebuild which — judging by this season — they clearly require. Pierre Emerick Aubameyang is an obvious fundraising candidate and, with his contract dwindling and the risk of losing their prodigious left-back/winger, Saka is another.
Liverpool should look to take advantage of the uncertainty at The Emirates and launch a bid for the England under 19 international.
In the dog eat dog world of Premier League football, the Reds need to show their pedigree and their teeth and kick one of their rivals when they are down and tempt their brightest prospect away from North London.
During Liverpool's learner years at the beginning of the last decade, rival domestic clubs — especially Chelsea — prized players disillusioned about the club's direction away from Anfield. Raul Meireles, Yossi Benayoun and Fernando Torres decamped to Stamford Bridge; Raheem Sterling, in acrimonious circumstances, joined Manchester City. The tables have now turned and the Merseysiders find themselves top of the English footballing food chain and to maintain that lofty position will require intelligent transfer manoeuvring, especially in the era COVID-19 lessened finances.
Still refusing to sign a new contract, Saka is evidently considering his options before committing to Arsenal and Liverpool — requiring a left-back and versatile wide player, given the likelihood of Xherdan Shaqiri's departure — need to throw their hat into the ring for the England youth international's signature, whose dwindling contract — which expires next summer — means he could be available at a reduced price.
With only one senior left-back at the club, the Reds are running the risk of the zestful Robertson picking up an injury. Signing a quality, rotational option — especially a player who shares attacking qualities in common — would be the best course of action to not only preserve the Scotsman's best form — by allowing him to rest on occasion and maintain his high energy levels — but also to provide a grade of quality in the event that the former Hull City full-backs body pays the injury toll after almost three years of constant, intense football.
Saka, 18, ticks all these boxes and, crucially, counts as homegrown. It is still unknown whether or not in post-Brexit Britain that quotas will be placed on overseas footballers. In this event, an even higher premium and importance will be placed on English players and few players of the Arsenal number 77's calibre will be available and potentially so inexpensively.