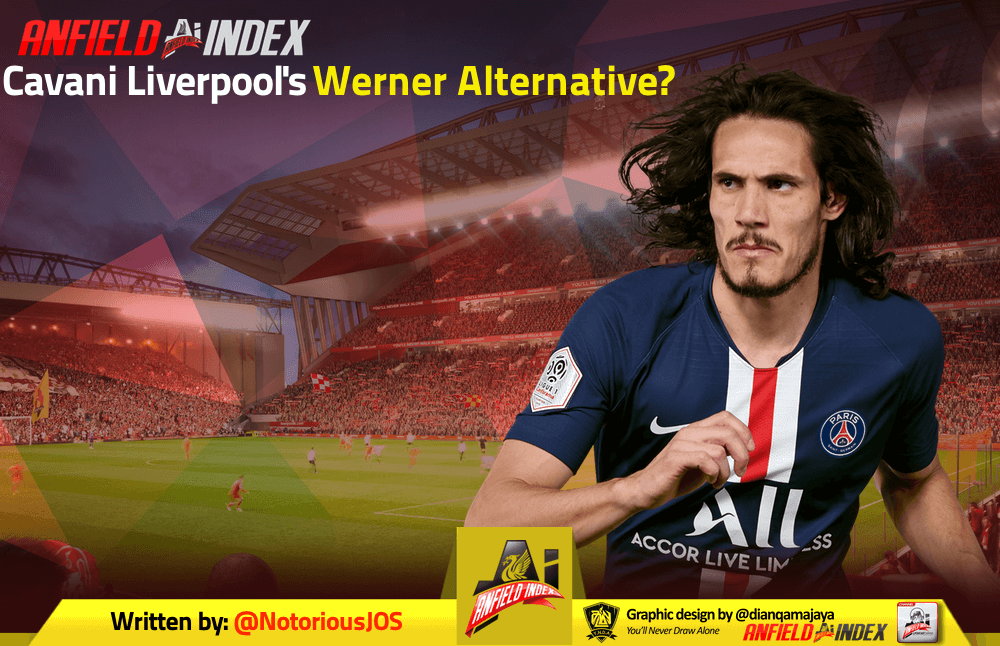 Cavani Liverpool's Werner Alternative?
The ongoing global pandemic has already had a big impact on football finances.
With games returning behind closed doors, clubs have been deprived of matchday revenues, in terms of hospitality, ticket sales, and other streams of income, such as club shop sales. Additionally, and more impactfully, television rebates — even given the fact they have been pushed out for another year — will hamstring many teams' abilities to flex their financial muscles in the transfer market.
Liverpool have already felt the brunt of the lessened ability to push the monetary boat out by losing out on Timo Werner to Chelsea. The Blues — whose oligarch owner, Roman Abramovich, treats the club as more of a plaything than a business — snatched up the speedy RB Leipzig forward in a deal reportedly worth north of an eye-watering £100M, when wages and agents fees are taken into consideration.
The Reds, despite Werner going on record about his admiration for both Klopp and the European Champions' squad, could not — or it may prove would not — stump up that kind of money and it shows the contrast in the way both clubs, Liverpool and Chelsea, are run. The Anfield team are run on a self-sustaining basis — spending the money they make via commercial deals, TV income and player sales —  a method which has brought spectacular recent success; the West Londoners, meanwhile — especially with financial fair play, FFP, being suspended this summer — are more than happy to throw massive fees at players, despite the footballing world being on its knees in a financial sense.
It isn't all doom and gloom for Liverpool, however, despite having to cut their transfer cloth according to a weakened economic capability. Whether it is young prospects — the likes of Harvey Elliott and Ki-Jana Hoever, who were signed for paltry fees — or elder statesmen, available on free transfers, the Reds' renowned recruitment team — headed by Michael Edwards and Dave Fallows — are sure to be crunching the numbers in order to identify potential signings.
One player who could offer the Reds the front three cover they were looking for when courting Werner's signature is Paris Saint Germain's soon to be free agent, Edinson Cavani.
The Uruguayan, who moved to the Parc des Princes in 2013 from Napoli, has confirmed that he will not be renewing his contract and that the season just ended — the French league was ended early in the midst of the COVID crisis by their government — will be his last in the French capital.
The 33-year-old has dominated Ligue 1 in his seven years with the Parisians, netting 138 goals in 200 appearances. Many supporters may turn their nose up at the prospective signing of a player who has scored regularly in the French league for the heavily bankrolled PSG, but Cavani's record in the Champions League — as well as his goal tally in Serie A, where he scored over 100 goals for Napoli and Palermo — where he has notched 30 goals in his time in Pari, shows that he is more than a flat-track bully.
The most important attribute that Cavani possesses that could interest Liverpool is his ability to dovetail effectively with other forwards, be it in a front two or three. Zlatan Ibrahimovic, Neymar, Kylian Mbappe and Ezequiel Lavezzi are all players that the Uruguayan international — ex-Reds player Luis Suarez has also paired well with him at international level — has combined well with at PSG, showing his ability to be either the main man — as in his time in Serie A — or to be "just another player" in a front two/three willing to play on behalf of the team.
The Reds' electric front three, Roberto Firmino, Sadio Mane and Mohamed Salah, are world-renowned for their inter-play and their bountiful goal returns and Cavani can offer similar attributes — Firmino's work rate, Mane's willingness to run the channels and Salah's goal return — as well as adding new elements. In total, the Uruguayan has scored 47 career club headers and this is a hypothetical avenue — with Trent Alexander Arnold and Andrew Robertson exceptional crossers of the ball — that Liverpool could exploit and add another string to their considerable attacking bow.
Linked with the MLS, Cavani could postpone his American adventure to make the move to Anfield and became the latest legendary Uruguayan forward to wear the Liverpool. And from the club's perspective, the player nicknamed El Matador could become the ideal stopgap — despite the fact he would command relatively high wages and has a lot of miles on the clock at 33 — until some normality returns to the footballing world and the Reds can operate in their usual transfer market capacity.