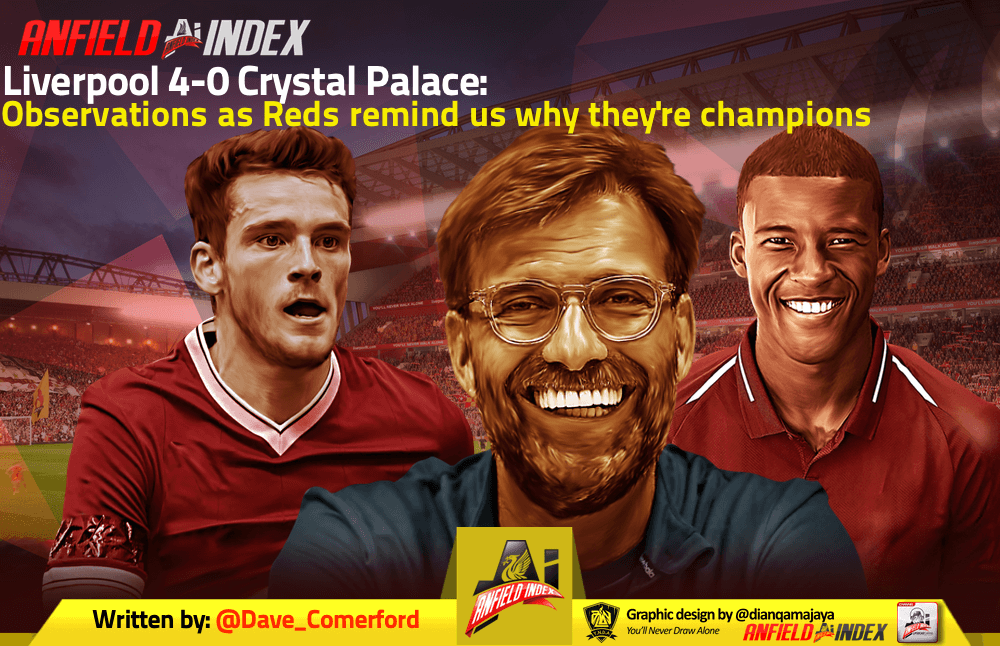 Liverpool 4-0 Crystal Palace: Observations as Reds remind us why they're champions

109 days after Liverpool last won a game of football, you could almost be forgiven for forgetting just how mighty Jurgen Klopp's title brigade really is.
But this masterful performance reminded us why the Reds are a mere speck in the distance in this Premier League title race. After a steady restart against Everton, Liverpool roared back to their best, and Crystal Palace were rendered their plaything.
Liverpool set their own tempo in an empty Anfield
The pace of most league games in the past week appears to have suffered from the absence of invigorating support, and there were fears that could affect Liverpool, who aim to play with a peerless intensity that harnesses the Anfield decibels, more than most.
But even with carefully-designed mosaics replacing those fans, Liverpool's players managed to whip-up their own suffocating atmosphere. You could see it from the off as they hounded Palace in packs and relentlessly sought one or two touch combinations in the final third.
Most impressively of all, they maintained it for the full 90 minutes when the game was realistically won at half-time. Palace were bullied from start to finish, and Roy Hodgson can only have been left in awe at his former team.
Fabinho's 10/10 display dispels jittery run
Before the season was suspended, Fabinho, having returned from a serious ankle injury, was enduring a tricky spell by his lofty standards. The game appeared to be bypassing him at times.
Encouragingly, he was able to properly impose himself on Sunday's Merseyside Derby and was one of Liverpool's best players. But still, few could have anticipated a midweek performance quite like this. Whilst executing his textbook destroyer role to perfection, he tapped into little-recognised facets of his game with devastating effect. His defence-splitting pass into Salah for Liverpool's second was sublime, and his thunderous goal might well prove to be the best of this 'Premier League World Cup'.
He was unquestionably the standout on a night of fine individual displays.
Trent channels an Anfield icon
When you saw Wayne Hennessey crouched on the left-hand side of the Anfield Road goal, readying himself for a sprawling dive across to the unguarded right, there was an air of inevitability about what came next.
Alexander-Arnold's deadlock-breaking free-kick was truly perfect. It had neutrals purring and Reds roaring. But what it is that makes this 21-year-old so joyous to watch? It's his seemingly God-given technique. We're used to seeing it on a weekly basis with sumptuous tee-ups from out wide and nonchalant play-switching balls, but occasionally the results prove even more spectacular.
Anfield hasn't seen a right foot with so much in its locker since Steven Gerrard.
Henderson is warlike
We've heard a great deal from his team-mates about the importance of player-of-the-year contender Jordan Henderson in the dressing room, but the noise of the crowd tends to cloak his on-field leadership role.
No more. Henderson's now-audible cries are animalistic. When a Red shirt takes on an opponent he can be heard bellowing instructions, and when (as was invariably the case tonight) they win that battle, he almost screams in celebration. It clearly gets his team-mates' blood pumping, and it might well slightly scare them!
A response to Manchester City
The Premier League title race is long over of course, but still there was an underlying sense that Liverpool were determined to an issue a response to Manchester City's electric restart. City have been so impressive that one leading journalist even backed them to regain the title comfortably when the reset button is hit next season.
But Liverpool more than matched those standards here, laying down the gauntlet themselves ahead of their trip to the Etihad in eight days' time. Unsurprisingly, that looks set to be the best game within this festival of football by far.
And within 24 hours, we will know whether it takes the form of a title-decider.