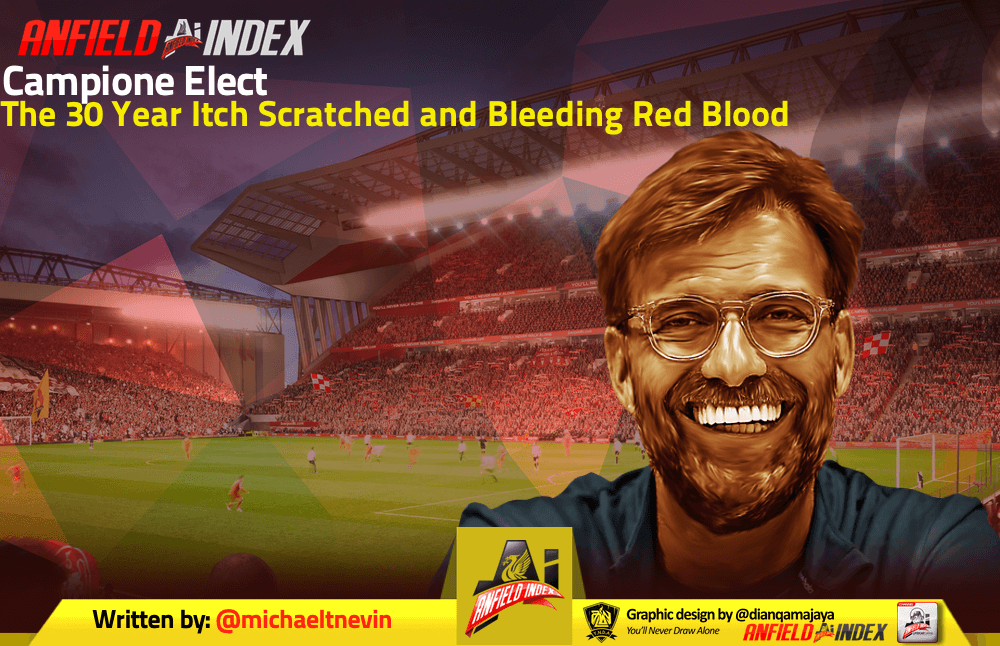 CAMPIONE ELECT - THE 30 YEAR ITCH SCRATCHED AND BLEEDING RED BLOOD
I've been writing about football – for whoever will have me, paid and unpaid, for over 30 years. Since the days when Liverpool reigned, not just Europe and the World like Jurgen Klopp's class of 19/20 but crowed over England's green but increasingly unpleasant land.
This might well be the last time I write before The Mighty Reds swoon and domineer over the country in which the City plants its largely Republican standard.
On Wednesday night, Liverpool, though five goals short of a famed 9-0 win over Crystal Palace during their last victorious campaign in 1989-90, stormed the Londoner's defences once again with four-goal triumph that puts us back on the brink.
Back on that infamous perch, a lofty suite from where we toppled under Alex Ferguson's relentless, obsessive and admittedly brilliant assault on the very fabric of Liverpool FC and all it's heroes of the period post 1990. The Fowlers, McManamans, Carraghers and Gerrards, Torres's, Suarez's and Sturridges, Henchoz and Hyppias, Reinas of this World. The Sounesses, Evanses, Houlliers, Rafas, Dalglishes, Rodgers of the Boot Room mythology.
These past 30 years, Anfield has lowered the Championship pennant never to hoist it again. And yet, the shrine has been blessed by some of the clubs' greatest ever talent who have succumbed not just to United's historical force but also the genius of gentleman Arsene, King Kenny himself who wore Lancashire's rose with pride, the clout of Roman's rubles, the oil slick left in the wake of the Mansour's obscenely, lavish yacht and the Miracle of the East Midlands, a spell cast by a man called Claudio chiming Dilly Ding Dilly Dong.
All of our managers of those three long decades, who fought a curse and the mental impact of the club's very worst day back in April 1989, were brave, valiant, oustanding Liverpool men. All took far more flak than they deserved because for all their faults they got us. They wore the Liverbird on their chests with the proud of any lad from Toxteth, Crosby, Kirkby, Halewood, Oslo, Jakarta, Dublin, or Budapest.
This impending triumph is for them and all their players, and all of us who watched, shared and suffered their pain and longing inside Anfield, across England and for the less fortunate legions on far foreign lands through the lens of a TV camera. A glorious, emphatic, silky victory as much theirs and ours as for Kloppo and his irresistible bunch of scallies in red and white pin-stripes.
How apt that the white piping on Shankly's all-red is the shirt that reassumes the throne. Stand aside Queen Elizabeth and vacate for your German relative. It really is impending. It could happen tonight! City must beat Chelsea or it is done. Fininto. Over. Yes, as the old Kop song went "Hand it over, hand it over, hand it over Manchester."
I'm smiling. Beaming; grinning like a Cheshire cat. I can't wait, not a day longer. Let's have it tonight, Friday night and with no work tomorrow for most of us, the thing we've craved so long toasted by sunkissed lads and girls of all ages with lashings of lager, golden and Guinness, prosecco and Reisling, Pinot and Sauvignon, soaked up by barbecued burgers the size of Bournemouth.
Come on Chelsea – don't the take the piss. Get it done tonight. It's been over since Christmas Billy England.
Put yourselves out of your misery and get on bended knee to pray we won't rule you forever as we did once before.