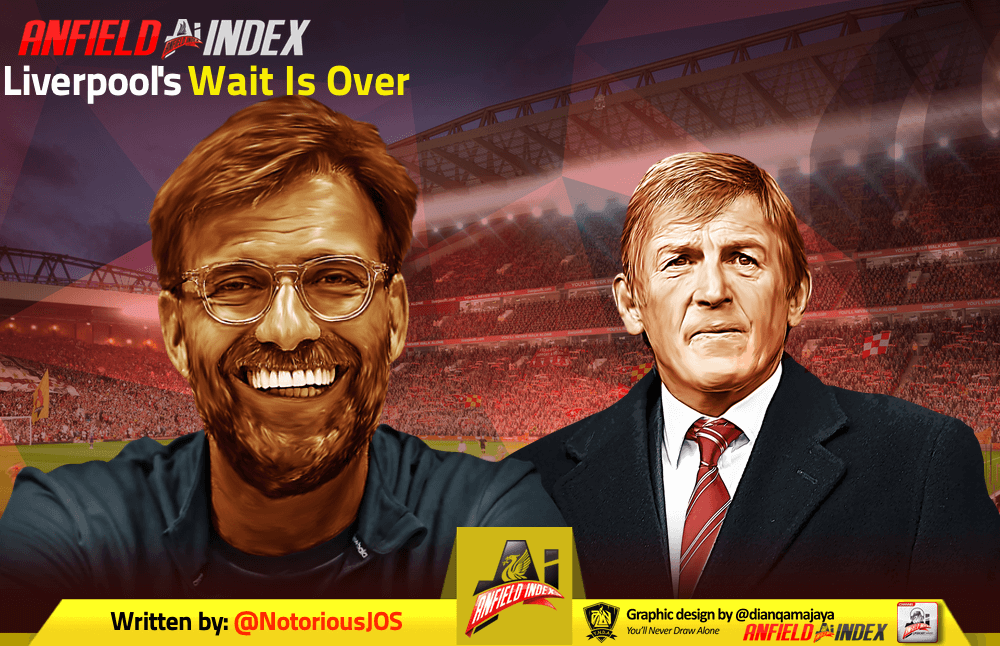 Liverpool's Wait Is Over
Finally, after what felt like an interminable wait, Liverpool Football Club are Champions of England once again.
The Reds' 19th crown — their first in the Premier League era — is all the more impressive, given the club's recent boom and bust history; where a title challenge would inevitably be followed a season later by a calamitous collapse.
The title tilt of 2001/2002 was followed by a meek 5th placed finish in 2002/2003, again owing to poor transfer market manoeuvring, prioritising signing El Hadji Diouf over Nicolas Anelka and Salif Diao and Bruno Cheyrou over Damien Duff being ignominious examples.

Rafael Benitez's side — brilliant throughout the course of the season, taking famous scalps at the Bernabeu and Old Trafford, at home and abroad — came agonisingly close to ending the drought in 2008/2009 only for the toxic ownership of Tom Hicks and George Gillett to destabilise the entire club and lead to the departure of key Benitez lieutenant Xabi Alonso. The next campaign, 2009/2010, the Anfield side — playing under a noxious cloud of pressure spewed by the in-fighting behind the scenes — limped to a seventh-placed finish, fully 23 points behind champions Chelsea. Benitez, so adored by the Liverpool faithful for delivering the clubs 5th European Cup, parted ways with the club to be replaced by Roy Hodgson, and the title never felt further away.
After two experienced managers, Hodgson — whose inability to coach players at a big club with his ultra safety first, bordering on small-time, approach led the team to the brink of the relegation zone before he was on receiving end of the axe — and Dalglish — who reignited a belief in the players, winning the League Cup in 2012 and taking the team to sixth in the latter half of 2010/2011 but, ultimately, the game had moved on from a coach whose last involvement in management came in the late 90's — the club, now under the ownership of Fenway Sports Group, opted to roll the dice on a young manager, Brendan Rodgers.
Rodgers, a former assistant to Jose Mourinho at Chelsea, had shown great promise at Swansea, winning promotion to the Premier League with the Welsh side playing a brand of progressive, possession football that was the antithesis of Hodgson, in particular, and his tactical blueprint. The young Antrim man started off the 2012/2013 season slowly, but — boosted by the January acquisitions of Phillipe Coutinho and Daniel Sturridge — the Reds, with their newfound goal threat, rallied in the second half of the campaign, eventually finishing seventh and 28 points winners Manchester United.
Coutinho and Sturridge, as well as the herculean Luis Suarez — who scored 31 goals in 33 league appearances — the reinvented Steven Gerrard and the emerging Raheem Sterling contributed to a whirlwind of attacking football — which at times did feel like a force of nature — which brought Liverpool to the brink of that elusive Premier League crown. Defensive frailties, though, and rank misfortune — the infamous Gerrard slip allowing Demba Ba to score in a pivotal game against Chelsea at Anfield — saw the Reds finish four points behind eventual champions Manchester City.
The next campaign will live in infamy with Liverpool — who sold Suarez to Barcelona —  finishing sixth — 25 points off winners Chelsea — with a patchwork squad of Rodgers' transfer picks and those of the clubs then maligned transfer committee underwhelming both at home — coupling their poor league showing with an FA Cup semi-final defeat to Aston Villa — and abroad, losing to Besiktas in the Europa League round of 32 after their elimination from the group stages of the Champions League. The stat that sheds the light on what was a thoroughly unenjoyable season for the Reds faithful is the fact that the club's strikeforce — Mario Balotelli, Rickie Lambert and Fabio Borini — scored a combined six league goals. Almost fittingly, the season ended — in Steven Gerrard's last game, no less, which added to the end of days feel — with a 6-1 thumping away to Stoke City.
Rodgers survived what many felt like what would be an inevitable sacking, but the sense that the former Reading coach was a dead man walking was palpable and, after a 1-1 Merseyside derby draw at Goodison Park in October 2015, he was giving his marching orders.
Discord behind the scenes — between managers and owners or managers and recruitment staff — played their part in undermining the on-pitch efforts — which, in turn, weren't helped by key players departing and a ham-fisted attempt in replacing them.
All of this changed, however, when Jurgen Klopp became the new Liverpool manager on the 8th of October 2015. The German, so successful at Borussia Dortmund — where he won two Bundesliga titles, a German Cup and guided his team to a European Cup final — was an immediate breath of fresh air, acting as an adhesive to bond together the once disparate and warring parts of the club.
Without making any significant signing in his first transfer window at the club — only plumping for Steven Caulker on loan — Klopp guided his new team to two finals, the League Cup and the Europa League, and, despite losses in both, there was enough solid signs for fans to look forward to the next season with a sense of optimism. An 8th placed finish, 21 points off surprise winners Leicester City, counterbalanced the cup achievements and showed that — even with the undoubted improvements to individuals working under Klopp — there was scope for improvement and investment would be needed.
And it was in the market — showing the sort of trust of the process and collaboration that, by all accounts, Rodgers never did — that Klopp — empowered by the previously denigrated transfer committee — has shown time and again his Midas touch. In the summer transfer window of 2016, the Reds signed, among others, Sadio Mane, Joel Matip and Georginio Wijnaldum. All these players weren't the former Mainz coaches first choices — for example, Klopp wanted to sign Mario Gotze — but, showing a humility to work within a structure, he rubber stamped their arrivals nonetheless, trusting in those around him.
A fourth-placed finish in the 2016/2017 season was a significant yardstick in the club's recent history, qualifying them for the Champions League and enabling them to attract a higher calibre of player. Recruited in the summer of 2017 were Mohamed Salah — whose first season back in the Premier League saw him break the all-time goal-scoring record for a 38 game season — Andrew Robertson, who arrived without much fanfare from relegated Hull City, and Alex Oxlade Chamberlain, a late purchase from Arsenal.
In the January of 2018, Liverpool were unusually busy in the midseason market. Out went Coutinho, in acrimonious circumstances, to Barcelona for an eye-watering fee north of £100,000,000. Equipped with the proceeds of the Brazilian's sale, the Reds paid Southampton's £75,000,000 asking price for Virgil van Dijk — a player whom they spent the entirety of the previous summer trying to buy — and the purchase of the towering Dutchman was the defensive linchpin that the brilliantly attacking, yet soft under-bellied squad needed.
Van Dijk made an immediate impression, helping the Reds finish fourth — 25 points off winners Manchester City — and playing a massive part in the Merseysiders march to the European Cup final. Two huge Loris Karius blunders — combined with an injury to Salah — saw Real Madrid snatch a 3-1 victory but, undeterred, Klopp promised Liverpool would be back. And, in typical fashion, he was good to his word.
The need for a new goalkeeper was obvious after Karius' calamity in Kiev and the Reds struck transfer gold again, signing Alisson Becker from Roma for a then-world record fee for a goalkeeper of £66,000,000. Also recruited were Naby Keita and Fabinho — earmarked with adding a degree of control to the midfield — and Xherdan Shaqiri.
With an impressively bolstered squad, Klopp went one better in Europe, defeating Tottenham Hotspur 2-0 in European Football's showpiece final in Madrid. There was heartbreak in the league again, however, when Liverpool — despite registering the third-highest points tally in English football history with 97 — finished a point behind Manchester City having only lost once — away to their title rivals — all season.
Many teams would crumble under the trauma of coming so close but being denied — see Spurs, for example, who will be lucky to finish in a Europa League spot this season — but Klopp — in the same manner in which he cajoled his squad to not dwell on the heartbreak of Kiev — primed his players to go again.
And they went again, in record-breaking fashion. Liverpool's title victory — sealed with seven games remaining — is the earliest confirmed Championship in Premier League history. The rampant Reds, who have scored 70 goals and conceded 21 to date, and their title is all the more impressive given that their Championship rivals, Manchester City, are currently in the Court of Arbitration of Sports dock over financial impropriety. Klopp, with a net-spend seventh in the league over the last five seasons, has bested a club who — in terms of transfers in — have spent five teams more than the Anfield team and who started from a higher base.
After so many false dawns and heartaches, Klopp — who has united the club towards one common goal — has finally scaled the Premier League mountain. The German's famous quip that he wanted to turn "doubters into believers" is now incarnate in all the clubs many millions of fans and, now — after winning their maiden Premier League crown — they believe that — after years of fatalism — another title will soon follow.