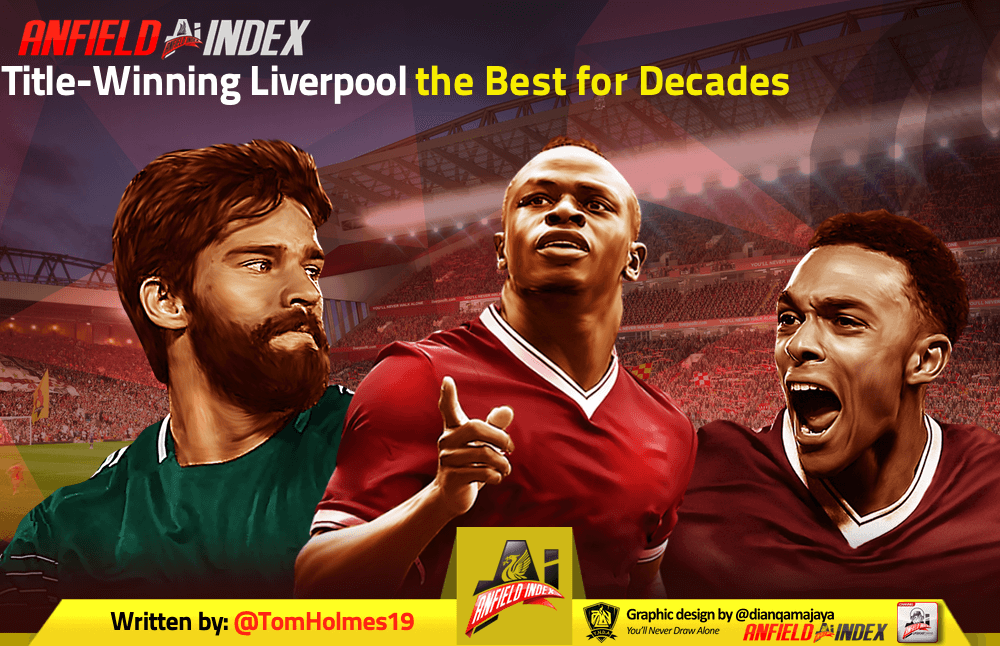 Title-Winning Liverpool the Best for Decades
Well they did it. It's over.
Liverpool were officially labelled Premier League Champions as Man City slipped up at Chelsea, losing 2-1 and giving Liverpool a 23 point lead with seven games to go.
This is the first time in my lifetime I've seen Liverpool win the title and for many of you it's likely either the first of your life or the first one you're old enough to remember.
And for me, this Liverpool team is unquestionably the best Liverpool side of the last thirty years, and the most deserving of the trophy that they've delivered.
None of this is to cast aspersions on previous excellent Liverpool sides of the Premier League era. With Reina, Carragher, Alonso, Mascherano, Gerrard, Torres and Dirk Kuyt, Rafa Benitez developed an extremely strong core of a Liverpool side, that thoroughly deserved to win more trophies than it did.
The 2008/09 iteration of Rafa's Liverpool was comfortably the best team we had under him, and up until that point, it had probably been the best LFC side since the 1990 title winners.
Then of course there was 13/14, which also saw a strong group of individuals, albeit more chaotically assembled. But there's no doubt that Suarez, Gerrard, Sturridge, Coutinho and Raheem Sterling (and if we're being entirely fair Jordan Henderson was one of our best players that year) were all good enough players to win the Premier League.
But no Liverpool team that I can remember has had this much talent flowing in every area of the pitch. Has had this good a manager. Has had this much drive and intensity and belief and mental character.
Not that this is how you define greatness, but if you were to attempt to put together an all-time Premier League Liverpool XI, over half of that team would play in the 19/20 title-winners. A lot of Liverpool's great players of that 13/14 team ended up achieving greatness elsewhere, as did the 08/09 team. The likes of Alonso, Mascherano, Suarez and Sterling all ended up becoming stars at other clubs.
But this current Liverpool team has made its own stars. Yes, there was significant outlay when required, but for every Virgil Van Dijk, there is a Trent Alexander-Arnold.
If you look at this team now: Alisson Becker is the best Liverpool goalkeeper I can remember. He's a truly outstanding individual who has bailed out his team on more than one huge occasion.
Virgil Van Dijk – what more needs to be said. For a centre-back to win PFA Player of the Year and be a serious Ballon D'or candidate says it all about him. Again, comfortably the best central defender I've seen play for Liverpool.
And next to VVD, both Joël Matip and particularly Joe Gomez have demonstrated that they are excellent centre-backs in their own right. Gomez has quickly developed as England's first choice and probably the third best defender in the league.
The full-backs are generational. With one goal and 23 assists between them last season, and four goals and twenty assists already this season, it's genuinely incredible how much creativity those two bring to this team. Trent Alexander-Arnold is already the best right-back in the world at 21, and his talent is terrifying.
In midfield, Fabinho's performance against Palace was a timely reminder that although he's struggled a bit this season after an injury, he was one of the best defensive midfielders in the world in the front half of the season. Gini Wijnaldum continues to be Mr Versatile, with Naby Keita and Alex Oxlade-Chamberlain both starting to find their feet and form again.
And then there's Jordan Henderson who on paper is arguably one of the weakest links of this starting team and yet is set to not un-justifiably be a serious candidate for Player of the Year again. Two years ago, the idea of Jordan Henderson lifting major trophies was resoundingly mocked in the football world. Nobody is laughing now.
The front three is as good a front three as exists anywhere on the planet. Mo Salah continues to be the focal point and most important attacking player, as both Liverpool's most prolific forward and their most creative player. But as ever, Sadio Mané is fresh on his heels, and has developed a delightful habit of scoring crucial goals. These two are the best winger partnership in the league, as well as being probably the best two individual wingers in the league.
Finally, Bobby Firmino, the lynchpin, the man who holds everything together. He's not had his best finishing season, and another year he would have as many goals to his name as Salah or Mané, but by now everyone knows that scoring goals isn't the most important thing Firmino does.
And since you're reading this, you're probably a Liverpool fan, so you don't need me to tell you how damn good our team is. How every single position oozes with talent. How the recruitment has been phenomenal. How the team functions greater than the sum of its parts. And how this Liverpool team has won 28 out of its first 31 games to deliver probably the best title win in history, so how could it not be the Liverpool team most deserving of the accolade Premier League Champions?
But sometimes it's nice to just lay it all out, to point out exactly how strong and how good and how complete this team is, and to let the greatness of this team soak in.
And before I finish, a quick word on the man responsible for this. Jurgen Norbert Klopp. What a man. It's been less than five years since Klopp came into the club, gave everyone hope again and declared that in four full seasons, this Liverpool team would win at least one Premier League title.
Year four, and with a Champions League already in the bag, Klopp did exactly what he promised. He delivered the elusive Premier League. His tactical genius and clout, his ability to build a functioning coherent system and tweak it to his players, but also his man management skills all cannot be understated. Klopp is one of the finest managers Liverpool has ever had, and we are lucky to have him.
So enjoy what's left of this season. Enjoy seven games of our lap of honour. Enjoy this team while there's nothing on the line except to see exactly how historic this season ends up being.
Up the title-winning Reds.