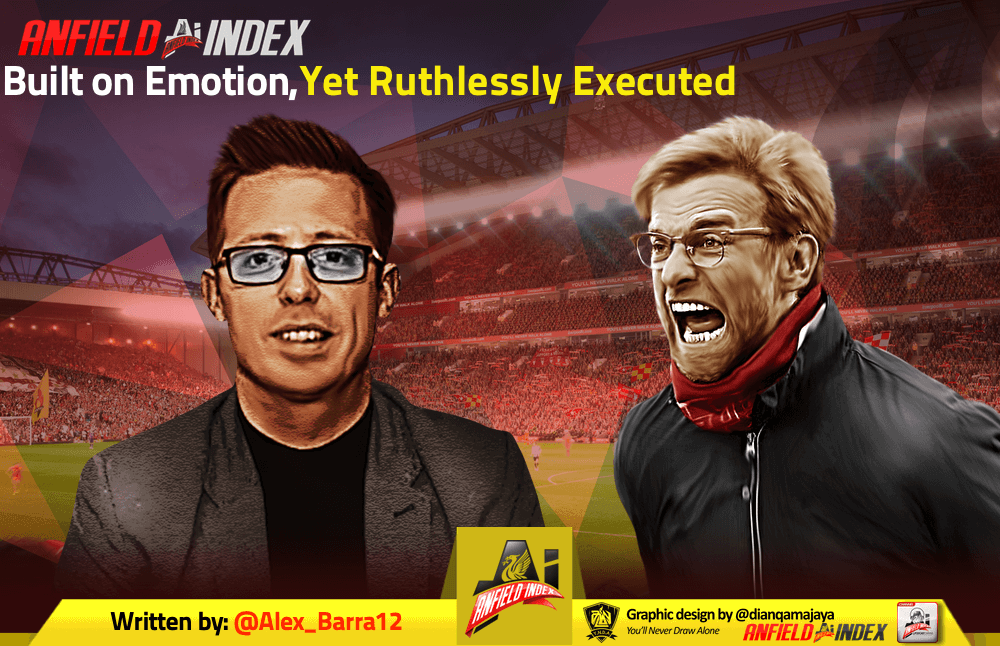 Built on Emotion, Yet Ruthlessly Executed
Somehow, it was inevitable that it ended this way.
Not with a roar that had been pent up for thirty years, not with a glorious cavalcade, not even in front of any fans. In fact, there weren't even any red shirts on the pitch at the end of the ninety minutes that confirmed Liverpool as champions.
Liverpool's title celebrations were a long, long time coming. Tragedy had become ingrained into the club's fabric, yet the close-calls and traumatic experiences – including the most significant of all just before that final title thirty years ago – only deepened the sense of unrest, the desperation for the long wait to be over, for the club to shake off the missteps, the close-calls, the near-bankruptcy, and remember what it was like to win.

What the club needed was a figurehead, someone to tap into that desire of Liverpool as a football club to manifest as a cult of personality, with a talismanic figure leading it. The most famous of the Kop's banners depicts those leaders: Shankly, Paisley, Fagan, Kenny, Rafa, and now Klopp. What do they all have in common?
They tapped into the emotion of a city and unleashed it with full force. Yet not since Shankly has someone done it quite as well as Klopp.
The Barcelona game – the impossible task – was achieved not by a blistering football performance (Liverpool relied on Alisson to make a few saves and didn't actually create that many chances themselves) but by a domineering sense of inevitability: as soon as one goal went in, every Liverpool fan in Anfield and around the world willed their team on. Liverpool, in those moments, is less a team than a cult: something each supporter has a piece of themselves invested in, their emotional outcries a ritual to create a certain kind of magic on the pitch.
It's why Pep Guardiola has struggled in singular games against this Liverpool side, Klopp's Liverpool side: there are tactical reasons, there is the pressing game and the way Liverpool move the ball to unseat the Spaniard's meticulous patterns, but there's more. All the calculations and clever tactics in the world can't save them against the blistering force of an emotional thunderstorm.
Klopp engendered that, too. That game against Crystal Palace in 2016, where he felt alone? That didn't happen again. The West Bromwich Albion game, where he was widely mocked for taking the players to cheer the fans after a measly 2-2 draw at home, that was a message: "We are here to make you happy. But we need you to make us happy too." After every final his team lost, Klopp didn't wallow in self-pity, he made sure the fans knew they needed to keep believing. It all stemmed from some of his first words: from doubters to believers.
Don't suppress the emotion, let it out. Liverpool's curse became their strength: thirty years of pent-up emotion was turned to ferocity, to passion, to determination.
Ironic then, that this season wasn't a testament to emotion. It was an exhibition of ruthlessness.
There were, of course, games where the Anfield crowd was needed, where the cult needed to supply more of that ritualistic magic. There was grit and determination, of course.
Yet this season there was no emotional rollercoaster, no turbulent vacillation of nerves and excitement, at least not like there usually is. There was just a supreme confidence in Liverpool winning, a fierce desire to overwhelm, to score, and then to make sure the job got done. Nothing more, nothing less. It wasn't swashbuckling, it probably wasn't even as attractive as the football with Coutinho in the Fab Four. But it was ruthlessly effective, and that was its own kind of compelling.
Liverpool didn't storm to the title with a roaring crescendo, but instead were forced to deal with a three-month interlude, before the drums finally kicked in and (eventually) everyone was reminded of just how good they could be.
It was the antithesis of the past attempts: sure, Rafa and Houllier had the defensive stability, but their title challenges were always tense; a boxer with his arms up, waiting for the one punch that broke through. They were still ruled by emotion; of old battles with United and Steven Gerrard soaring higher than the rest. Then came Rodgers' 2013/14 team, one built to be swashbuckling, to be chaotic, to use the Anfield roar as a stimulant and charge headfirst into whatever came before them. That ought to have been enough, except it wasn't: when Chelsea came to Anfield, the place was tense. There were no celebrations, only nerves. Where weeks before Liverpool beat Manchester City due to the swirling hurricane of Anfield's emotion, Chelsea turned that on its head. Steven Gerrard, the man who encapsulated the emotion of a football club and city, was the one to fall at its feet, despondent and destroyed.
It wasn't the emotion that built Liverpool's first title winning side in thirty years. It wasn't a single player putting the entire club on his back, it wasn't even four or five players, the spine that carried the rest. It was the entire team; all of whom had roles to play. It was a team put together through cold, calculating decisions, through numbers and data and throw-in coaches and nutritionists. It was a football team created through the prism of hiring the best people to make the best decisions.
They created a Liverpool team that did their own work with numbers: setting records left and right, mathematically securing the title the earliest any team ever has.
When Liverpool fans sung "Now you're gonna believe us!" there was no hubris to be had. There was no fear of it recoiling and kicking them in the face. There was just a settled sort of delight: after thirty years of pain, after all those close calls, they could feel comfortable. Watching the best team in the land show that they deserved this title more than any other.
It is indeed ironic that the man who brought it to them relies heavily on emotion. His most dramatic wins have depended on it. When he won the title, he was overcome with tears, and he didn't even really know why. It was pure emotion.
Yet he presided over a team that was completely ruthless. A Premier League winning team.