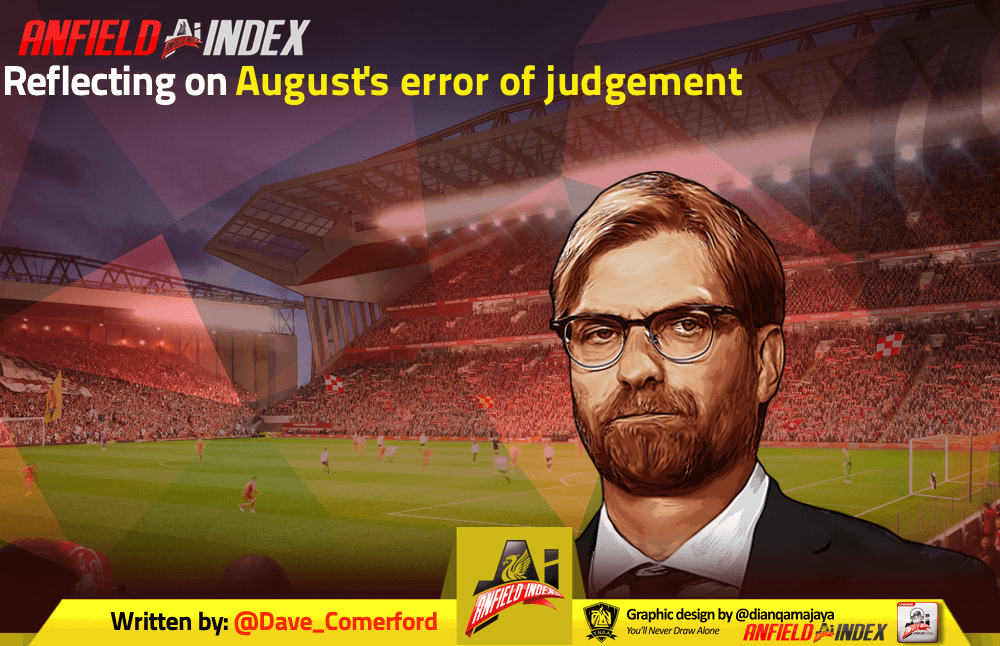 Reflecting on August's error of judgement
"Part of me can't help but think that the side that beat us to win the league by a point have strengthened while we've stood still."
That's what I tweeted on 7 August 2019. Manchester City had just broken the bank for a big-name full-back again, this time Juventus' Joao Cancelo. Earlier in the summer, they had brought in Rodri, a coveted 23-year-old who seemed set for a seamless transition into Pep Guardiola's purring midfield.
On 27 July, I had insisted that I trusted Klopp fully. And yet, it was a "case of looking at the squad, looking at the ridiculous amount of football we have to play and seeing that it clearly needs some reinforcement".

As it transpired, the only reinforcements were two promising but little-tested teenagers and a goalkeeper that had been released by West Ham United.
Looking back, on the Sunday after Thursday's title celebrations, I don't necessarily grimace at this mistaken pessimism. It seemed to have a reasonable basis. But what's clear is that, even though I said otherwise, I didn't truly trust Jurgen Klopp. And whilst I can't say for sure whether I was in the majority, I certainly wasn't alone.
What Klopp understood was that his Champions League-winning team was far from the finished article. Flying in the face of rationality, his instincts told him that a tally of 97 points was not their ceiling.
Hence, as Liverpool commenced their preparations for the new season, he urged them to be 'greedier', as per The Athletic's James Pearce. Klopp and his staff apparently saw 'plenty of room' for further growth and development, breaking through the ceiling not through recruitment but through a relentlessly-honed winners' mentality.
And sure enough, though squad rotation in the final seven games might ultimately mask the full extent of Liverpool's improvement, they somehow managed to become considerably better. They have picked up 10 more points than they had at this stage last season.
The squad that Liverpool maintained was occasionally depleted by injuries – Alisson, Joel Matip and Fabinho all spent extended periods on the sidelines – but none were season-derailing, because their replacements delivered when called upon.
Meanwhile, the 'irreplaceables' – Trent Alexander-Arnold, Virgil van Dijk, Mohamed Salah, Sadio Mane and Roberto Firmino – all avoided any sort of lengthy lay-off. And we shouldn't merely put this down to luck.
Alexander-Arnold has only missed five games since the beginning of the 2018/19 season.
Van Dijk has only suffered one serious injury in his career, and at Liverpool, has been ruled out of the starting line-up on only one occasion.
Salah has never missed more than four matches.
Mane has only been out for more than a month once as a professional. When he has been injured at Liverpool, he has only missed four games on average.
And not since the autumn of 2015 has Roberto Firmino spent more than two-and-a-half weeks on the treatment table.
I've seen increasing numbers of football fans on Twitter subscribe to the argument that availability is a footballer's most underrated attribute.
Of course, any player can fall victim to a freak accident on the pitch, but beyond that, some are simply less susceptible to injury than others.
There is a growing field of scholarship in this area, and perhaps Liverpool's summer passivity was driven by medical department assurances of the negligible risk of their biggest names suffering serious setbacks.
Put simply, Klopp gambled, but maybe the danger was far smaller than we realised, and the reward of stability underappreciated.
So, what can we learn from this going into next season?
Well, based on supporters' recent grumblings, some of us haven't taken the lessons on board.
When it was confirmed that Liverpool had pulled out of the race for Timo Werner, a multitude of Reds expressed their fear that the champions' dynastic potential would be squandered, that they were leaving themselves vulnerable to City's inevitable, transfer-driven resurgence.
We know that Klopp wanted Werner. According to The Athletic, they regularly exchanged messages on WhatsApp as he set out his vision for the forward's role at Anfield.
We also know that, near the height of COVID-19 uncertainty, Liverpool were unprepared to commit so much money, in transfer fees, agent payments and wages, to one player.
But other than that, we are left to make educated guesses about the state of our finances.
And there's still a very real possibility, whether through Minamino/Shaqiri-style swoops, loan deals, sales or swaps, Liverpool will bolster their squad.
Regardless, we have to understand that another relatively quiet summer does not necessarily signal stagnation. It might even be part of a long game, teeing-up a reinvigorating superstar addition in 2021.
"Sometimes… you have to live in the house before you build a new one," Klopp tellingly said in the summer. And this is not a house in need of reconstruction like the late-90s Chicago Bulls.
In Liverpool's first XI, only Jordan Henderson has reached the age of 30. Only Georginio Wijnaldum is within 12 months of doing the same. The way both players have gracefully matured as footballers suggests they will continue to thrive at the top for another few years at least.
On the whole, this is a squad in the midst, but certainly not at the end of, its peak years.
And crucially, it is now a team of both English and European champions. We have seen time and again how powerful merited arrogance can be in football.
With their rivals either rebuilding or shrouded in uncertainty, Liverpool's serene stability may once again be their greatest commodity.