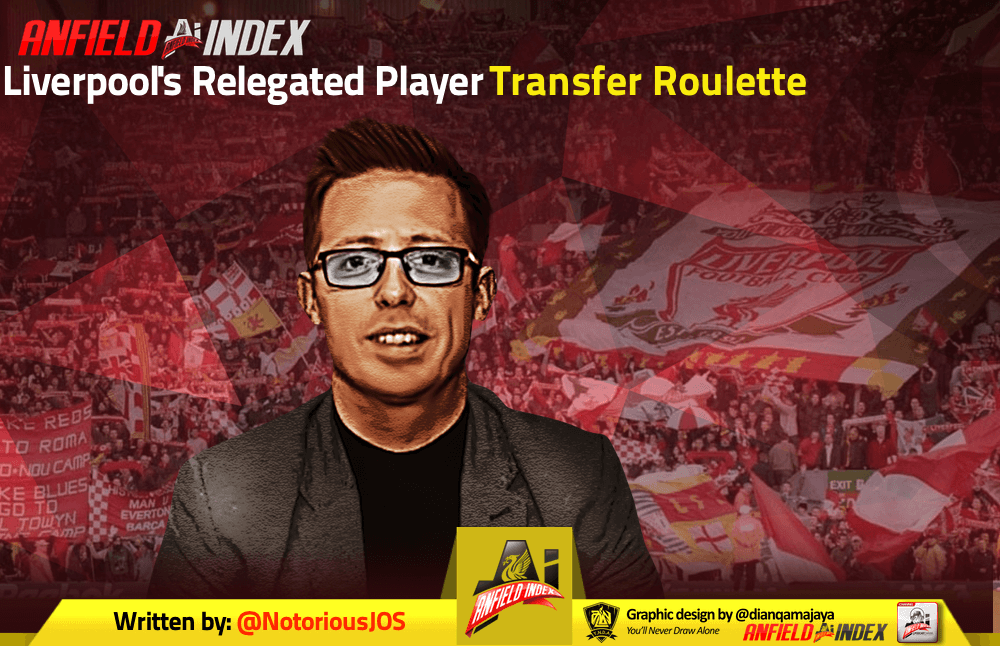 Liverpool's Relegated Player Transfer Roulette

Liverpool have already felt the brunt of the financial pinch caused by the ongoing pandemic.
Long linked with Timo Werner, the Reds — who were either unwilling or unable to match the financial package on offer in West London — were beaten to the signing of the German international by Chelsea.
The prevailing sense, as suggested by all of the journalists close to the club, is that reigning European, World, and English champions will be relatively quiet in the upcoming transfer market. As a club, unlike Chelsea — who are ostensibly a plaything for their billionaire oligarch owner, Roman Abramovich — Liverpool are self-sustaining and only spend money they can earn themselves, be that through commercial income, match-day revenue or the money generated by player sales.
All these streams of income, however, have been impacted by COVID-19 in various scales of severity and the Reds will have to cut their transfer cloth accordingly this summer, if they are to be active in the market and increase on the minimal amount they spent last summer where Adrian — free — Sepp Van Der Berg and Harvey Elliott — both small prices — were the only additions made to the squad.
Known for their long-term planning and almost religious adherence to a transfer structure — Liverpool plan two transfer windows in advance and will wait, as in the case of Virgil van Dijk's transfer from Southampton, for the right signing to become available rather than deviate from their plan — the Reds have shown in the past that they can and will opportunistically pluck players from relegated sides in order to flesh out the squad or to take advantage of a decreased market value.
Georginio Wijnaldum, although for a pricey £35,000,000, arrived at Anfield from relegated Newcastle United in the summer of 2016 and the Dutchman set a precedent that was followed in the next two summers. In 2017, Andy Robertson joined the Reds from the demoted Hull City for a fee of £8,000,000 and, in the summer of 2018, Xherdan Shaqiri committed to Liverpool after his £13,500,000 relegation clause at Stoke City was triggered.
With their financial muscle lessened, this is a route Liverpool could take again this summer and, with five teams still in the relegation mire, have plenty of quality options to chose from. From each club, we will assess players if potential interest to the Reds and their potential suitability to the Anfield side.
Going in descending order, we will first look at Watford who — at the time of writing — find themselves in 16th place.
The Hornets are the only side to so far inflict defeat on the Reds in the league this season, but the revival the 3-0 drubbing of Liverpool promised to spark was short-lived and Nigel Pearson — who replaced Quique Sanchez Flores in December 2019 — finds his side only a point outside of the relegation zone with six games remaining.
Despite their struggles — only winning six out of 32 league games to date — Watford, who were also contestants in last season's F.A. Cup final, have players who could be of interest to Liverpool.
Ismaila Sarr: The Senegalese international's arrival at Vicarage Road in the summer of 2019 was met with surprise by many, who assumed Sarr would have better offers than a then mid-table Premier League club. The 22-year-old has impressed for Rennes — including against Arsenal in the Europa League — to the extent that Watford were willing to pay in the region of £30,000,000 for the speedsters signature.
Sarr's first season in English football has, on a personal note at least, been positive. The winger has scored five goals — including a brace against Liverpool — and laid on four assists, despite the struggles of those around him.
Direct, rapidly quick, and capable of playing on either flank — as an inverted forward or a chalk on the boots winger — the Senegalese would be a good fit for the Reds' brand of attacking, quick football.
Sarr's relationship with Sadio Mane — whom he looks up to as an idol — could help pave his path to Anfield, should Watford end up being relegated.
Outside of Mane and Mohamed Salah, Liverpool aren't blessed with pace off the bench, and the former Rennes man ticks that box, along with the potential of being available at a reduced price, being content with a rotational squad berth and, at 22, having further scope to improve.
Abdoulaye Doucouré: With Georginio Wijnaldum's future still up in the air, the Reds could be in the market for a dynamic, tactically flexible midfielder this summer.
Having previously been linked to Abdoulaye Doucouré in the French media, the 27-year-old midfielder will be well known to Liverpool's transfer team.
Covering the defensive midfield, box to box, and attacking midfield slots, the Frenchman of Malian descent could offer the same kind of versatility that Wijnaldum provides to the squad.
Doucouré, mostly playing off the striker as an attacking midfielder, has scored four goals and created two more this season, with his driving runs from deep and athletic bursts being one of the few highlights for a struggling team. Off the ball, too, the former Rennes man is active — a key component of Liverpool's game —  and adds 1.7 tackles per game 0.8 interceptions.
Although a step down in quality from the midfield roster, Jurgen Klopp could see the basis of a hard-working, all-action midfielder in Doucouré and, despite being 27, could look to the Watford midfielder as an experiment.