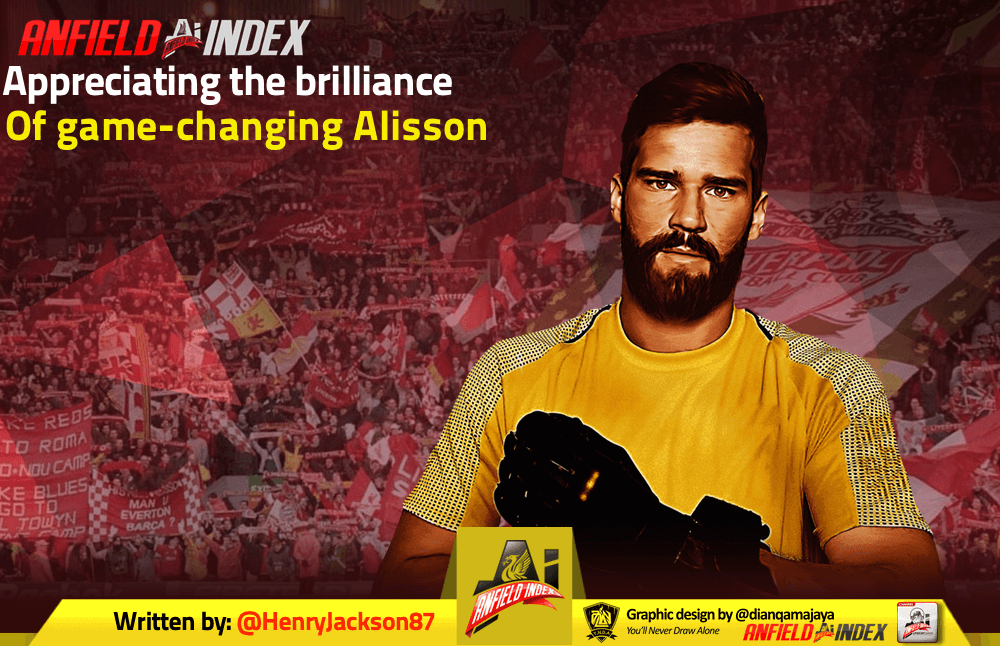 Appreciating the brilliance of game-changing Alisson

The last 20 minutes of last year's Champions League final are easy to forget, barring Divock Origi's trophy-clinching goal in the dying embers.
It was a match to fall asleep to for the neutral, with little happening for vast chunks of proceedings, as Liverpool showed their experience and outmaneuvered an ineffective Tottenham side.
In hindsight, however, the Reds were given a few scares as the minutes ticked by at the Wanda Metropolitano, as they lay agonisingly close to European Cup number six.
There was one man there to rescue them, however – the one and only Alisson Becker.
As Spurs searched for an equaliser, he was on-hand to make several key stops, preserving his team's lead and bringing an air of calm to the table.
The likes of Son Heung-min and Christian Eriksen were denied by the Brazilian, and while they were saves that should have been made, he made them look remarkably simple, particularly given the circumstances.
There is every chance that Spurs would have levelled had Simon Mignolet or Loris Karius been in goal – the latter's nightmare in Kiev the previous year couldn't have been more contrasting – but instead, the steadying influence of Alisson helped Jurgen Klopp's men get over the line.
It was a cameo that perfectly summed up what a game-changing signing he has been for Liverpool, ever since he traded Rome for Merseyside back in 2018.
Having conceded five goals at Anfield for Roma a few months earlier, and failed to set the world alight at the World Cup in Russia, there may have been minor reservations about how good he was, but he has been a phenomenon.
Many rightly look at Virgil van Dijk as the key purchase during the Klopp revolution – Sadio Mane and Mohamed Salah are in the running, too – but Alisson is not far behind his fellow defensive colossus. Without him, the Reds would not be where they are now, basking in the glory of being the newly-crowned Premier League champions.
Every great side needs a special goalkeeper, whether it be Ray Clemence during the most glorious period in Liverpool's history, Peter Schmeichel at Man United or Iker Casillas during a stunning era for Spain. They rescue their team when it really matters, carry an aura and produce a world-class level of consistency.
In Alisson, Liverpool have just that, and it has helped catapult them from an entertaining attacking outfit with flaws at the back, to one of the most secure defensive units of the last 20 years, not to mention one of the standout sides of their generation.
In his two seasons at Liverpool, the 27-year-old has tasted defeat just twice in the league, winning the Champions League in his maiden campaign and sealing domestic glory second time around. His save against Napoli was iconic, and history-altering, and you can count on one hand the number of mistakes he has made.
He scooped last season's Golden Glove award with 21 clean-sheets to his name and he is just one behind Burnley's Nick Pope in 2019/20 currently, despite missing two months through injury.
Part of Alisson's brilliance is that he makes everything look so easy, almost leading you to wonder if he is, in fact, somewhat overrated. This is a nonsensical opinion, of course, with the Brazil star's speed of feet, reaction time and positional sense allowing him to make tricky saves look routine.
He is the equivalent of a centre-back who invariably leaves the pitch without an ounce of mud on his shorts – Van Dijk is a prime example – because he is so exceptional at dealing with danger in unruffled fashion. You often don't notice him, which is the ultimate compliment.
Alisson may only have been a Liverpool player for two seasons, but he is already a club legend, and arguably the best 'keeper ever to play for the club.
Clemence is the standout rival in that respect, considering the trophies he won and the number of appearances he made, but it is a struggle to believe that he was as immaculate in all facets of his game.
It is a fair argument to call Van Dijk the most important figure of the Klopp era so far, but Alisson should never be deemed far behind in the race. The impact he has made has been nothing short of sensational, with Liverpool going from having a string of unsatisfactory 'keepers to the best on the planet.
It was painful having to watch Schmeichel be a catalyst for United's success in the 1990s, and we longed to have a player possessing such mastery between the sticks.
It took some time, but Liverpool now have someone who could prove to be every bit as good, paving the way for what is hopefully a glorious spell of domination at Anfield.