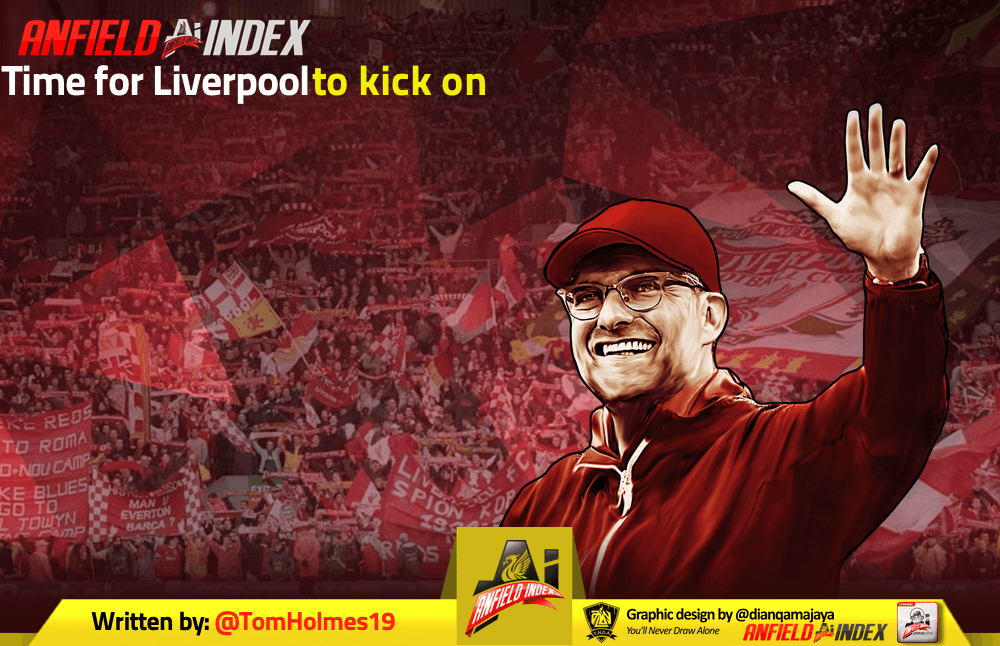 Time for Liverpool to kick on

The very best teams don't sit on their laurels. The very best teams don't let winning slow them down.
This Liverpool team have already demonstrated that to an extent. They took the valour of winning last year's Champions League trophy and used that to push them on to an unprecedented Premier League performance, securing the title with a record seven games to go, and the promise of more records remains.
How Liverpool respond in the next seven games is in plenty of ways unimportant, but in just as many absolutely vital, and a signal of what is to come. Records are still there to be broken, with the most points and most wins in a Premier League season up for grabs among others.
To be completely honest, those records don't bother me that much. I always wanted to see Liverpool deliver an unbeaten season and the highest points tallies sure, and I will continue to want to see them win every game. But with the FA Cup and Champions League trophies disappointingly gone, the main reason I want to see Liverpool play well as this season ends is to indicate their desire to keep winning.
Because that desire will be absolutely vital for next year.
The reality of football is that the best don't become, or stay, the best by celebrating what they already have. Of course, there will be absolutely wild celebrations, bonkers celebrations. Winning Liverpool's first title in 30 years is an incredible achievement.
But make no mistake, Jurgen Klopp will already be tackling the next question: how do we do it again?
Liverpool already have to deal with the problem of next season. A Manchester City side with potentially no European distractions, who will be desperate to reclaim the title. A potentially rejuvenated Manchester United and Chelsea sides, bolstered by hundreds of millions of pounds of reinforcement.
Liverpool are currently the best team in England, and the strongest team in England, and I'm not remotely bothered by what goes on in terms of transfers because I have every confidence that it will remain that way. But that only stays the case whilst Klopp and his players are focused on retaining the title and, crucially, that the desire to win stays as powerful.
Make no mistake, this isn't an article asking questions of this team. I thoroughly, thoroughly expect that Klopp already has next year on his mind, and that the drive and desire to win won't have gone anywhere.
But the situation is simple. Liverpool have won the league. They have achieved their goal. And the very best in football are always asking the question: what next? Sir Alex Ferguson never settled for a trophy, never settled for a league title. He was already planning ahead. And Liverpool will need to do the same.
So yes, we absolutely should enjoy this moment. As fans especially, since it's not our job to plan ahead.
But Liverpool need to be ready to go again. Because this needs to not just be the first title in 30 years, but the first of many, if Klopp is to build a truly great team. One for the ages. A dynasty.
With any luck, this title is just the start.