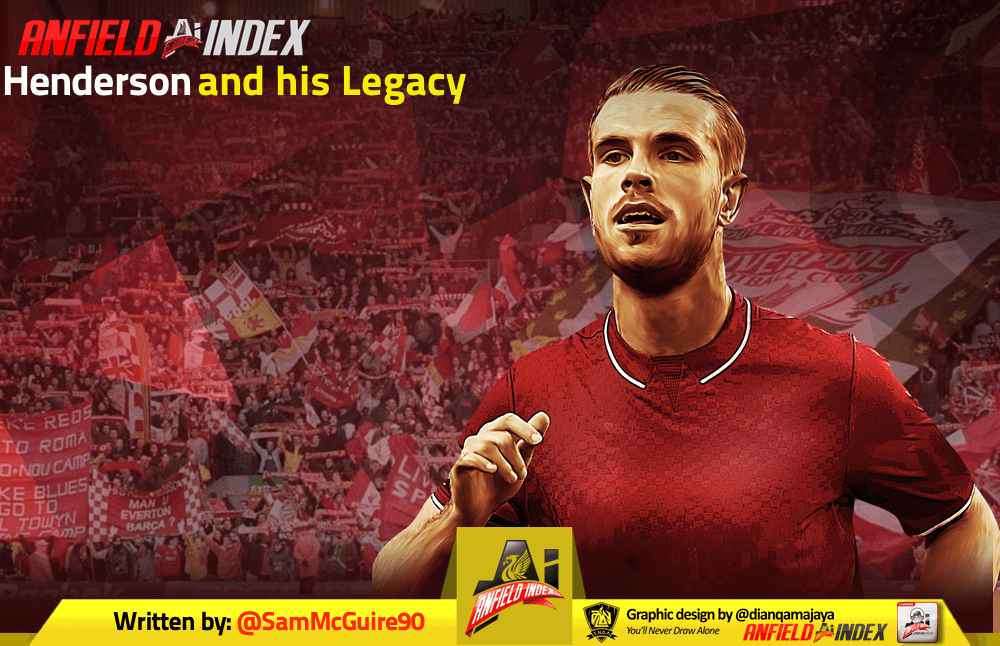 Henderson and his Legacy
For years, the feeling was that succeeding Steven Gerrard as Liverpool captain would be an impossible task. He'd kept us relevant when it looked as though we'd slip into mid-table obscurity. He'd dominated finals, sometimes single-handledly bringing trophies back to Anfield. He even had a special celebration for goals against Manchester United and he regularly terrorised Everton. He was a fan on the pitch and you can't expect non-scousers to be able to replicate that. 
Jordan Henderson ticked the boxes for a captain. But Liverpool fans weren't used to stereotypical captains. He walked the walk and talked the talk. But he didn't drag us to victory, at least not in the way Gerrard used to. For a while, that went against him. 
He was, unfairly, criticised for not being Gerrard. 
It felt like nothing he could do would change that. But then Liverpool started winning. This group started to add their own chapters to the club's history. The Reds no longer relied on scenes right out of a Goal movie to claim victories. They didn't turn to Captain Marvel to get them out of danger. They didn't have to. 
Jurgen Klopp and the recruitment team had assembled a team with a number of match winners. They didn't rely on one player because, well, that was no longer the Liverpool way. This group of players have all stole the show in certain matches. In the other games, they've acted as facilitators. And Henderson is the best poster boy for this.  
With Liverpool trailing to Southampton during the 2018/19 campaign, it was Henderson who took the game by the scruff of the neck to kickstart the turnaround. He assisted and then scored as the Reds ran out 3-1 winners. Salah and his goal stole the headlines but it was the captain who put in a man-of-the-match performance. 
He then starred in the historic 4-0 win over Barcelona as Klopp's side reached a second successive Champions League final. I remember all of the goals and the Alisson saves but the one abiding memory from that semi-final tie is of Henderson collapsing at the final whistle having put in
that
performance carrying an injury. 
Then, this season, the former Sunderland man stepped in to play as the deepest midfielder when Fabinho was ruled out. Many, myself included, thought this would make things tricky for Liverpool. Up until that point, the Brazilian had been one of the best players of the season. But his absence wasn't noticeable with Henderson dominating the middle third of the pitch. Liverpool didn't miss a beat during that time without the ex-Monaco man and it was a pivotal period in their title challenge. 
With five assists and three goals, Henderson is having his most productive season since 2014/15. His goal contributions helped the Reds to important wins over Wolves, Spurs and Norwich City. Wins which helped keep the momentum going as Klopp's relentless side marched on to their first Premier League title. 
He's still only 30 and it doesn't look like he'll be going anywhere anytime soon. But when that time does come, stepping into his shoes as captain might
actually
be an impossible task. The most obvious choice would be Trent Alexander-Arnold. Yet no matter how successful the No.66 goes onto be, matching what Henderson's achieved is never going to be easy. He's the first Liverpool captain to lift the Premier League title and the first to parade around with the Club World Cup. In the eyes of fans, he's immortal now and he's done it his own way.