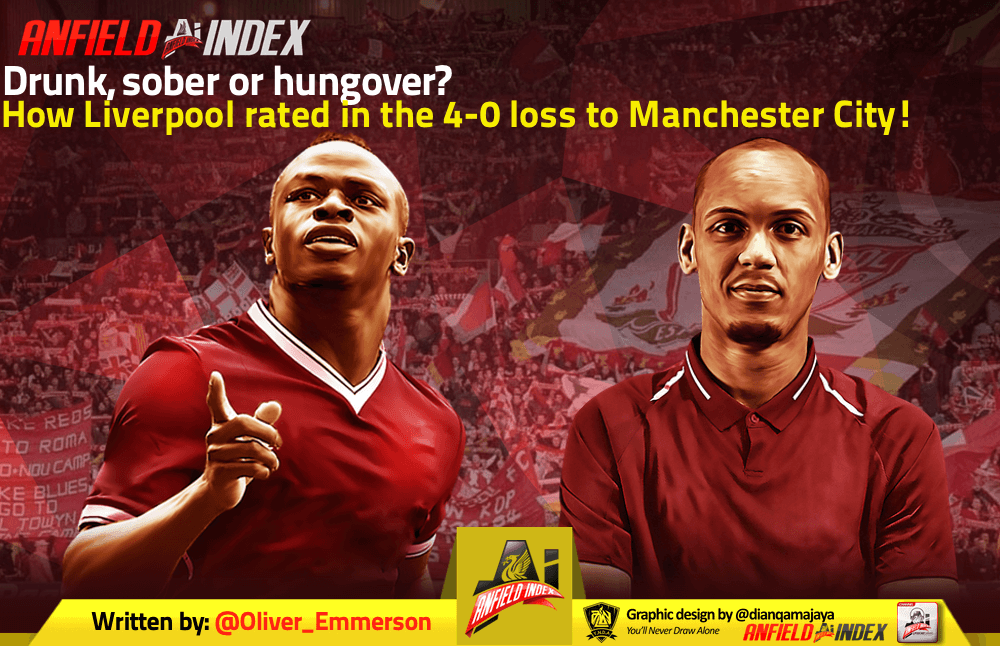 Drunk, sober or hungover? How Liverpool rated in the 4-0 loss to Manchester City!

Hahaha, you wouldn't actually believe how pleased I was when that stoppage time Riyad Mahrez goal was ruled out by VAR. I don't know about you, reader, but 5-0 looks so much worse than 4-0. You're halfway to ten goals at 5-0 up!
Anyway, here's my first ratings piece since Liverpool were declared champions. In classic Liverpool style, we lost 4-0 to our closest competitors. I don't really want to write 600 words on why Andy Robertson deserves a 2/10 so we're going to do things a little differently.
Here's your 'drunk, sober or hungover?' analysis from Manchester City 4-0 Liverpool.
Oh Andy Andy, Andy Andy Andy…
Alisson Becker: Should've given Adrian a go, shouldn't we? Probably fair to say he got worse as the game went on, not terrible but was a little rash for Foden's goal and was just kicking the ball anywhere he liked in the stands. Almost like he had a headache that he couldn't shake off despite three coffee's, two naps and a shower. Verdict: Hungover
Trent Alexander-Arnold: Probably should stick Mané in for a one-on-one early doors. Seemed to get little support when Kevin de Bruyne and Raheem Sterling were doubling up on him. Not one of the worst few, not one of the best. Verdict: Hungover
Joe Gomez: I'm sure we'll find out whether his half time substitution was injury or performance related in the aftermath, I like to imagine he either wanted another beverage or needed to throw up. Lacking completely in composure when giving away what I thought was a clear penalty. Verdict: Drunk
Virgil Van Dijk: Trying to think about the goals and I'm not sure I blame him for any. Clears one off the line too, kind of. Verdict: Sober
Andy Robertson: Oh my days, mate. Not at fault for the first. The second, he recklessly charges in to press in the middle, leaves his channel completely open. Similar for the third, goes towards Phil Foden like he's just seen a can of Irn Bru for the first time in years, gets flipped around like a burger. And the fourth, he's at fault again. Leaves his man, Sterling, open to chase Oxlade-Chamberlain's man. Verdict: Drunk (not even sure that cuts it, someone get the man's stomach pumped)
The midfield, a little trigger happy with the press after 1-0
Fabinho: Probably our 3rd best centre-back, all things considered. The best midfielder on the night, but couldn't help getting swept up in the midfield pressing everything (badly) just after City went ahead. Verdict: Sober
Jordan Henderson: Can hardly blame the skipper for having a wild few days, can we? Lost all positional sense and composure at 1-0 down and had a horrible 20 minutes. Was better in the second half. Verdict: Hungover
Gini Wijnaldum: Pretty similar to Henderson. Would have probably expected to do a job on de Bruyne only for Pep to move KDB wide left, leaving Gini a little lost for most of the game. Particularly poor for the second goal. Verdict: Drunk
How didn't Liverpool score?
Mohamed Salah: Hits the post, has one saved, some blocked. Our best attacker in terms of movement and shooting ability, one that can hold his head high. Verdict: Sober
Roberto Firmino: Never change, Bobby. Was good for 25 minutes and then I'm convinced he took some sambuca out of his sock and started necking it whilst the cameras weren't looking. Verdict: Drunk
Sadio Mané: Unlucky he never got a clear chance at goal for all his good movement and hard work. Lost his touch and swagger once the game started to go away from us. Verdict: Hungover
The substitutes, they could have drank on the bench!
Alex Oxlade-Chamberlain: Probably surprised to come on at the break, unlucky with the own goal. Didn't impress me, though. Verdict: Hungover 
Naby Keita: Looked sound enough. Verdict: Sober
Divock Origi: Is he always drunk? I'm not sure. Probably should've found a way to score a hat-trick and get us back into it, would've been his sort of thing. Verdict: Drunk
Neco Williams: Is he old enough to drink? Verdict: Sober
Takumi Minamino: Five minutes wasn't long enough to tell, so he gets the benefit of the doubt. Verdict: Sober