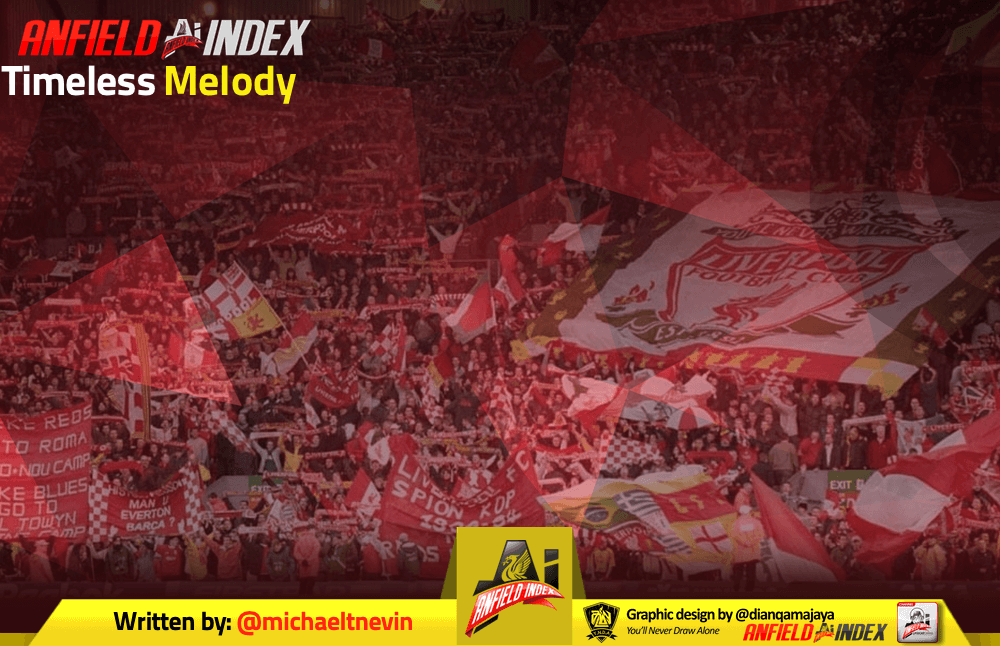 Timeless Melody
Liverpool and the music scene are inextricably linked.
Music and football too are the closest of bedfellows. Liverpool F.C. is synonymous with song and musical theatre through the medium of Gerry
Marsden's anthem; the famous rolling strains of the song from Carousel and those iconic words of love and support, You'll Never Walk Alone.

It is far more than a football song. More a mantra for decent morals and people addicted to love and loving people, sometimes it can make you cry. It made me sob at the age of 21 when a lone choirboy sang about hope in people's hearts when all around there was only despair at the
City's lowest ebb after Sheffield in 1989. The word Hillsborough still send a chill to so many thousands and millions of us, and for some us that ill wind still blows no good to this very day.
I have professional counselling. Next up is to further explore the pain of my memories of that day. I feel bad for even mentioning that. I wasn't hurt that dark yet sunny day and my suffering is mere detail set against so many others who lost dads, mums, brothers and sisters. I shouldn't feel bad but that's survivors' guilt for you smack in the face. It still hurts and with the passage of time sometimes more than ever.
On Tuesday night I was in a taxi from Liverpool to my home town Crosby just outside the city. The driver, a beautiful person called Mo (like Salah short for Mohammed) counselled me through the difficulties of separation anxiety felt by us all through this awful, and disgracefully handled – in this country, the Disunited Kingdom that is England – and viciously handled pandemic.
Before "Journeys End" to meet and hug my fantastic lad, Sam (a Red like his sister, Carla, his dad (me) and his Grandad, Bernard) Mo played me a song. In seconds I have the hairs on the back of my neck standing erect like a wooden guardsman hewn of solid oak. This incredible delivery of Rhythm and Blues includes those words. You'll. Never. Walk. Alone.
I don't walk alone. Never have. I've got unbelievable close friends, most of the quite new but mates for life – the extra brothers and sisters I never had. Most of them younger them me, with an honourable mention in exception to Phil – the man who nurtured a young Curtis Jones of the Red Champions to maturity.
The abovementioned song is called "A song for Liverpool". It's a musical love letter from Africa's Sierra Leone sung by a very cool guy this website wants to promote. The artist's name is Melody and just like the song off the iconic Liverpool album by the LA's it's a Timeless Melody, celebrating Liverpool's triumphs at home and abroad; victories of this year and a past that sees the Reds the biggest and most famous football club and family in the world.
I'll say no more. Have a listen yourself and challenge yourself not to shed a tear of joy.
It's boss. The words You'll Never Walk Alone, are eclipsed by better ones. Liverpool no matter what you do, I will always support you.
Now that is a mantra for life. Support and love all good people no matter what they do.