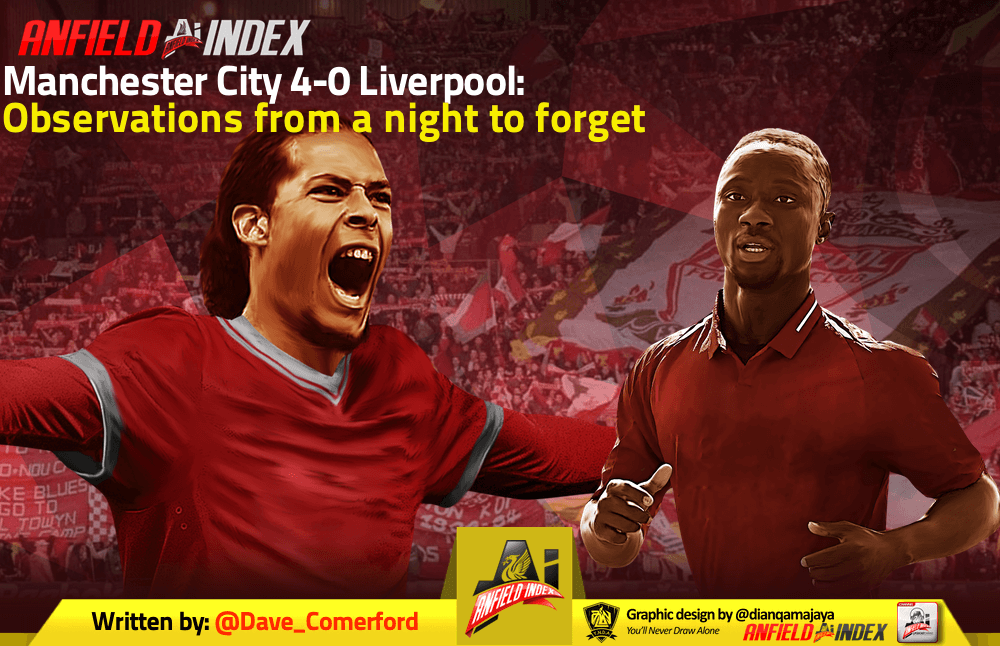 Manchester City 4-0 Liverpool: Observations from a night to forget
For Liverpool, Thursday's trip to the Etihad peaked before it had even begun. The side who had come out on top last season in the most agonising circumstances were reduced to rolling out the red carpet for the most dominant champions in Premier League history as they took to the field.
The final score was the consequence of defensive sloppiness and charitable finishing against City writ large. Psychologically, you could say Pep Guardiola's men have laid down a marker. Liverpool certainly won't be winning the title by 20 or more points next season.
In the meantime, the Reds turn their attention to a run of three games in eight days which they hope will pull them closer to a record Premier League points tally. Their maximum is now a mere 104.

Uncharacteristic rashness in defence costly
Defeat here has few tangible ramifications, and you could tell that from the manner of Liverpool's defending. It was impatient and careless, as if sealing the title had enabled risk-taking as a would-be shortcut to regaining possession.
Andrew Robertson's display was devoid of any composure as he was pulled in front of the defensive line and into premature challenges, leaving space in behind which City were always going to exploit.
Joe Gomez, meanwhile, impulsively accepted Raheem Sterling's invitation to foul him in the area, and he was then sat down by his England team-mate before he knocked in City's second. That image in particular illustrated the difference between the two sides on the night.
It was only Virgil van Dijk who looked his usual self within the back four, and even he could not resist City's advances alone. With Fabinho uncomfortable alongside him in the second half, he had plenty of work to do to prevent the scoreline becoming embarrassing.
Not necessarily an issue of desire
Liverpool's concentration might have wavered, but their endeavour certainly did not. Jurgen Klopp and Jordan Henderson insisted that the players would continue to fight for every point and those words, to a large extent, rang true. Liverpool flew out of the blocks, the intensity of their pressing so pleasing to watch. Throughout the game, City were given little time on the ball in their own half, and there were multiple occasions on which Liverpool's relentless closing-down should have led to a goal.
Even at 4-0 down, the Reds looked desperate to score what would have been an inconsequential goal. In the end, they only had one fewer attempt than the emphatic winners. The problem, of course, was that it seemed as if they could play until the beginning of next season and still not find the net. In that respect, the smart Mohamed Salah shot which rebounded off the post early on set the tone.
Firmino's immediate position is vulnerable
Both Salah and Sadio Mane, Liverpool's principal goal-getters, failed to convert the kind of chances they usually put away. Still, I would argue that it was Roberto Firmino who had the most difficult night in the Reds attack.
Undercooked passes stole the venom from one or two attacks, and a tame rebound after Salah's half-volley was parried by Ederson also let City off the hook. Overall, he made very little impact and was unsurprisingly withdrawn on the hour.
Firmino is now on a goal drought which stretches back to his winner at Wolves in January. He has not provided an assist since his hat-trick at home to Southampton at the beginning of February. He is some way from his best and must offer the team more.
If Takumi Minamino can grab a couple of goals, it may apply some needed pressure.
One individual honour might desert us – and we couldn't complain
An underwritten subplot here was the encounter of arguably the two principal Player of the Year contenders: Jordan Henderson and Kevin de Bruyne (Mane and Van Dijk are also very much in the running, of course).
Henderson's case has never been purely based on ability. He has plenty, and he has shown that by dictating numerous games. But it is based more than anything else on his leadership, on his role as drill-sergeant for a team that has showcased unprecedented mental fortitude. His exemplary off-the-pitch conduct has also had an influence.
Perhaps there is a difference between the greatest player in a given period and the best footballer. Technically speaking, nobody has come close to De Bruyne this season. His consistency as a creative force is remarkable. Even when the champions came to town here, he was a cut above, splitting the Liverpool defence with his movement and the execution of his ambitious passing.
The Golden Glove and Golden Boot may well wind up at Anfield, but Reds fans should not begrudge the ultimate recognition for De Bruyne. After all, their players have always preached the overriding importance of the collective.
Keita could play invigorating role
Jurgen Klopp's selection of his most trustworthy midfield lieutenants was inevitable here, but he will see more room for manoeuvre in the final six games. The best way to guard against Liverpool falling flat would be to play Naby Keita, an impressive substitute on Thursday night.
We saw against Everton, when he played from the off, that Keita is capable of sparking the Reds into life through his ball progression. We are a different proposition when he's on the field.
Klopp ought to let his fringe players and his most promising young talents make their case for next season. Such an approach would keep things fresh and would, I think, make for a richly satisfying end to Liverpool's title-winning season.