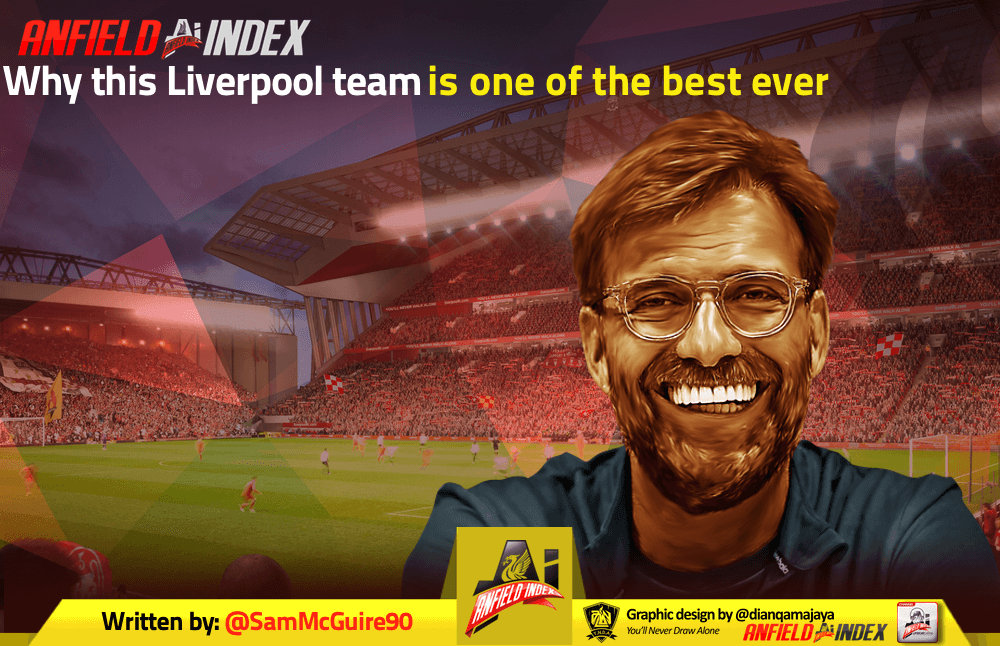 Why this Liverpool team is one of the best ever
So, it's already happening.
When Liverpool won the Champions League last season, the narrative from rivals fans was that they needed to win the Premier League to be considered a great team. Now that the Reds have ended their 30-year wait, the goalposts are once again being moved.
I won't name the person or the show because I'm fairly certain they come out with these sorts of takes for attention. If you really want to watch it, I'm sure you'll be able to find it. One of the hosts asked a writer, who also happens to be a Manchester United fan, whether Liverpool are a great team.

What followed was quite remarkable. This isn't verbatim but it was along the lines of:
Liverpool aren't a great team – they're an excellent team. To be a great team you need to win multiple leagues in a row. Champions League is obviously important. Over the course of being a great team, you need to at some point find a way to win the Champions League if you want to be talked about amongst the very best.
[Manchester] City did amazing things in the league but they haven't won the Champions League. You have to compare them to other great teams and other teams I consider great teams have won the Champions League. Liverpool have done that but you also have to retain the title. The best teams I've seen have won consecutive titles and the Champions League. Liverpool had a great season but to be a great team they need to win another title.
He went on to name Jose Mourinho's Chelsea team as a great side because they won consecutive titles and then lifted the Champions League a few years later. But that isn't necessarily true, is it? The Blues did win back-to-back titles in 2005 and 2006 but they didn't claim ol' big ears until 2012. There's a six-season gap between their second Premier League win and their European triumph. I mean, you could class that as a great period for Chelsea but you can't claim they're a great side when it isn't the same group of players.
Obviously, I'm biased towards Liverpool. But I can't get my head around people not considering this current team to be one of the best teams ever.
Their trophy haul of one Champions League, a Premier League, a Club World Cup and a Super Cup is good enough to put them in the conversation. But you also need to take into account the fact they reached consecutive European Cup finals and amassed a record 97 points to finish as the best runners-up in Premier League history.
They were millimetres away from the title last season and had Mohamed Salah not been injured in Kyiv, who knows what would've happened against Real Madrid. At the top level, it's all about fine margins. But for fine margins to matter, you have to be in the mix. There's always the argument that had x thing happened, something else might've happened to combat that. It's true, so all of this is hypothetical. But the fact of the matter is, this Liverpool team reached back to back Champions League finals while winning 82% of their league matches over a two-season period.
If Klopp's men retain the title, rival fans will probably latch onto the fact they've not won a domestic cup competition. They'll do whatever they can to discredit this team. But deep down, they all know this is one of the best sides ever. Regardless of their trophy haul.