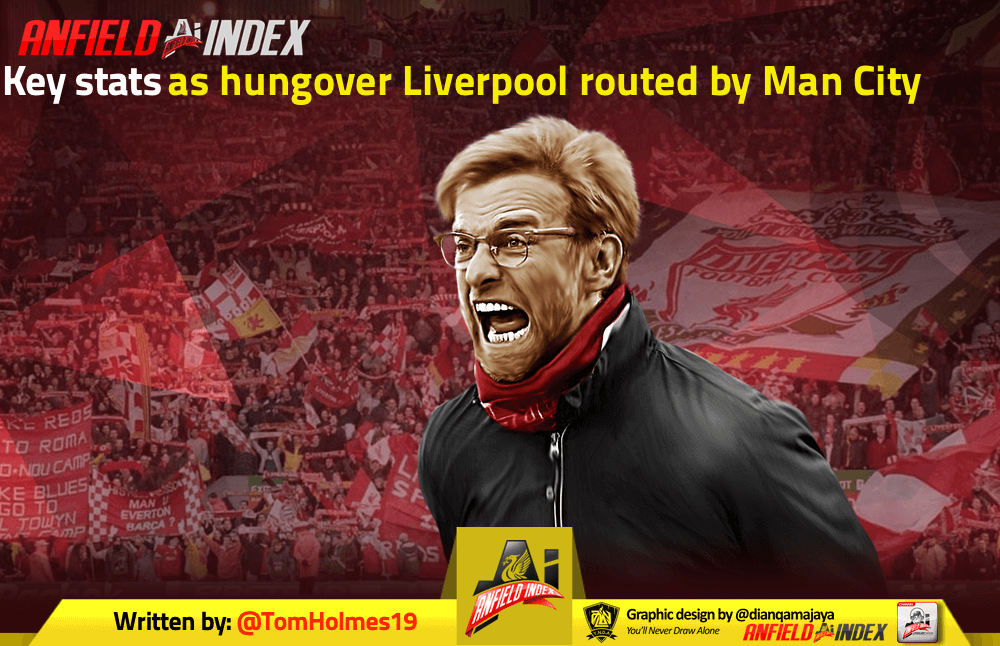 Key stats as hungover Liverpool routed by Man City
Liverpool's Premier League title-winning hangover kicked off as they were resoundingly beaten 4-0 by a dominant Manchester City side at the Etihad Stadium. What are the key stats from the first game since the Reds lifted their first title in 30 years?
Pep's Revenge
This was Liverpool's heaviest Premier League defeat in almost three years – since their 5-0 defeat to City on 9th September 2017. Whilst the Reds have suffered that five goal hammering, and a number of three goal defeats under Klopp, this is the first 4-0 defeat of his tenure. You have to go back to September of 2011, nearly nine years ago, when Liverpool last lost 4-0 in the league, a hammering at White Hart Lane. It's Liverpool's fourth 4-0 defeat of the Premier League era, as they were beaten by that scoreline at Stamford Bridge in 2001 and at Old Trafford in 2003.
Whilst this is one of the worst defeats of Klopp's tenure on paper, it's also the most meaningless. Whilst Klopp himself won't be happy with the performance or the result, it's genuinely hard to care when the Reds were only a week out from being crowned Premier League Champions.
Away Day Blues
Plenty of tough games in there, and various extenuating circumstances, but Liverpool's recent away record ain't pretty. pic.twitter.com/qzHkyJi4zc

— Andrew Beasley (@BassTunedToRed) July 2, 2020
Whilst this match doesn't particularly matter, it does fit into a larger, slightly worrying context. As you can see, Liverpool have now failed to score in their last five away games, shipping ten goals in the process. Liverpool have dropped points in four league games this season and three of them have come in the Reds' last three league away matches, as part of a run that also saw Liverpool knocked out of the FA Cup by Chelsea, and suffer a first leg defeat at the hands of Atletico Madrid who went on to knock Liverpool out of the Champions League.
Whilst the three league games aren't the end of the world, Liverpool's problematic away form either side of the Covid-break has put huge dents in their season, both in terms of breaking records in the PL and more importantly in terms of potentially winning a double or treble. It's certainly something for Klopp to address over the summer.
Kevin De Bruyne Masterclass
It's rare I talk too much about opposition players in these articles because frankly this is a Liverpool site. But most of our lads didn't really turn up, and one lad who did and it decided the game was the marvellous Kevin De Bruyne.
De Bruyne's brilliance cannot be understated and in this game he put on a show. Scoring the opening goal from the penalty spot, De Bruyne also created five chances worth 1.08 xG combined, including two big chances and an assist for Phil Foden's goal.
De Bruyne's range of passing was simply stunning, and he ripped Liverpool apart on the night.