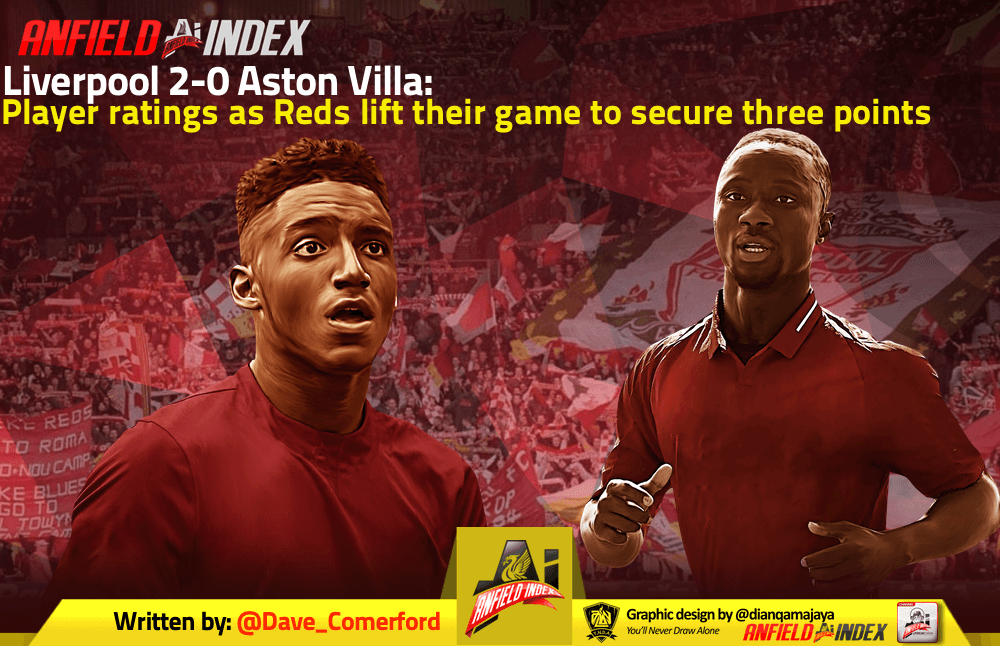 Liverpool 2-0 Aston Villa: Player ratings as Reds lift their game to secure three points

Liverpool's hopes of ending the season with a 100% Premier League record at Anfield are still alive after they sparked themselves into life against Aston Villa.
It was a lethargic, disjointed display for over an hour, but the slickest move of the match brought a breakthrough for Sadio Mane before Curtis Jones' first league goal confirmed defeat for Villa.
Here's how the Reds rated:
Alisson – 8
As ever, Alisson made a number of hazardous efforts that came his way look tame thanks to his assured handling. There was one rather awkward moment as Jack Grealish tested him from what turned out to be an offside position, but he made amends with a smart stop to deny Anwar El Ghazi and an even better save in stoppage time when Grealish looked to set-up a nervy finish. A well-earned clean sheet, and a step closer to back-to-back Golden Gloves.
Trent Alexander-Arnold – 6
In the first half, Trent's long passing radar was faulty, and so one of the Reds' primary attacking avenues broke down. He moved the ball more crisply in the second, and intelligently drifted inside in the build-up to the opener. There were one or two nervous moments of defensive scurrying-back.
Joe Gomez – 6
Certainly an improvement on Thursday night for Gomez, who was nowhere near as rash. Liverpool were no doubt thankful for his pace as Villa repeatedly looked to hit them on the counter.
Virgil van Dijk – 8
Along with Keita and Alisson, he was one of few Reds who were on their game throughout. Typically, he was able to impose himself on the opposition and was on hand to thwart dangerous attacks.
What do you want when a player concedes possession in a problematic area? You want them to go and win it back. He did that, and Douglas Luiz's charge was halted. We could breathe easy.
Andrew Robertson – 6
Booked for a sliding trip on Luiz on 20 minutes, it seemed as if Robertson was still off the pace after struggling badly at the Etihad. But all in all, this was a decent defensive performance, and he pitched in with an important contribution at the other end, standing up a cross to Salah at the back post so he could put it on a plate for Jones.
Fabinho – 5
Fabinho was outstanding on his last Anfield outing against Crystal Palace, but one or two misplaced passes in the first half here clearly frustrated Jurgen Klopp. He was withdrawn on the hour, unable to make an imprint on the game.
Alex Oxlade-Chamberlain – 4
A harsh rating to deal out after a victory, but Liverpool would not have won without the raft of changes that saw Ox depart. Over the course of his 60 minutes on the pitch, he continually failed to pick out team-mates and came off second best in duels. He'll have to look back on this as a missed opportunity.
Naby Keita – 8
Keita, on the other hand, seized his chance. He was the only player with an air of inspiration before the break, meaning supporters were mightily relieved to see him remain on the pitch as Klopp made his triple-sub. His assist for Mane was a sublime thread of the needle.
And it's also worth noting his newfound physical power in the midfield battle. That's an important area of progress.
Mohamed Salah – 6
A frustrating afternoon of cheap penalty appeals, scruffy touches and poorly-executed combinations ended with a neat assist for Curtis Jones. A setback for his Golden Boot campaign, though.
Divock Origi – 4
Origi's capability as an attacking deputy is being seriously called into question. He was desperately poor in the first half, and though he looked a smidge more threatening operating on the left early in the second, in truth he did not meaningfully impact the game in any way for 60 minutes. A four may be on the lenient side.
Sadio Mané – 7
Mane looked absolutely determined to produce a moment of magic, a decisive piece of brilliance. For 70 minutes, it just wasn't coming off. His eventual goal wasn't quite as spectacular as the overhead-kick he had attempted earlier, but it still goes down as an emphatic finish. A reward for endeavour, maybe.
Substitutes
Jordan Henderson – 6
Not too much stood out about the performance, but I wouldn't say it's coincidental that Liverpool found another gear in the presence of their captain.
Georginio Wijnaldum – 6
Played in a more advanced position in the circumstances. Passed behind Jones to take the pace out of a counter-attack at 1-0.
Roberto Firmino – 6
Firmino needed to be benched after a forgettable run of games. There was something of a response when he came on, with Reina forced into a good save as he fired from the edge of the area. In commentary, Jamie Carragher observed that he helped to knit a disjointed attack together.
Curtis Jones – 7
A deflection guided his strike past Reina but he earned the goal principally through his positioning. It's been some weekend for the teenager after he signed a new contract, though he did have to be thankful to Alisson for sweeping-up a ropey backpass.