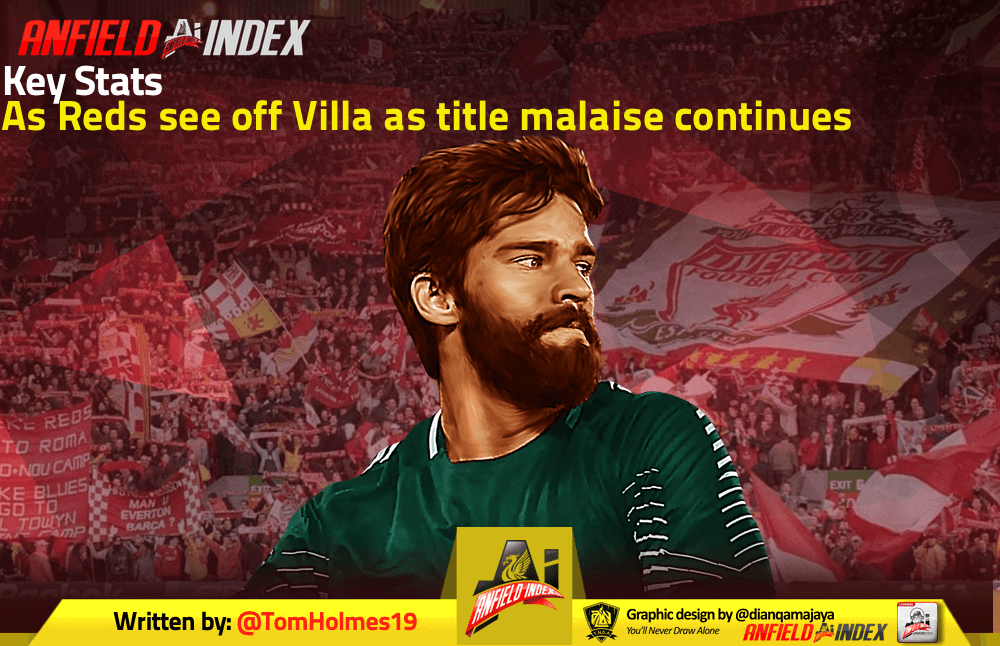 Key Stats as Reds see off Villa as title malaise continues
Liverpool returned to winning ways as they saw off Aston Villa 2-0 in a scrappy game at Anfield to make it a staggering 24 straight home league wins in a row. But what were the key stats from another dross game in Liverpool's title procession?
Naby. Lad.
Liverpool's attacking display was efficient rather than explosive. Only six shots, only three inside the box and only two big chances, but both big chances were converted to give the Reds the win. Naby Keita, who was probably Liverpool's best all-round outfield player on the day, provided the moment of quality to get the breakthrough, with an assist for Mané's opener.

It's been a weird season for Naby, especially in the Premier League, but creatively he's been excellent when given the chance. In the equivalent of six full games, he's created three big chances, assisted two goals and has the third highest key passes per 90 in the squad (1.83) and the highest xA/90 in the squad (0.36).
A very limited sample size, but he's added a lot to Liverpool's attacking play when he's been given the chance.
Clean Sheet Kings
Liverpool's defence has been superlative, even when it hasn't had to be this season. They've kept 15 clean sheets, and in 11 of those games, they've restricted the opposition to less than 1 xG. Liverpool have also kept a clean sheet in seven of their last nine games at Anfield, averaging 0.76 xG conceded in those games.
This game was another perfect example of that. Liverpool conceded just 0.69 xG, just one big chance in the 90th minute to Jack Grealish, which was superbly saved by the excellent Alisson Becker, and kept their clean sheet. Although their on the ball performance was very average by their own standards, this defensive display was as solid as we have come to expect from the Reds.
Super Strikers
Sadio Mané have now both scored 20 goals in all competitions for the third season running, a remarkable contribution from both elite wingers.
Both have excellent league records, Mané 23 goal contributions in 2434 minutes, compared to Salah's 25 in 2520 minutes. Salah continued to be Liverpool's most creative player from outfield, creating another big chance and notching his 100th Premier League goal contribution in 116 appearances, whilst Mané added his 15th goal that gave Liverpool the lead this season (stat courtesy of AI's own Simon Brundish).
Elite.