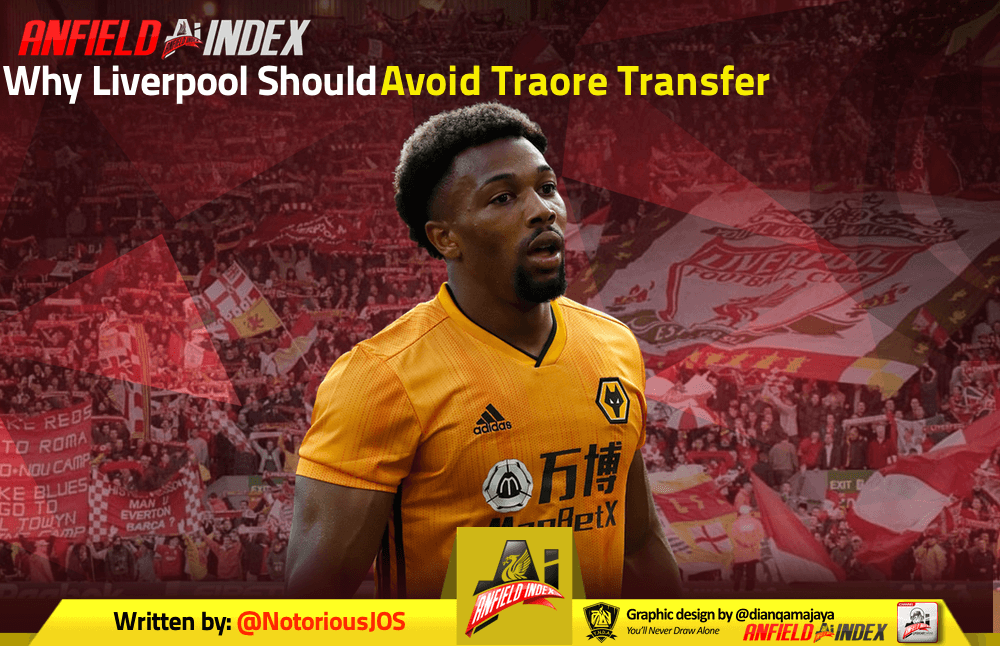 Why Liverpool Should Avoid Traore Transfer
The transfer rumour mill has been working overtime in recent weeks, and Liverpool have had their fair share of players linked with them.
One of the most persistent rumours has been Wolves powerhouse Spanish winger Adama Traore being mentioned as a potential transfer target for the reigning English champions.
Terrifyingly direct, with a combination of raw power and almost balletic balance, the former Barcelona academy graduate has browned the defences of Europe and England this season with his trademark dribbling and ambitious playing nature.
Traore has registered six goals and nine assists — four domestically in the Premier League and the remainder in the Midlands club European campaign — across both the League and Europa League this season.
While the Spaniard of Malian descent is a player Jurgen Klopp could improve, eking out a hitherto unseen level of consistency from the 24-year-old, Traore isn't of the required quality needed at Anfield.
The successes of Sadio Mane and Mohamed Salah — both of whom improved rapidly and significantly after joining Liverpool and working under Klopp — has been used as reasoning by many as to why Traore could be a good signing for the Reds. And while this is true, both players arrived at Anfield at a higher base than the Spanish underage international currently plays at.
In his two seasons at Southampton, Mane netted 11 and 10 goals respectively, significantly better than Traore's output this season, in a team worse than the current Wolves side. Salah, meanwhile, enjoyed two bountiful goal-scoring seasons in Serie A with Roma, notching 15 league goals in each campaign, before joining Liverpool in the summer of 2017.
Nuno Espirito Santo deserves huge credit for the job he's done at Molyneaux, earning Wolves promotion from the Championship and then qualifying them for the Europa League football and — at the time of writing — has them in contention to qualify for Champions League football next season.
The Black and Gold's play an extremely rigid 343 or 352 formation, with the onus being solely on counter-attacking — their almost religious adherence to this style sees tied with Arsenal as the team who draws the most in the league with 13 — and using their three ostensibly defensive midfielders, Ruben Neves, Joao Moutinho and Leander Dendoncker, to spray long passes to their wide players.
The below pass map — provided courtesy of Twenty3 Sport — show that Wolves force the majority of their passes and play down the right-hand side, the side where Traore plays, either as part of a front three or beside to Raul Jimenez. Despite seeing a high volume of the ball, Wolves number 37 — who accounts for 10% of the teams touches, whereas Salah, for context, leads to 6% of Liverpool's touches — is still inconsistent in terms of output.
Liverpool, for comparison's sake, vary their play more and have an equal number of passes down either flank, tasking all of Sadio Mane, Andy Robertson, Salah and Trent Alexander Arnold with the creativity responsibility. Simply put, a wide range of players being able to create and contribute goals and assists is preferable to delegating all that authority to one player, whose form on the day could determine the result, such as how Wolves use Traore.
Another factor is the styles of play used in both teams. Wolves, as mentioned above, are wedded to their deep sitting, counter-attacking approach. Liverpool, meanwhile, are — almost accidentally, given most teams surrender the ball to the Reds and sit deep in a low block and try to remain solid — a ball possession team and often have to play a slower, passing game to prize open defences.
The Wanderers average 48% of possession per game, a fair bit behind the Reds and their 59% average of the ball. Wolves, therefore, with the less of the ball, have more room to operate in, with the spaces in behind the area's where Traore looks to exploit most. The Spaniard simply wouldn't get near the same space at Liverpool, where the vast majority of teams defend deep in the fear of playing a high-line against Roberto Firmino, Salah and Mane.
Undoubtedly, Traore would need to improve on his current level in order to be good enough for a team who could well average 100 points a season over the last two league campaigns. For that, though, he would need to play regularly and it is hard to envision where those minutes come from when the 24-year-old only starts 73% of Wolves' games, when — for context — Salah starts 88% of Liverpool's games.
Traore is an extremely exciting player, who can weave through defences like a prime NFL running-back, and at 24-years of age can improve, but — in testament to the brilliant numbers the Reds front three have been registering for the last three or so years — isn't of the lofty standard required at Anfield.