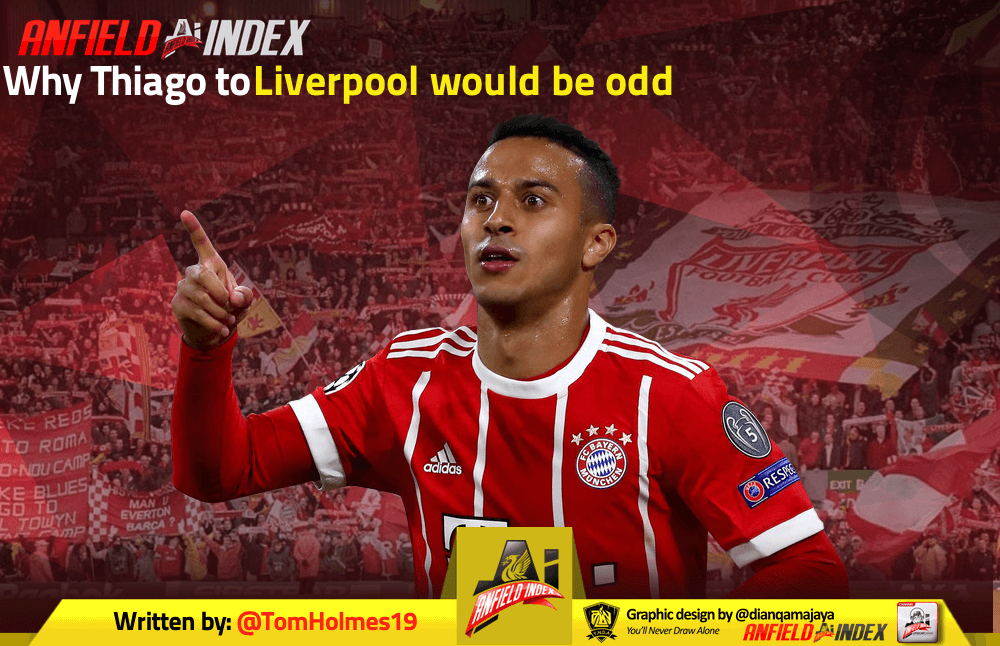 Why Thiago to Liverpool would be odd
Thiago Alcantara is the latest big name player to be (heavily) linked with Liverpool this summer. And he is the business.
Thiago is an absolutely elite central midfielder, who would improve most central midfields in the entire world. If we're being honest, he would improve Liverpool's and would certainly be an exceptional option to have kicking about.
My point is that when I say this transfer is very odd and not at all what I would expect Liverpool to do, it's got absolutely nothing to do with Thiago's talent levels.
And yet, it remains the fact that this transfer is a very odd link. Apart from anything else, Thiago is 29, making him the oldest team member that Liverpool will have thrown money at in the Klopp era. Liverpool have tended to buy younger, with the occasional elite level player in their prime signed up. But spending £30m/£35m+ on a 29-year-old would be essentially unprecedented for this administration in its current iteration.
That's not in and of itself a disqualifying factor. If Gini Wijnaldum's new contract discussions are in a much worse state than we realise and Liverpool need essentially a like for like replacement at the heart of the midfield for a couple of years, with Wijnaldum leaving the club for a similar fee to what's being spent on Thiago, then such a deal would make a lot more sense.
But there are other factors that don't quite mesh. Reliability and availability have been core tenants of the Klopp/Edwards buying philosophy. The likes of Alisson, VVD, Robertson, Salah, Mané, Fabinho, Keita, Wijnaldum himself, all came into the club with little to no significant injury history. The club have done brilliantly to buy players who don't tend to get injured. Yet just this month Thiago underwent groin surgery, and has previous knee and ankle ligament injuries under his belt.
Then there is the Covid-19 of it all. It would be very odd if Liverpool turned down spending £50m on Timo Werner, a player five years younger than Thiago, with more potential, in a position where Liverpool desperately need cover, only to spend the majority of that sum on a player who is older, injury prone and who plays in a position where, frankly, Liverpool don't need him.
Yes, Thiago is better than arguably all of Liverpool's starting five central midfielders (although it's certainly up for debate whether he would function more efficiently than them in our system and how quickly he would adapt). But the drop from Roberto Firmino to Divock Origi, as much as I love him, is much bigger than the gap between say Wijnaldum and Keita or Oxlade-Chamberlain. The gap between Keita and Wijnaldum is non-existent compared to the gap between Lovren and Van Dijk. And that's before you consider that Curtis Jones is confident of getting minutes next season in the absence of Adam Lallana.
Liverpool currently have very little full-back cover, have three injury-prone centre-backs, one of whom appears to be on his way out and absolutely should be if he isn't. They have very little quality cover for the front three. At a push, you could argue Liverpool need a backup goalkeeper more than they need another midfielder, given Adrian's errors cost Liverpool a spot in the last eight of the Champions League this year.
The reality of the situation is that midfield is not an area Liverpool need to strengthen, unless as mentioned above, we're planning to sell Wijnaldum because his contract talks have stalled.
I've seen a couple of smarter people than I point out that buying Thiago frees up other areas of the pitch. It could be a tactical shift away from the front three to have more creativity from deep, or it could free up Fabinho to be full-back and centre-back cover.
Both of which make sense, but surely logic would dictate it's easier to replace players like for like than it is to buy someone in the one stacked position we have so that other players can be played slightly out of position or we change our entire tactical outlook to avoid buying Timo Werner for about £15m more than Thiago?
All in all, this seems like a weird rumour. To reject Werner, who would be literally the perfect addition to this team and solves a massive headache for the next five years for financial reasons and cite Covid as the reasoning and then to spend at least two-thirds of that money on a player that would improve the team but that Liverpool don't really need would be very odd indeed.
To quote a good friend of mine when discussing the transfer: it's a very Man United signing.
And Liverpool have got to the top of the league by doing things different to Man United.
Up the Reds.