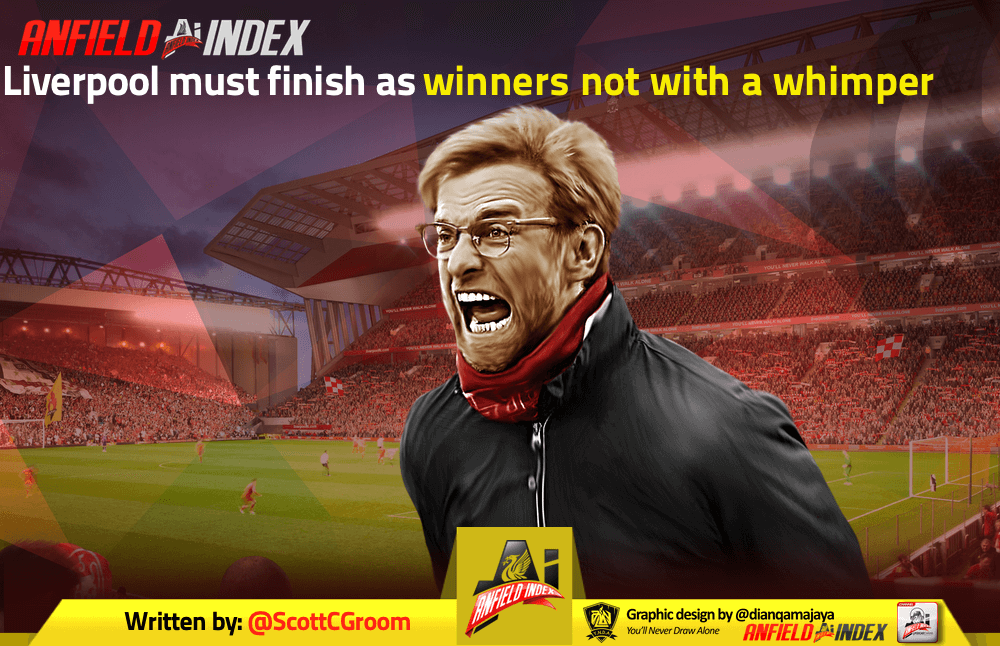 Liverpool must finish as winners, not with a whimper
Liverpool are Premier League champions.
Sorry, I just had to say it again. It sounds too good not to!
The long and arduous wait for that illusive first title in 30 years is over, yet in recent fixtures, I can't help but feel a little frustrated with how the team has been performing.
It was far more business as usual in the 1-3 win over Brighton, but the performances preceding this were lacking somewhat in a number of areas.
We may well have wrapped up the title which was of course the overarching goal, but this shouldn't now mean that the Reds take their foot off the gas.
Let's take a look at the Brighton performance to begin with.
The opening 10 minutes saw Liverpool at their ruthless best, powering into a 0-2 lead with goals born out of the team's relentless pressing and pressuring the Brighton side into mistakes which were mercilessly punished with emphatic finishes from both Salah and Henderson.
This continued for large parts of the first half, followed by a controlled and dominant display in the second, where the goal tally could've crept higher had it not been for some golden opportunities going amiss – Mo Salah being prime example of squandering a few chances for his hat-trick.
The tenacity of the midfield, the marauding full backs, the clinical front three all were hallmarks of more typical Liverpool performance.
However, if we go back to the games against Villa, Manchester City and Everton, the performances were far more languid and lethargic.
The period in the first 25 minutes against City and the final 20 against Villa were more like it, but it's fair to say that the whole 90 against Everton was sub-par. Some of this can go down to rustiness in the derby, tiredness and over-indulgence catching up with them against City, but a sheer lack of oomph was displayed against Villa.
Some will view this as being overly critical of a side that is the earliest to ever be crowned champions and are breaking records left, right and centre.
But I don't think it is.
This team has set the standard not just for potential title contenders to rise to, but for themselves to match whenever they cross the white line and battle for three points.
There's also still a lot to play for in terms of setting records and earning bragging rights.
Who wouldn't want to be the team to record the most points in a season? Who wouldn't want to win every single home game in a season? We've got individuals like Mo Salah gunning for his third consecutive golden boot.
There's so much still at stake.
I accept that this may be difficult to drill into the players since the title was secured, but it feels like that's in their minds a little too much prevalence at the moment, and that's manifesting itself in some of their performances.
The side also has enough critics and naysayers so what better way to shut them up than by being the best there's ever been.
We don't want to look back and think that we were rubbish and downed tools after the title was secured – what kind of message does that send?
And more worryingly, what kind of mindset does that get the players settled into ahead of the start of the new season which will be upon us before we've forgotten about the present one.
It's vitally important that we stamp our authority as truly the greatest side the Premier League has ever known. Yes this side will go down in history regardless, but why not be the team that did what none have done before them?
That is why I want to see us continuing to maintain the highest levels of performance.