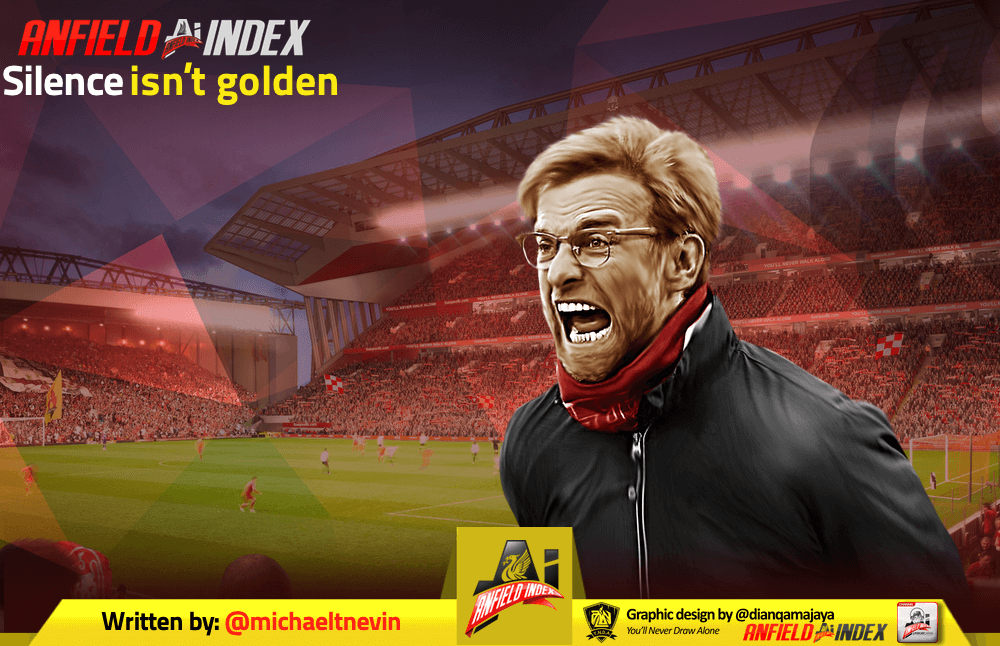 Silence isn't golden
We're a few weeks into this football falseness.
We've won the league for the first time in 30 years and it felt incredible. But for me, only for a few hours.
Then a form of depression set in; sadness that the trophy – that ugly silver premier league totem with an awfully grotesque lion atop – when lifted by a recently-lame Jordan Henderson will be done so not to cheers to the Kop rafters but in a shell-like Anfield.

It's sad for everyone. It's sad for me and you, sad for the match goers especially but also those from afar who would've gorged on images of the famous old ground festooned with wavers; those iconic flags swirling to familiar beats.
Allez Allez Allez and the Fields of Anfield Road, Campione Liverpool to name but a few. And when George Sephton puts the needle to the vinyl the players, Jurgen Klopp's class of 19/20 heroes to a man will traipse up to be decorated but they will Walk Alone when the silver hits the golden sky. They walk in with hope in their hearts but with a deafening silence in their ears.
Perspective though. We've still won it, the holy grail reached at long last and we will still see it through the prism of the TV camera lens.
The final experience however of winning the league vicariously through the efforts of Chelsea at least gave us something real, a manner of coronation which could've happened under normal circumstances.
For 2016 and Leicester City boys rejoicing around Jamie Vardys 60inch flat screen, trade the outside patio of Formby Hall Golf club where our lads saw their red vows of marriage to Liverpool consummated.
I had a drink on that patio back in December. A freezing cold night then contrasting with a balmy June evening. Had someone told me I was outside smoking at a place that now marks of a piece of our 129-year history I'd have shaken my head in disbelief.
How ironic and should we say fitting that the bar in any golf club is affectionately known as the 19th hole. Not so much "get in the hole" as golf fans roar as the cambers of the putting green take that ball towards the cup, no, it's more back of the net again for The Mighty Reds.
For me though, since it's been a pure anticlimax. The result at Man City in our first game as Champions was one thing but those four goals against depressed nothing like the antiseptic vacuums at The Etihad, Anfield and The Amex.
Football without fans…….to coin phrase daubed on banners protesting at modern togger's cost and plasticity……is almost nothing.
I honestly can't be having it. Can't be doing without crowds that make the English spectacle so unique, diverse and richly saleable. The suits know it too. This will do for a while but already moves are afoot to see crowds return early next season.
I can't happen soon enough. For the sake of the game. For the sake of players who will never take us for granted again, for the sake of Andy Robertson who has been emasculated by the current silence that so contrasts the roar of the Kop. And for our sake, our turn will give vent to daily frustration at life, at government, at financial strain and emotional loss suffered so long and hard by so many friends at the match.
So our goal for 20/21 is the same but different. To win it again in the same style but next time – making it 20-20 – versus our biggest rival at the other end of the M62- with the throatiest adulation from Anfield's football family.
Bring on yer Manchester United as we again go toe to toe. Yes, Bring it and them all one!