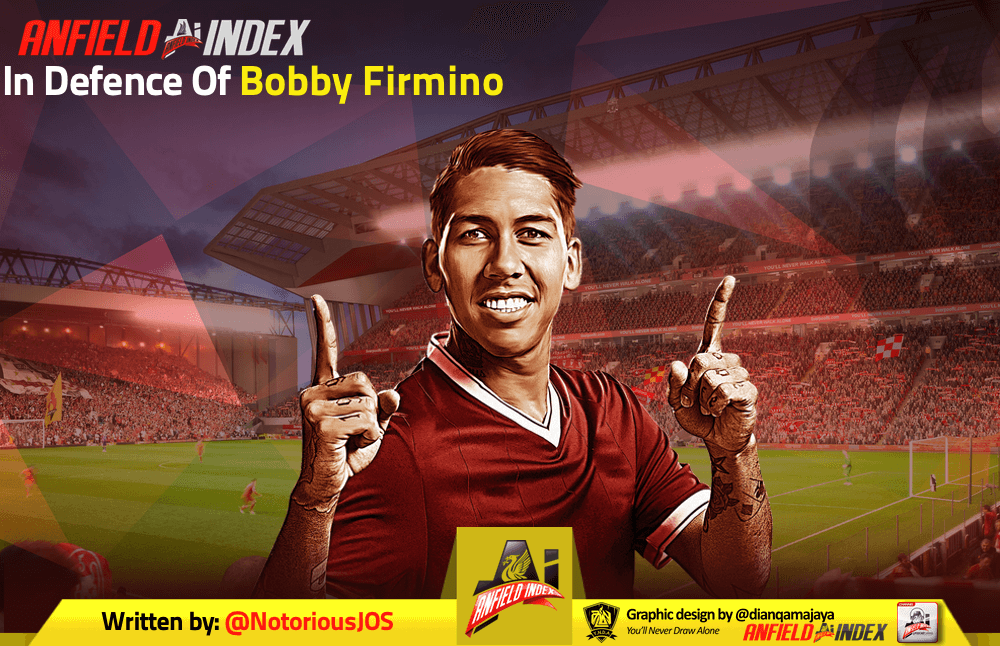 In Defence Of Bobby Firmino
Admittedly, Roberto Firmino ought to score more goals.
But you know who else falls into that category? Every footballer who has ever laced a pair of boots up.
Much has been made of the Brazilian's recent domestic goal drought at Anfield — which, at the time of writing, extends to 18 Premier League games — and much of it, weirdly, has come from Liverpool fans who should know better.

Jurgen Klopp, pundits and ex-players — with Thierry Henry always effusive in his praise of the 28-year-old — fall over themselves to praise Firmino, acknowledging his insatiable appetite for defensive contribution and the Brazilian international's selfless link play.
Yet, despite Firmino representing the Reds with massive distinction for just over five years, some fans still don't *get* him nor his hugely important function within a team who has won everything worth winning over the last two seasons.
The issue, it seems, is one of perception. The most often used criticism of the former Hoffenheim star is that "he should score more for a centre forward in a dominant team", but this barb shows a lack of understanding of the bright toothed Brazilian's on-field responsibilities.
Firmino is only ostensibly a centre forward. His real role is that of an attacking midfielder, forget what the pre-match line-up graphics on TV might tell you. In 2013/2014, Steven Gerrard was the deepest midfielder in the Reds' midfield but being the deepest player doesn't mean you are the defensive player. In that season, it was Jordan Henderson — using his bite, energy and tackling — who was the defensive shield; Gerrard, on the other hand, was the team's quarterback, dictating play and spreading passes designed to get the team on the attacking, front foot.
The Brazilian, dropping deep, manoeuvring the opposition to create space and pressuring defenders and midfielders, is the conduit that has allowed Mohamed Salah and Sadio Mane to win or share both of the last two Premier League golden boot awards. Firmino may wear the number 9, but he is more the "number 10" whereas Salah and Mane — both of whom start wide — are the teams main forwards. The shape may appear to be a 433, but the system is more akin to a 442 diamond, with the midfield and attack narrow and the marauding full-backs, Trent Alexander Arnold and Andrew Robertson, providing the width.
When viewed through the prism of a centre forward, Firmino's seasonal return of 8 goals and 7 assists in the League would appear underwhelming but that is not the right context in which to assess the 28-year-old. If you want to compare the Brazilian international to other players — which in itself is almost facile because of the uniqueness and complexity of the demands placed upon him by Klopp — you judge him based off other attacking midfielders.
In terms of creating for team-mates, Firmino stacks up favourably compared to the best-attacking midfielders in the Premier League. Kevin de Bruyne, arguably the best player in the world in his position, leads the way with league assists, laying on 18 goals for team-mates. However, some of these assists have come via set-pieces, and these are invariably the domain of Alexander Arnold and Robertson at Liverpool.
Firmino finds himself ahead of the likes of Bruno Fernandes — who, in his defence, has only been in the league since January, Willian, Emi Buendia, Bernardo Silva, Sadio Mane and Jack Grealish in the assists stakes, despite most of the Reds' attacking incision coming from their flanks, where the aforementioned Alexander Arnold and Robertson reign supreme as the English Champions' main outlets of creativity.
In terms of goals, when you weigh up attacking midfielders' Premier League contributions in that area, De Bruyne, once again, is at the head of the pack with 11, two of which were penalties. Next up is Firmino, Michail Antonio, whose numbers were padded significantly with a four-goal haul against Norwich recently and Delle Alli, all on eight.
Bruno Fernandes — often cited as the catalyst in Manchester United's rise from fifth to fifth(!) — is next up with seven goals although three have come from penalties, a stat worth mentioning because Firmino doesn't have the same opportunities because A: Liverpool don't get penalties(!); and B: Salah, usually takes them, a statement that needed verification, due to infrequency at which they occur leaving a trace of doubt in mind. If the Brazilian was tasked with taking a rare spot-kick — the Reds have only been awarded five in the league this season, relative to their great rivals' 13 — then his goals rate would likely be even higher.
Sure, Firmino could score more but to choose to die on the hill of constantly deriding the player that Klopp describes as "world-class every day" is a strange move from certain fans. With his intelligence, hard work, flexibility and selflessness the Brazilian — who, like the team, mystifyingly doesn't get enough respect for his achievements — is Liverpool incarnate.