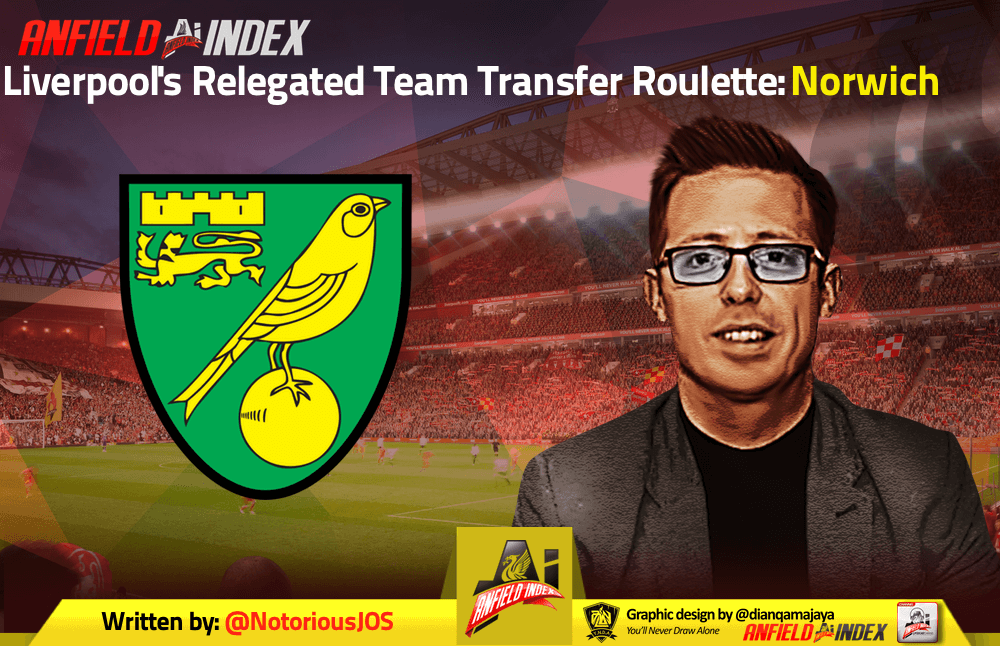 Liverpool's Relegated Team Transfer Roulette: Norwich
Liverpool have already felt the brunt of the financial pinch caused by the ongoing pandemic.
Long linked with Timo Werner, the Reds — who were either unwilling or unable to match the financial package on offer in West London — were beaten to the signing of the German international by Chelsea.
The prevailing sense, as suggested by all of the journalists close to the club, is that reigning European, World, and English champions will be relatively quiet in the upcoming transfer market. As a club, unlike Chelsea — who are ostensibly a plaything for their billionaire oligarch owner, Roman Abramovich — Liverpool are self-sustaining and only spend money they can earn themselves, be that through commercial income, match-day revenue or the money generated by player sales.

All these streams of income, however, have been impacted by COVID-19 in various scales of severity and the Reds will have to cut their transfer cloth accordingly this summer, if they are to be active in the market and increase on the minimal amount they spent last summer where Adrian — free — Sepp Van Der Berg and Harvey Elliott — both small prices — were the only additions made to the squad.
Known for their long-term planning and almost religious adherence to a transfer structure — Liverpool plan two transfer windows in advance and will wait, as in the case of Virgil van Dijk's transfer from Southampton, for the right signing to become available rather than deviate from their plan — the Reds have shown in the past that they can and will opportunistically pluck players from relegated sides in order to flesh out the squad or to take advantage of a decreased market value.
Georginio Wijnaldum, although for a pricey £25,000,000, arrived at Anfield from relegated Newcastle United in the summer of 2016 and the Dutchman set a precedent that was followed in the next two summers. In 2017, Andy Robertson joined the Reds from the demoted Hull City for a fee of £8,000,000 and, in the summer of 2018, Xherdan Shaqiri committed to Liverpool after his £13,500,000 relegation clause at Stoke City was triggered.
With their financial muscle lessened, this is a route Liverpool could take again this summer and, with five teams still in the relegation mire, have plenty of quality options to chose from. From each club, we will assess players if potential interest to the Reds and their potential suitability to the Anfield side.
Going in descending order, we will next look at Norwich City who — at the time of writing — find themselves bottom and with their relegation confirmed after a meek display in a 4-0 rout by West Ham.
After making a bright start, which included a victory over Manchester City, Daniel Farke's Canaries — who, despite playing progressive, passing football — have struggled in both boxes this season posting the worst numbers for both goals conceded, 67, and goals scored, 26, on their way back to the Championship at the first time of asking.
While noting their struggles, the Carrow Road side do have several players who could be of interest to Liverpool.
Jamal Lewis: The 22-year-old Northern Ireland international has impressed at left-back this season and could provide much-needed back-up to Andrew Robertson on the left side of the defence.
As the only senior left-back at the club, Liverpool run the risk of Robertson getting injured or stagnating due to a lack of competition and when the Scotland captain doesn't play — such as in the Merseyside derby away to Everton — the Reds lack incision and balance on their left-hand side, turning to James Milner, a right-footed midfielder, to plug the gap.
Signing Lewis, who averages 0.6 key passes a game this season, could provide the English Champions the depth they need, while the pacey full-back, who provided 4 assists in Norwich's promotion campaign of 2018/2019, also ticks the homegrown quota box and — at 22 years old — has scope left to develop.
Emi Buendia: The diminutive Argentinian has been perhaps the brightest spark in Norwich's dismal season. With seven assists for the Canaries total of 26 league goals, Buendia has been responsible for creating almost 27% of their goals in total in this ultimately ill-fated campaign.
The 23-year-old, showcasing a trait that would surely endear him to Jurgen Klopp, is defensively busy and successfully completes 2.4 tackles per game this season and .6 interceptions.
On the ball, Buendia — who averages 2.4 key passes a game — is equally as sharp but, with only one goal and attempting only 1.2 shots per game, could definitely improve in front of goal. At his age, though, and given his work rate and incisive passing game, the Argentinian could become an interesting project for Klopp and co. to develop.
Todd Cantwell. Already linked to the Reds, Cantwell could provide front three coverage if he were to arrive at Anfield in future.
The 22-year-old, playing the majority of the season off the left in a front three, is not rapidly quick but boasts a cerebral movement that allows him to manipulate his way into promising positions.
With six goals and two assists, Cantwell — who is a product of the Norwich academy —  has been responsible for a large proportion of the Canaries' goals this season.
With one key pass per game, the England youth international — who completes 81.6% of his passes — is ambitious on the ball and has the bones of a rounded attacking game that could be taken to a higher level in the right environment and around better players.
Off the ball, too, Cantwell contributes and with 1.4 tackles a game he ranks similarly to Sadio Mane, 1.3, and beats Mohamed Salah's .4 comfortably. Although, with less of the ball Norwich have more chances to make tackles but these figures show that surf celebrating attacker is able to contribute to a pressing game.
Although a different profile to Liverpool's other wide forwards, Xherdan Shaqiri, Divock Origi, Mane and Salah, who are all quicker, Cantwell all-round game could tempt the club to make their move and look to develop the Englishman further.