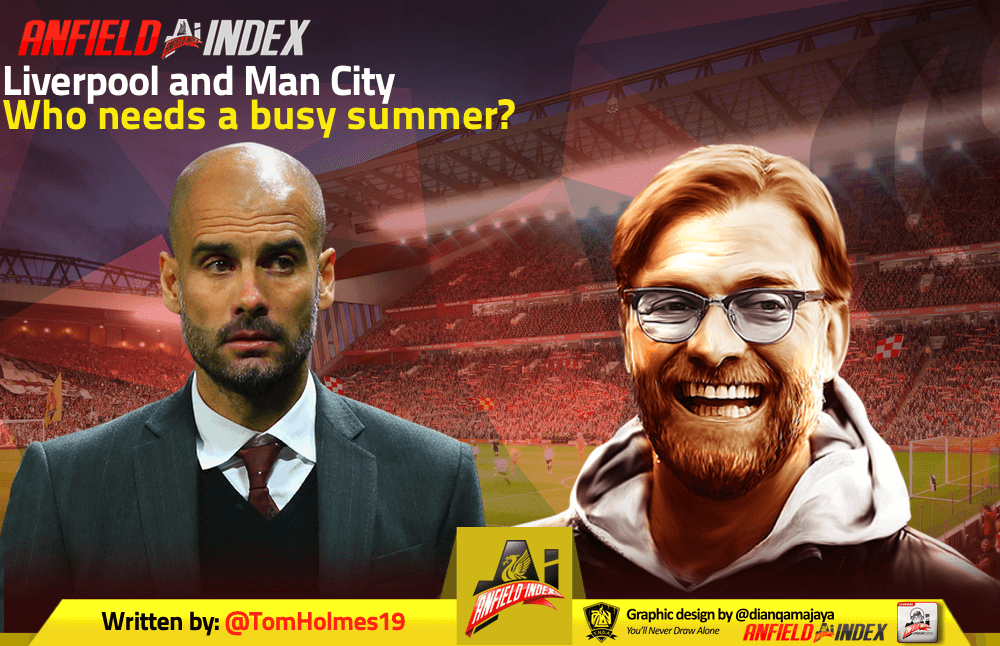 Liverpool and Man City - Who needs a busy summer?
With the summer transfer window rapidly approaching, speculation is already growing about which teams will be active, which teams won't, and who will be coming in.
As usual, Liverpool fans are excited by the prospect of shiny new toys and annoyed that it doesn't look like the club intend to spend big money. Meanwhile, Man City, fresh off the back of surviving their encounter with UEFA and CAS, are set to spend big again this summer, bringing in four or five big names to shore up the holes in their squad.
But the framing around these two teams is very interesting, and it produces an interesting underlying question: which team actually needs to strengthen its squad more?

For a lot of people, the answer is quite obviously Liverpool. Liverpool have the best starting XI, but City have much more depth, and as a result, the pressure should be on Liverpool to buy more players to ensure that if something happens to someone like Mo Salah, then Liverpool are in a better place to cope.
On the other side of the coin, one of these teams has just won the Premier League at a canter, while the other has just finished about 20/25 points further back (obviously the final numbers are yet to be determined). City are not the same team that they were one or two years ago, and the reasons for that are glaring. They haven't adequately replaced most of Kompany, David Silva, Fernandinho, Sane or Aguero, all of whom are either aging, leaving the club or already left.
But I thought it would be interesting to explore this a bit more, get into which club has the better squad in each position, and which team actually needs to spend £200m this summer.
GOALKEEPER
Both teams are in a similar position in goalkeeper. Obviously Liverpool have the slight edge in that Alisson is a better goalkeeper than Ederson, but both managers will be very happy with their first choice. Neither has an elite or particularly strong backup keeper, and both might be better off spending a few million on an experienced backup, but both have young keepers coming through and neither particularly needs to worry. It's not a priority position for either side right now.
DEFENCE
I think if there is one position that sums up both sides right now, it's probably defence. Liverpool's first choice back four is comfortably the best in the country, and in Joël Matip they have a solid cover option. But with Dejan Lovren on his way out and frankly just in time, Liverpool are relying on either midfielders such as Milner or Fabinho or young kids such as Neco Williams to cover their back four. Realistically, Liverpool need at least one experienced, versatile defensive signing as cover, especially when Lovren leaves.
City on the other hand have plenty of depth across the back four. Walker is backed up by Cancelo, Otamendi and Stones offer CB depth, and Mendy and Zinchenko may be joined by Angelino next season. And yet, apart from Laporte, City's back four is sorely lacking in quality, and that has been a big issue this season. Walker and Mendy are very solid full-backs but nobody has replaced Kompany and once again it looks as if City are going to dip into the market for a full-back this summer, as well as spending a lot of money finally getting Laporte a reliable partner.
So in defence, City desperately need two big name signings, whilst Liverpool just need one or at a push versatile back-up options.
MIDFIELD
Liverpool's midfield is looking pretty tight. With Fabinho, Henderson, Wijnaldum, Oxlade-Chamberlain and Keita rotating for three spots, with Milner and the likes of Curtis Jones as cover, Liverpool's midfield might not be as explosive or have as much raw talent as City's, but the way it works in Klopp's system means that it doesn't need to be, and Liverpool don't really need to buy anyone in this area unless someone (Gini) leaves.
City meanwhile, have a couple of issues slowly brewing in midfield. Fernandinho and David Silva were the lynchpins of that midfield for a long time alongside the incredible Kevin De Bruyne. Rodri has struggled to immediately fill the Fernandinho role, although his second season could be a lot stronger. But depth in defensive midfield is an issue, with Fernandinho now 35 and Gundogan not really an out and out holder. Ahead of them, Phil Foden looks a real talent, and De Bruyne and Bernardo Silva are brilliantly talented. A midfield of Rodri, Foden/Gundogan and KDB/Silva means midfield remains an area City remain stacked, but perhaps a DM is still very much an issue.
Overall, Liverpool's midfield is less explosive than Man City's, but overall more solid. Neither team really necessarily need reinforcements, but City could use another rotation option in defensive midfield.
ATTACK
Attack is on paper, the area both sides will be happiest with, given their respective goalscoring options. Liverpool's explosive front three speak for themselves, but again, the question for Liverpool is one of depth. A lot has been made of Divock Origi's ability to cover the front three. He has consistently contributed goals and assists when called upon in his Liverpool career, but his all-round gameplay is flawed and he doesn't tend to fit the system as well as the current front three. It's too early to make decisions on Minamino and Shaqiri seems to be on the way out.
As for Man City, with Leroy Sane on his way out, that leaves Raheem Sterling and Riyad Mahrez as City's only natural wide options. Sergio Aguero's injury worries and age are an issue that Man City have been putting off, and whilst Gabriel Jesus is an excellent backup striker, it remains to be seen if he can consistently replace Aguero, one of the best strikers in Premier League history. City certainly need a Sane replacement, and possibly another striker too.
Both teams need to buy in attack, and again it's a similar story. Liverpool need a depth option, whilst Man City need a consistent regular starter, perhaps two.
CONCLUSION
I think both teams are in an excellent place squad wise, which makes sense given that they are the two best teams in England and two of the best teams in Europe at the moment. Klopp will be very happy with his squad, but will surely be keen to bring in a couple of extra options. City have had a core of five players who have been influential in getting them to 100 points that have needed to be replaced, and as of yet, only David Silva has arguably been adequately replaced. Yet, City have a wealth of extremely good squad players, and arguably only have one or two positions where they need a starting option.
I would say however, I would be happier with my squad if I was Jurgen Klopp than Pep Guardiola. A big part of squad building is covering for injuries, as we've discussed, but it should be noted that Liverpool don't tend to get many serious injuries, because of how well they've bought players without significant injury histories. It should also be noted that whilst Liverpool have debatably had good luck with injuries over the last two years, they have also stomached the injuries that they have had very well.
So yes, Liverpool need a couple of players, but Man City arguably have more work to do this summer. We shall see where both teams are when the season restarts in September.