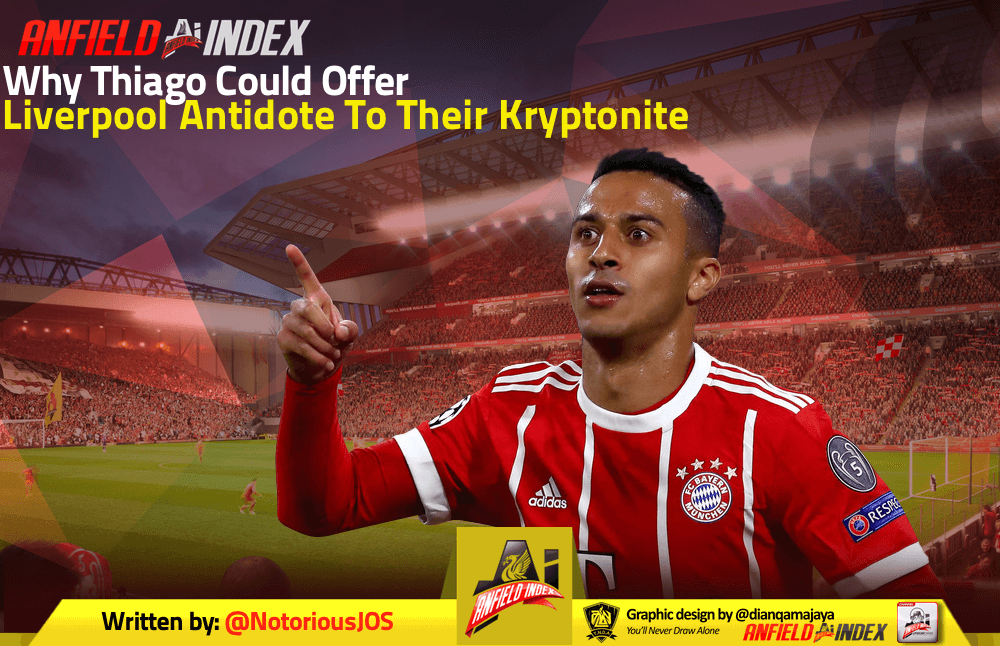 Why Thiago Could Offer Liverpool Antidote To Their Kryptonite
Liverpool have only dropped points on five occasions in the league this season.
You can infer from this that the Reds are accustomed to winning against all means of approaches and tactics. However, when you take out the mauling suffered away to Manchester City — only days after the confirmation of their title victory and with many of the players evidently worse from wear after their celebrations — there's a common thread among the rest of the teams who have taken points off Jurgen Klopp's charges.
Watford, Burnley and Everton — all of whom beat or drew with Liverpool — all lined up in a deep sitting, defensively-minded 442 formations with the expressed intention of stymying the Reds attacking flow and nullifying their front three of Sadio Mane, Roberto Firmino and Mohamed Salah.

Similarly, in Europe, Napoli — and Carlo Ancelotti, who brought this blueprint, pardon the pun, to Goodison Park — and Atletico Madrid used similar approaches to good effect in this season's Champions League campaign. Coming up against these rigid 442 shapes, the defending European Champions only managed three goals — one of which came after extra-time against the Spaniards at Anfield — in four games, another of which was a header from a set-piece from Dejan Lovren.
Trent Alexander Arnold and Andrew Robertson, Liverpool's bombastic full-backs, have — at the time of writing — provided 44 Premier League assists between them in the last season and a half and are indisputably the Reds' hub of creativity.
To counteract this, the aforementioned teams have sat deep with their wingers/wide midfielders and full-backs double marking Liverpool's full-backs meaning Robertson and Alexander Arnold don't have the space to operate in and their effectiveness is suitably diminished.
The Reds' midfield — regardless of the individual players selected — is designed, first and foremost, to provide defensive coverage to the flying full-backs and this tactical regimen has spectacularly earned results. It doesn't, however, always work and a different approach — one which would move the creative point of attack from the full-backs to the midfield — may be considered as Klopp looks to evolve his team further.
The ideal candidate that would allow the reigning English Champions to alter their build-up play and add more variety to their goal-creating approach would be Bayern Munich's Spanish international midfielder Thiago Alcantara. The 29-year-old Barcelona academy graduate has been a key component of the Bavarian giants midfield — despite some injury issues — since signing for the German Champions in 2013.
In the last year of his deal at The Allianz Arena, Thiago — who has reportedly rejected all offers of a new contract and has informed Bayern that he wants another challenge — is, per reports, available for as little as €30,000,000 this summer and there has been strong inferences that the Spanish international wants to join Liverpool and play under Klopp.
Although a player nearing their 30's and with a history of injury issues would generally be considered the opposite of the kind of transfer that FSG, Liverpool's owners, usually rubberstamp — their policy, which has brought the club from midtable obscurity to World, European and English Champions, is to target players 25 or under who hold resale value —  but the opportunity to sign a player of Thiago's class at a relatively low price could see a pivot from this strategy.
Klopp is a known admirer of the Spaniard — having previously gone on record to state his respect for the 29-year-old's abilities — and signing the midfielder could make his already brilliant team even better.
With Thiago — whose passing stats stand up favourably against any midfielder in the world — in situ in midfield, either as the deepest midfielder or as a "number 8, Liverpool would have a player who is comfortable with receiving the ball to feet, always on his toes and on the half turn.
The Spaniard, who averages 1 key pass a game this season, would add an incisive thrust to the Reds midfield and break the opposition's defensive alignment by being able to take the ball in the central band of the pitch and allowing the game to not only flow through the full-backs, but also the midfield. In 19 Bundesliga starts this season, the midfielder created 44 shots for his team-mates via his passing, according to stats from FBRef.
Thiago's on the ball talent may sometimes give the impression that his pressing may not be as up the scratch, but, having worked under Pep Guardiola — a coach whose philosophy places a massive importance on pressing — the Spain international is adept at pressing, a trait that is also hugely valued by Klopp.
The 29-year-old, per FBRef, completed successfully 34% of his presses — meaning his team won the ball back within five seconds of the action — this season and also intercepted the ball forty-four times in his nineteen appearances, exhibiting his suitability to a Liverpool midfield. For context, Georginio Wijnaldum — whose still ongoing contract negotiations have led to speculation that he may leave Anfield in the near future — is successful in 31% of his pressing actions.
Thiago, who dribbles at a success rate of 84% and past 61 players, receives the ball successfully 96% of the time and this — hypothetically — would help the Reds manipulate the opposition's defensive shape and alignment and allow their full-backs — who won't suddenly lose their ability to create and assist — to join the game in more dangerous positions and attack on the front foot.
Liverpool, on paper, would have four creative outlets, Alexander Arnold, Robertson, Thiago, and Roberto Firmino, and have a multitude of ways to feed Mane and Salah, players who have either won or shared the last two Premier League golden boots.
The signing of the 29-year old would be out of kilter with the Reds' recent approach but, as Premier League, World and European Champions, the goalposts may have moved and a player of Thiago's talents, who is seemingly available and keen to make the switch, available relatively cheaply in a Pandemic restricted market may be too good of an opportunity to pass up.