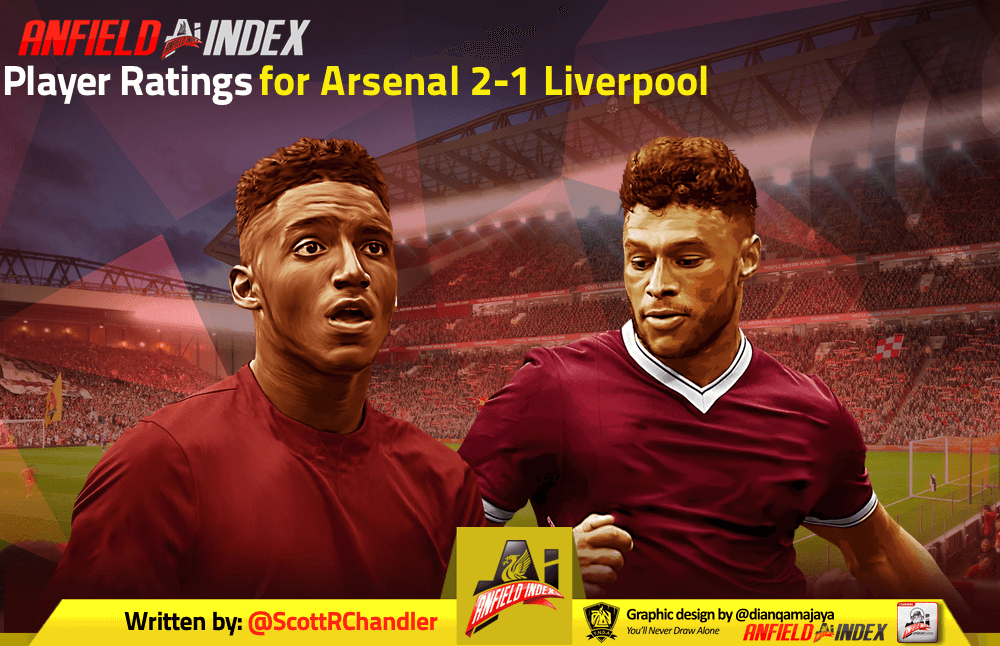 Player Ratings for Arsenal 2-1 Liverpool
Liverpool started the match by having the run of play and were deservedly in the lead, but their sloppiness soon led to madness as two absurd mistakes by world class players ruined the match and ended Liverpool's bid to eclipse City's points record.
Alisson – 4
His costly howler gifted Arsenal the lead that they wouldn't relinquish. An abnormally poor match from a player considered by many to be the best keeper in the world.

Robbo – 6
Was instrumental in creating Liverpool's goal by winning a header, bombing forward to get into a dangerous position on the left side of the box to receive Bobby's pass, and then teed up a goal for his partner in crime, Sadio Mane. However, he was guilty of creating the situation that led to Alisson's howler when he threw in a weak header back towards goal and then got caught ball watching as Lacazette waltzed in to set up the winner.
Van Dijk – 4
Was flat out embarrassing with his gaffe that gifted Arsenal an equalizer. He complained about being fouled on his backpass to Alisson when Reiss Nelson only got a little bit of his arm and is a full head shorter.  It was an error you'd see from Dejan Lovren, Phil Jones, or the guy on the other end of the pitch today, David Luiz. Absolutely not good enough for the best centre back in the world and Liverpool's captain on the day.
Jomez – 7
Composed and controlled all day. Saved a potential goal early in the first half when he intercepted a dangerous ball in the box. His prowess grows every match, and it's clear he's going to be one of the top centre halves in the division for years to come.
TAA – 4
Was so anonymous in the first half that I'm shocked Jurgen Klopp didn't file a missing persons report with the police at half-time. Only showed up in the second half to get a silly booking and then was lucky to avoid a second yellow mere moments later.
Gini – 4
Contributed to the lack of control in the midfield that plagued Liverpool for most of the first half. Lived up to his Ghost nickname to the fullest today. Getting subbed off in the 83rd minute was his greatest contribution.
Fabinho – 6
Struggled at the onset but really found his footing to assert Liverpool's only measure of midfield control in the first half. His header off a Martinez goal kick helped start the move that ended with Liverpool's only goal on the day. His reducer tackle in the first half was also nice to see from the midfield destroyer. Was one of the few players to show up and be counted.
Ox – 3
Given a golden opportunity to prove his worth to the Champions against his former club and completely wasted it. Wasteful and ponderous on the ball going forward while also being missing in the middle of the park. The Ox's detractors will surely file this one away for lots of arguments later.
Mané – 7
The Reds' best player in a match where too many went absent or lost their minds. His pressing and constant movement down the left flank destabilized Arsenal early, and his excellent link-up play with Robbo rightfully led to his beautiful team goal. His consistency of excellence gives him a real argument for Liverpool's Player of the Season.
Bobby – 6
A nice hockey assist played in Robbo to set up Mane for Liverpool's lone goal. Wasn't at his best, but he stood out for Jurgen's men by at least being active and trying to make things happen. Didn't deserve to be subbed off.
Salah – 4
After bagging a couple sharp goals against Brighton, Mo has looked a shadow of himself. His lack of finishing or cutting edge against the Gunners typified both the match result and Liverpool's overall performance since coming back.
Subs:
Minamino (On 61) – 5
Wasn't bad, wasn't good. He finally got a chance to make an impact after spending most of the recent matches on the bench, but like the Ox, he just wasted it.
Naby (On 62) – 5
Did more in the first few minutes he was on the pitch than Ox and Gini did all first half. But like much of the rest of the team, he faded into obscurity as the match went on aside from an 89th minute potshot that was easily saved.
Origi (On 83) – N/A
To quote Super Troopers, desperation is a stinky cologne.
Shaqiri (On 83) – N/A
Was basically brought on to remind people he still is employed by Liverpool Football Club.