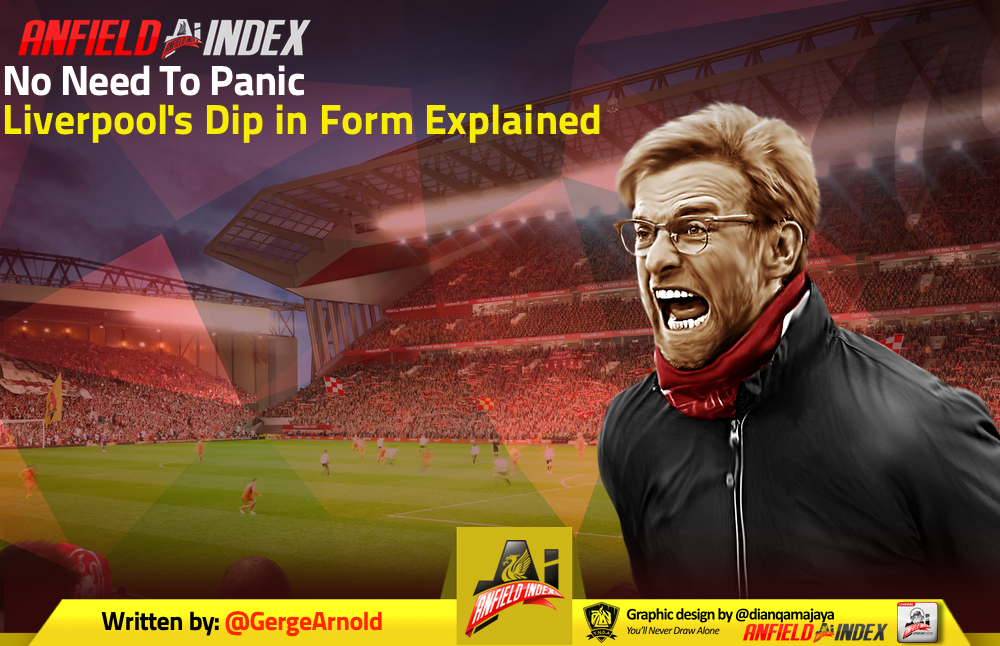 No Need To Panic - Liverpool's Dip in Form Explained
The 2-1 defeat at Arsenal on Wednesday evening was Liverpool's second in five games. Their form, since winning the league with a mere seven games to go, has generated slight concern amongst supporters. The Reds lack the level of consistency which saw them go an outstanding 44 games unbeaten, in the Premier League. But there is no need to panic.
The year is 2008 and Fernando Torres has just fired Liverpool into a fourth-placed finish. Usain Bolt is racing for Olympic gold in Beijing. 80 metres into the race, and winning with ease, the sprinter lifts his arms in premature celebration. He crashes through the finish line in a world-record time of 9.69 seconds. Bolt had made history, but had he not slowed into a celebratory canter there is no telling what his final time may have been. Quite obviously, Liverpool are Usain Bolt in this analogy. They have already beaten everyone. Their arms are aloft, and they are slowing as they reach the finish line. They've broken records, and were in a position to break more if it was not for the dominant nature of their performance.
Liverpool's victorious 'slowing' has cost them their unflappable consistency. Elite level sport necessitates an incomprehensible level of intensity, and athletes that are a fraction off get punished. This is made clear by the mistakes of Virgil Van Dijk and Allison at the Emirates. Defeat diminishes the memory of Liverpool's superiority on Wednesday night. The Reds amassed 69% of possession and had 24 shots, in comparison to Arsenal's 3. Two separate lapses of concentration, from two of the teams most reliable performers, cost Liverpool the game. However, there is no need to panic. The errors are circumstantial, and it is highly plausible that they will be ironed out by the start of next season.
Several factors explain these lapses. Firstly, motivation. Jurgen Klopp is an inspiration. He could motivate Mario Balotelli to track back like Dirk Kuyt. There is no doubt that he is sending his team out with the intention of running through brick walls for the badge on their shirt. However, opposing teams are playing for more than pride and league positions. They have the chance, when playing against the champions, to  demonstrate their abilities against the best. It is a motivation which outweighs Liverpool's, and leaves The Reds at a psychological disadvantage. It costs a degree of concentration, as seen at the Emirates, and fight. This can partially account for the limp performance away at City, which saw the Champions drubbed 4-0. The Citizens were hellbent on proving their quality, and made Liverpool pay for any ounce of complacency.
Secondly, there is a clear issue of fatigue and sharpness. The Reds reached consecutive Champions League finals, and competed in Qatar for the Club World Club Championship, over the past two seasons. The travelling, the elongated seasons and the sheer volume of games has jaded the squad. Liverpool are not blessed with great strength in depth. Therefore, the team relies on a core group of players to always be available. For instance, Andy Robertson has played 47 games this season. Manchester City, in comparison, do not have a player with more than 33 appearances this season. As a result, key players are slower and more lethargic in their build-up. It potentially explains the stalemate at Goodison, or Burnley's recent draw at Anfield. The match against Everton saw Liverpool unable to muster the vigour to create chances. However against Burnley they created plenty, but lacked the sharpness to convert.
It happens to the best. Manchester United lost their final three games of the 2000-2001 season in similar circumstances. Regardless of a dip in form, or a potentially quiet transfer window, there is no doubt that this Liverpool squad will compete next season. Flashes of quality litter patchy performances, and remind fans of the squad's undeniable talent. Furthermore, the fitness expertise of Andreas Kornmayer, the cutting-edge technical coaching of Pepijn Lijnders and the nous of Jurgen Klopp, ensure a quality pre-season. Energy will replace their current lethargy, by that start of  next season. There is no need to panic, Liverpool will be at the start line, primed, and ready to race again.