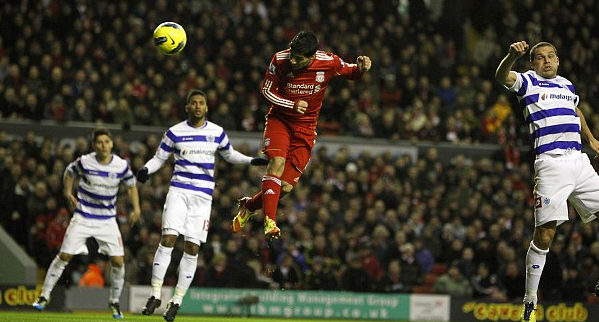 Liverpool FC 1 QPR 0 | Quick Opta Match Stats
Finally, Liverpool FC managed to win at Anfield after four consecutive stalemates against United, City, Norwich & Swansea. Liverpool needed to bounce back from their undeserved loss to Fulham on Monday night and they just about got there in the end. After missing a whole host of chances in the first half Liverpool scored immediately from the re-start thanks to Luis Suarez' header.
However Liverpool FC then played on the back foot for a lot of the second half not offering as many chances as the opening period. This can be reflected by the possession as the first half had Liverpool closer to 70% possession but ending the game on almost 62%.
Although QPR didn't really create any chances or trouble Pepe Reina you could sense the tension and this 1-0 win at Anfield should improve the confidence at home. The clean sheet was also important for a compact defence, in which Johnson, Enrique, Agger and the dominant Skrtel are performing very well.
In the middle of the park, birthday boy, Charlie Adam had an excellent game. Anyway the match report should follow in the next few days so we're going to leave you with some Quick Opta Top Stats from EPLIndex.com.

As the table shows above, Charlie Adam was surely one of the outstanding performers as well as Luis Suarez and Maxi Rodriguez. Dirk Kuyt's creativity surprised us as well and the shape of the side looked great. Stewart Downing was also a menace sending over 12 crosses in the game.
Look out for further reaction on AnfieldIndex.com (Match Report & Player Influence Map report) in the coming days with regards to Liverpool FC's statistical performance in this game!