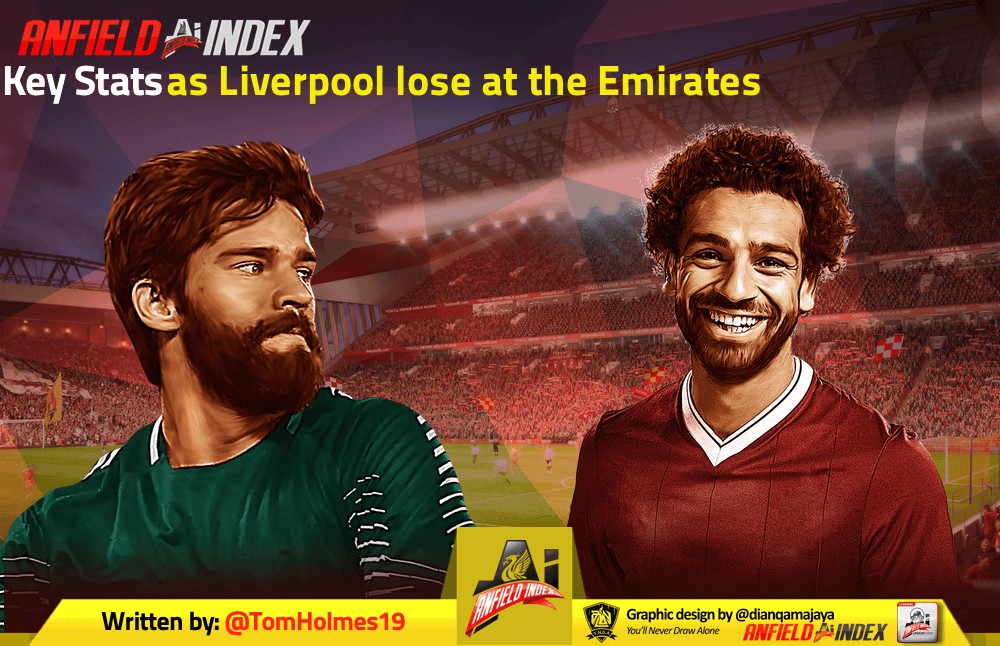 Key Stats as Liverpool lose at the Emirates
Two big first half errors from the usually reliable Alisson Becker and Virgil Van Dijk meant that Liverpool slipped to a 2-1 defeat at the Emirates Stadium. This was Liverpool's first defeat to Arsenal in over five years, having not lost to the Gunners under Klopp, and it means that Liverpool will be unable to break City's 100 point record. But what were the key stats from the game?
Misfiring Reds Unlucky or Complacent?
Liverpool's record before lockdown: 27 wins, one draw, one defeat. Five points dropped.
Liverpool's record since lockdown: three wins, two draws, two defeats. Ten points dropped.
To zero that in every further, before winning the title, Liverpool were 28-2-1. Since winning the title, they have seven points from five games.
It's clear that levels have dropped, and that's not a huge surprise. Bear in mind that Liverpool were playing in the margins for vast swathes of the season, and winning games through almost sheer force of will, which is what made their record so incredible. With the margins between victory and defeat, so tight Liverpool have only had to drop about one or two percent for things to go wrong.
However, they have been slightly unlucky in their last two games, which saw a couple of firsts become seconds. I mentioned in my piece on the Burnley game that it was the first time Liverpool have dropped points from a winning position this season, and that it was the first time Liverpool had dropped points despite comfortably winning the expected goals.
Both cases were true again here. Liverpool were obviously leading, but ended up losing. And in terms of expected goals, Liverpool picked up 2.22 compared to Arsenal's 1.32. Arsenal had three shots, Liverpool had 24. Liverpool had 17 shots inside the box, Arsenal had three. Both teams had three big chances. Now you don't need to be a genius to see all of Arsenal's shots were big chances, which is pretty alarming for Liverpool, but nevertheless, they had more than enough to still win the game. I'll leave you with a thread from AI's own Dan Kennett explaining more about how luck and thin margins have affected LFC over the last two games.
#LFC first 31 Games
Alisson Save% 80.6%
Opposition GK Save% 62.5%
LFC PDO 1180
Since winning title:
Alisson Save% 68%
Opposition GK Save% 78.8%
LFC PDO 892#variance

— Dan Kennett (@DanKennett) July 15, 2020
Misfiring Salah Will Look To End Cold Streak
If it seems strange to call a player who scored two goals just two league games ago misfiring then bear with me. Salah has missed a bucketload of chances across the last two and a bit games. It was amusing against Brighton with the game already won, but it was a tad irritating against Burnley and Arsenal.
Against Arsenal, Salah had four shots, all inside the box, worth 0.85 xG, including two big chances and failed to score. Against Burnley, it was a similar story, with six shots, four inside the box, two big chances and 1.15 xG. Against Brighton, he had eight shots, including three big chances, and 1.87 xG, scoring twice.
Since winning the league, Salah has taken 23 shots, worth 4.17 xG and scored two goals. That's a goal every 11.5 shots, compared to his season average of a goal every 6.6 shots. And a goal every 2.1 xG, compared to his season average of a goal every 1.06 xG.
In many ways, Salah typifies Liverpool's issues since winning the league, although he is far from the only player in the team to be struggling at the moment (see Firmino, Roberto).
Liverpool have won five of their last ten league games and Salah has scored in four and assisted in the other. He has failed to score or assist in any of the four games he played in that they have failed to win over that period and of course, the Reds drew 0-0 against Everton without him.
In fact, over their 17 league games this calendar year, Liverpool's record when Salah scores or assists is 10 wins out of 10, but when Salah doesn't score or assist, it's just two wins, two draws and three defeats. Liverpool's only wins in that time where Salah hasn't contributed are a 1-0 win over Norwich and a 2-1 win over Wolves.
Salah's form is critical to Liverpool winning. And whilst it's fair to say that it doesn't really matter right now, they'll be keen to get him firing before the start of the new season.