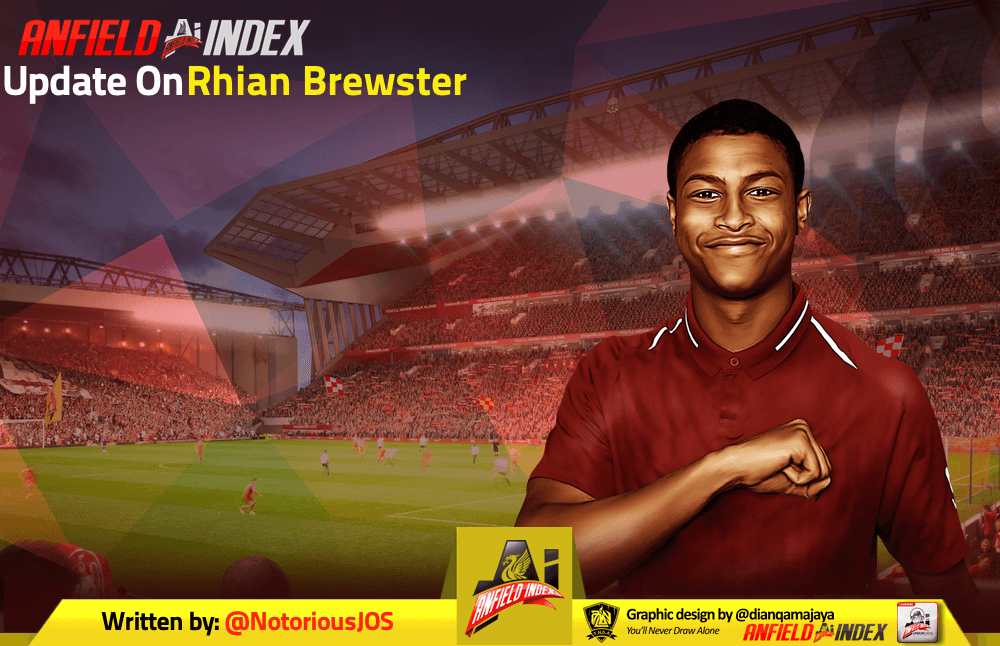 Update On Rhian Brewster
Liverpool have been following the fortunes of Swansea City lately, checking up on the progress of young Reds' loanee, Rhian Brewster.
The 20-year old forward, who joined the Swans on loan in January, has taken to life in the Championship — his first regular exposure to adult football — like a duck to water. At the time of writing, Brewster has scored nine goals in 18 appearances as the Welsh side look to qualify for the Championship playoffs.
With the ongoing global pandemic hampering Liverpool's chances of spending big in the transfer market, there may be an opportunity for the forward at the club next season with the aborted move for Timo Werner proving the club were keen to add to their attacking options.

For a more in-depth assessment of the England youth international's stint at The Liberty Stadium, we spoke to Phil Blanche, a sports reporter with PA News Agency, who covers Swansea and is very familiar with Brewster.
JOS: A one in two ratio in his first full season in adult football, how impressed have you been with Brewster?
PB: "Very impressed. Just turned 20 but clearly has maturity and ability to play senior football. Came with big reputation with what he has achieved at England age-grade levels and buzz around him at Liverpool and not easy to meet those expectations but he settled in quickly and been impressive either side of lockdown."
JOS: It is fair to say Brewster is a natural in the box, with great goal scoring instinct. Are the other parts of his game, hold up and defensive contribution — key facets of a Jurgen Klopp number 9 — strong, too?
PB: "Looks like natural goalscorer, good with both feet, capable of scoring all types of goals inside the six-yard box but also has powerful shot and has scored some spectacular goals. Beauty at Forest on Wednesday, left-foot half-volley at ball coming across him such a difficult skill. Hold up play has been good. Obviously at Liverpool you are talking about another level. But has worked hard for the team and I'm sure he will fit into them system that Klopp demands of him."
JOS: Where are the areas you feel he needs to improve?
PB: "Has the tools to be top player IMO. Probably just needs to gain more experience – interesting Klopp sent him out on loan when other youngsters like Jones & Williams have stayed at Anfield this season and had first-team opportunities."
JOS: By all accounts, Brewster is a confident player do you think he would be fazed by playing for Liverpool with the associated pressures?
PB: "I'd say he has the confidence that every top player has. Aside from his ability as a footballer, look at how outspoken he has been on issue of racism. Think that shows how comfortable he is as a person. Very popular in dressing room, for someone so young see him as a leadership figure. Also has a bit of personality about him. There was an incident at Preston where the referee dropped his yellow card and Brewster brandished it him a la Gazza."
JOS: How helpful do you think playing under Steve Cooper, his former England underage coach, has been for him?
PB: "Think Cooper and Brewster have been good for each other. The England link has worked well for Swansea, allowing them to get such an excellent young prospect. Plenty of respect between Cooper and Brewster. Sure Cooper would love Brewster back next season if Klopp feels he could do with more time out on loan. But I can see him being part of the squad at Anfield and getting some game-time there."