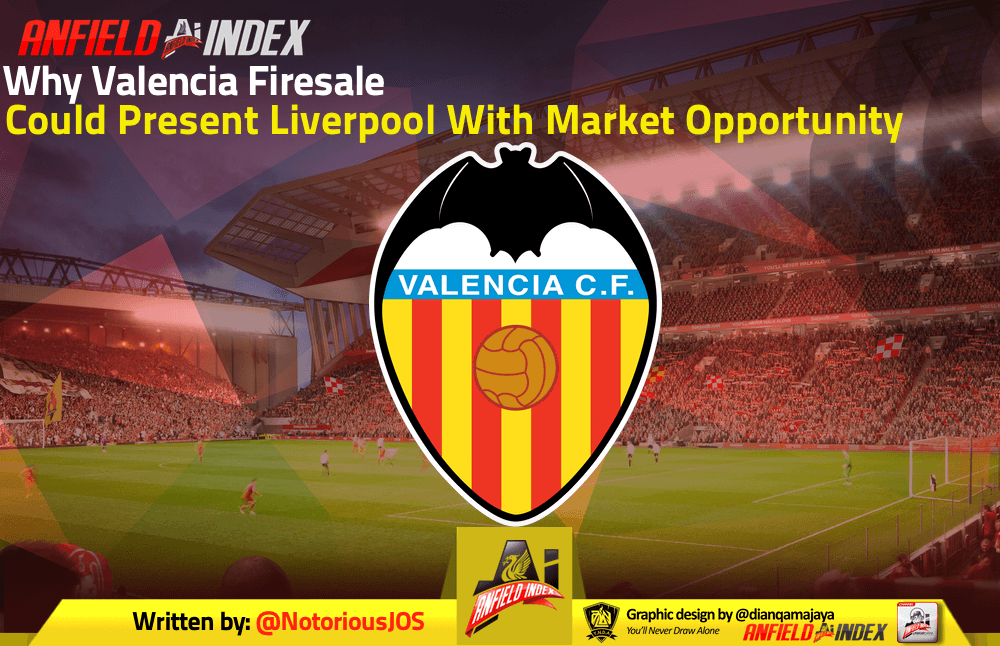 Why Valencia Firesale Could Present Liverpool With Market Opportunity
The ongoing global pandemic has lessened most football club's financial might in the transfer market.
With television rebates due to be paid next season and no match income with behind closed doors fixtures, revenue streams have dried up, all while players and coaches have continued to be paid. Clubs, therefore, will approach the upcoming transfer window — which opens on July 27th — with a financially conservative mind frame.
Now more than ever, clubs will look to seek out bargains and Liverpool — whose inability to seal a deal for Timo Werner, despite the German forward being keen to make the switch from Anfield, means they have already felt the pinch of footballs current financial reality — will be no different.

The Reds' sporting director Michael Edwards and manager Jurgen needn't fret, however, as there are cut-price deals to be struck with La Liga giants Valencia particularly susceptible to losing players for fees which would have been impossibly low before the pandemic started.
According to reports from Cardena Ser, Los Che have put their whole squad — with the exceptions of Jose Gaya and Carlos Soler — up for sale in an attempt to trim their wage bill by up to 50%.
Under the guidance of the now sacked Albert Celades, Valencia finished ninth in the La Liga table in a disappointing campaign. Despite their poor season, there are several players who ply their trade at The Mestalla would could interest Liverpool especially at discounted prices.
Ferran Torres: The 20-year old was one of the few bright sparks for Valencia last season. The Spain youth international, who plays as a winger on either the left or right flank, scored four times and laid on five assists and provided an impetus in attack that was often sorely missing.
Torres, who has been linked to Manchester City, is an adept dribbler — completing over 59% of his attempts and dribbling past 61 opponents in 34 league appearances — and has a sharp passing game. The Spaniard averaged 27 key passes last season and passed into the penalty area 41 times, which, for context, is 22 behind Sadio Mane's figure of 63. The Senegalese winger, however, is eight years Torres' senior and plays in a much more accomplished team, so the youngsters passing figures — which illustrate the ambitious nature of his passing and were sourced from www.fbref.com — are impressive.
Off the ball, too, the Valencia number 20 lags behind Mane, with Torres' 20.6% success rate of pressures not as good as the Reds' fliers figure of 29.9%. But Mane has the benefit of playing in the world's foremost pressing team, so — when judged in this light — Torres' pressuring ability is impressive.
With reinforcement needed in Liverpool's front three, Torres could be a great option, not only for now but, at 20 years old, for the future as well.
Dani Parejo: After a tumultuous time spent in English football with Queens Park Rangers, Parejo has re-established himself in his homeland with Getafe and then Valencia, who he has played for since 2011 and who the Spaniard is the current captain of.
The 31-year-old, who has four senior international caps for Spain, is an incisive, midfield playmaker and this a role — noting the Reds' supposed chase of Thiago Alcantara — that Liverpool are reportedly looking to invest in.
With three assists and 56 key passes — which are passes that lead directly to shots on goal — over the course of last season, Parejo was Valencia's key hub of creativity. Fabinho, who also registered three assists, has only averaged 13 key passes this season and the Spaniard, who receives the ball successfully 94% of the time, could offer Liverpool the midfield guile and passing penetration they are rumoured to be looking for.
Defensively, Parejo is comfortable in a pressing style of play, completing 25.4% of his pressures — an action that leads to your team winning the ball back within five seconds of the pressing — which is less than Fabinho, with 32.4%, but indicates that the Spaniard, with work on the training ground, could improve on this facet and become a valuable asset for Liverpool.
Other players, like Goncalo Guedes, Lee Kang-in and Rodrigo Moreno, may be of interest to the Reds, but Parejo and Torres could provide Liverpool with two excellent squad options who are suited to their style of play and may be available at a price that is achievable, even with a COVID19 hampered budget.