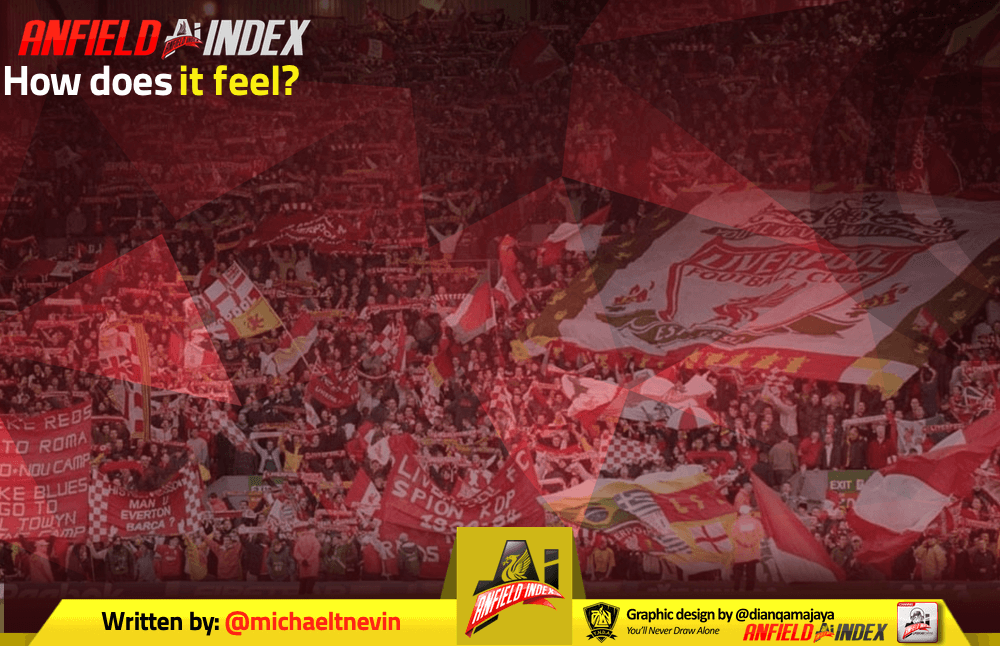 How does it feel?

I've been asked this question about a hundred times since the Premier League restarted back in June. About a hundred more times since Liverpool became Champions and enjoyed their ensuing guards of honour.
The crowning comes this midweek at home when Chelsea visit. Those younger than me, from 15 years to 35 ask, how does the first one feel?
An honest answer is that I don't remember. Liverpool have been in my football conscience since 1974 when I was present to see the FA Cup won for a second time. However, I don't really remember us winning the title at Wolves in 1976 but I recall fainting at news FC Brugges led 2-0 at Anfield that same month in the first leg of the UEFA Cup Final.
I have no recollection of clinching the pennant in 1977 against West Ham, but remember my Cup Final tears and strop and consoling glory that was Rome.
In 1979, the abiding memory is of Goodison semi-final peril and perish at the hands of United – our first surrender in synonymous yellow but I have no recall of title 11 when Villa came on Bob Paisley's 40-year Anfield Anniversary.
My new mate, the resident spark at my flat, Liam Dainty is the same. He's a bit older than me and the fisrt title winners he recalls was the great Everton team under Harry Catterick in 1969-70. We all watched both teams in those more forgiving days even if we were all cut staunchly red or blue. Liam's first Anfield title was under Shankly in either 1973 or 1976 but he can't remember if he was there, yet the balmy night in Rome '77 is crystal clear.
See, during our halycon 60s, 70s and 80s days we grew progressively more blase about Shankly's priority. It was his "bread and butter" but the shiny FA and European Cups were our champagne and caviar.
Thus, when I saw my first title live at Anfield – on my Spion Kop debut after a 6-year Paddock and Kemlyn apprenticeship – it was consolation, albeit a glittering and noisy one days after defeat to Arsenal after a thrice-replayed FA Cup semi-final defeat to Arsenal in May 1980.
Fast forward 10 years and I saw my seventh league raised on the night Kenny Dalglish last donned a competitive red shirt. Seeing Kenny come off the bench was the highlight of the night, trumping the sight of Alan Hansen raise the classic old Football League Championship trophy, and a piffling Barclay's Bank sponsors' bonus bauble that added little value. The cheers to the Kop rafters actually were to salute The King for his parts between 79 and 84 as a player and 86, 88 and then 1990 as a player-manager.
Think about it. Three League titles in 5 seasons, runners-up twice, as a player who managed the team as well. And yet, he pales in the shadows of Shankly and Paisley. Kenneth Mathieson Dalglish is third in line to Bob and Shanks, and leads Klopp, Fagan and those LFC Champion pioneers in the dug-out who garnered the first five either side of the war. All before Shankly's modern Liverpool came into being.
Look up their names; they too deserve their place in tomorrow night's setting sun.
So, lads and ladettes, how does it feel you ask to see Liverpool raise silverware at Anfield to denote our annexing of England's green yet but increasingly unpleasant land?
When the stakes were high, and the jeopardy real, there's nothing better. It's on a par with a shinier FA Cup triumph at Wembley or a Scouse VE Day. My favourites, and most vividly recalled are the clinchings of 1982 and 1986. The way Graeme Souness skipped gaily across the bare Anfield turf, tossing the old urn glibly to a coltish Ronnie Whelan exuded the joy of turning a season round with Liverpool 12th at Christmas into Lucky Number 13.
When Kenny volleyed in at Chelsea en route to the FA Cup and League Double in the last, must-win match of the season, seldom has there been a Liverpool end on tour quite as exultant, quite as messy, quite as wild, quite as sartorially stylish. Bobble and bucket hats paired with Tachini, Fila, and Lacoste were as much the Red uniform as the red and white bar scarves that served as the backdrop to Shankly's Anfield coronations.
How does it feel? Jesus, Reds it was 30 years ago and more. I don'y fully know but you and I will find out on Wednesday night.
Hendo will let you know. Darkening skies above Anfield if not inside the ground will be tinged with Red smoke.
And as the whiff of sulphur and the gunpowder attack we plot pervades the nostrils of Robbo, Mane, Trent, Firmino, Becker, Salah et al, a red sky at night will be a German Shepherd's delight.