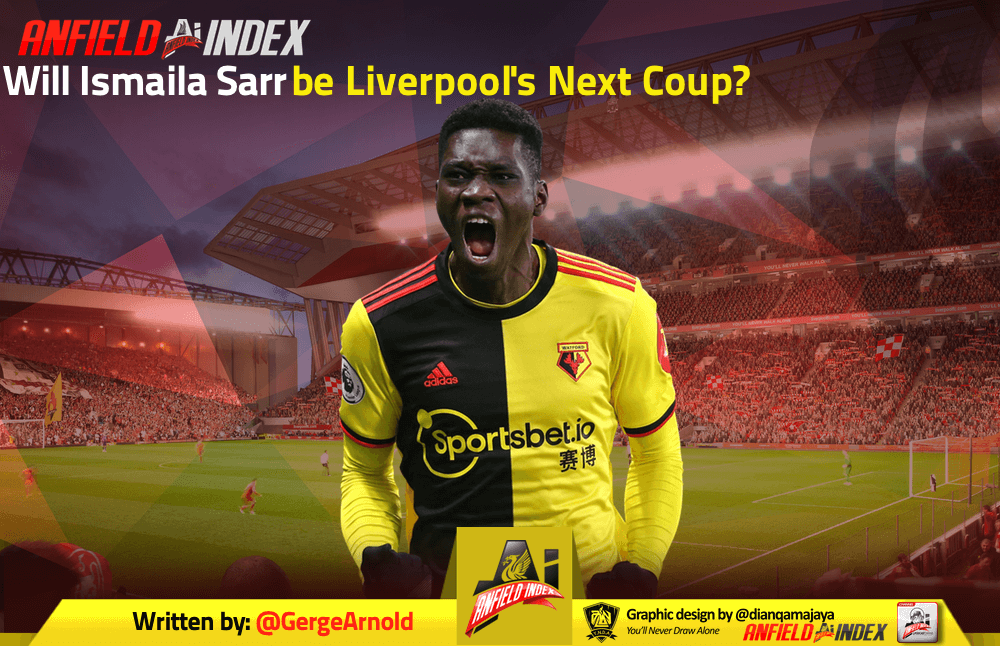 Will Ismaila Sarr be Liverpool's Next Coup?

Sadio Mane stood in the Anfield tunnel with his compatriot, Ismaila Sarr. Liverpool had just beaten Sarr's Watford 2-0 in the December chill, and the two Senegalese attackers were deep in conversation. Troy Deeney approaches, to pass on seasons greetings. Cheerfully, Mane turns to the iconic Watford skipper and exclaims: 'take care of my boy, yeah?' Sarr shuffles sheepishly as Sadio continues, like a concerned Father at parent's evening, 'he's a shy boy, shy boy'. Sadio Mane knows the talent that Watford have on their hands and, for the good of his country, he wants to ensure that Ismaila Sarr is treated with the upmost care.
It is a talent which, three months later, Liverpool became all too aware of. Sarr scored twice as the Hornet's romped to a 3-0 victory. Despite his frustration at the loss, Klopp was now aware that the young winger ticks all the boxes. Young, raw and talented, Sarr has all the requirements to be Liverpool's latest transfer masterstroke.
There are three main factors to Ismaila Sarr that appeal to Liverpool. The first is his youth. The winger turned 22 in February.  Investment in young talent aligns with FSG's 'money-ball' philosophy. The more a young player develops, the higher their resale value. The value of the current Liverpool squad exploded by 500% under Klopp. Players such as Mohammed Salah, Andy Robertson and Joe Gomez are worth significantly more than when they signed for the club. This philosophy enables Liverpool two strong options going forward. On one hand it is possible to cash in on a player in their prime, demonstrated with the sale of Coutinho. Alternatively the Liverpool squad enjoy an extended period of success, as the young players develop into world-beaters. Therefore, Sarr's age means that he can perform in red for ten seasons, or be resold for financial gain.
Moreover, Sarr's raw ability also makes him a suitable addition to Liverpool's match-day squad. The chances that a ready-made World Class superstar will bolster Liverpool's attacking options this summer are unlikely. The Red's front three compliment each other seamlessly. Each player offers an irreplaceable element to a dynamic goal-scoring machine. Consequently, Roberto Firmino, Mohammed Salah and Sadio Mane will not be dropped. Any new arrivals will play predominantly from the bench, as injury backup and in the cup competitions. High calibre attackers, such as former target Timo Werner, are not willing to sacrifice regular game time.
However, a place on Liverpool's bench represents a step forward for the Senegalese international. Furthermore, his talent offers an exciting alternative for the Reds. He has the ability to change games with bursts of skill, or punish teams on the break. A role on the fringes enables Sarr the space to develop away from constant first team pressures, whilst it promises enough opportunity for the winger to showcase his talent.
Finally, the Red's interest will only increase because of Watford's predicament. The Hornet's 4-0 defeat to Manchester City on the 21st of July leaves them on the brink. They go into the last match of the season in the relegation zone on goal-difference, without a manager, and in need of a result against a rejuvenated Arsenal. Michael Edwards may strike a deal similar to that which bought Gini Wijnaldum (2016) and Andy Robertson (2017) to the club, should the North London team drop into the Championship. Deals of this nature happen because teams are often forced to sell star players to compensate for the loss of Premier League revenue. Therefore, Sarr would be available for a fraction of his value, and represent a smart business move.
Young, talented and potentially available at a bargain price, Ismaila Sarr ticks all the boxes. His resale value  makes his signing a no-brainer, especially when there is the potential for a relegation discount. Furthermore, Sarr's ability makes him a perfect backup for the front three. Signing Sarr makes sense, as Sadio can testify. It is highly plausible that student and mentor will terrorise defences next season.